Greg Baldino writes:
The bisexual's passport is an alien document. They occupy, in a sense, two worlds, neither of which they can claim full citizenship in. Their experiences are invariably coded in the language and contexts of the cultures of same-sex relationships and opposite-sex relationships. Heterosexism is quick to erotically objectify bisexuals just as readily as homosexism is to vilify them. If we're not the erotic other, we're a contaminated traitor, a dilettante, a tourist. Yet the bisexual largely remains a figure of mystery for straight and gay people — and often for bisexual people, as well. Are we a bug or a feature?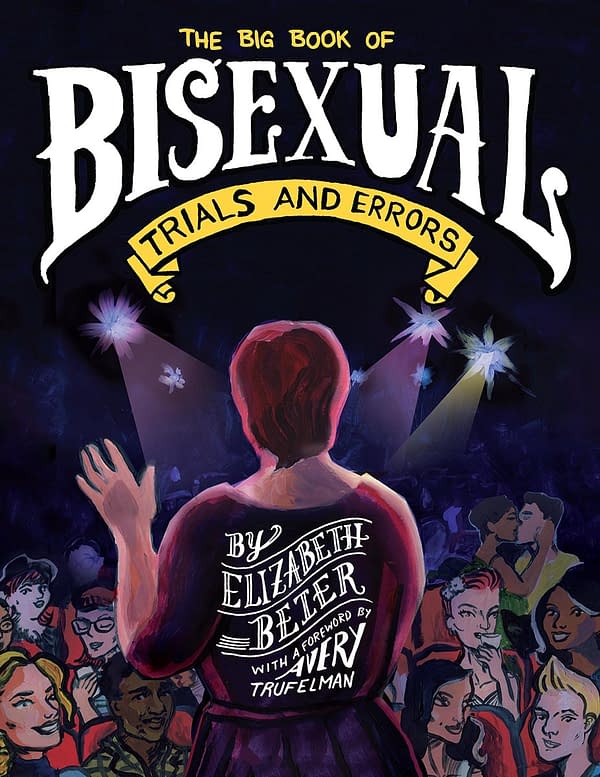 In that sense, the most radical and important thing about Elizabeth Beier's new collection of autobiographic comics may be in the title, The Big Book of Bisexual Trials and Errors, with the word "bisexual" occupying a full quarter of the cover. It's a loaded word, a dangerous word, and it frames the work exactly the way the best titles do.
Originally, the comics contained within the cover we made separately; so the book functions as a collection of work unselfconsciously reflecting growth change and awareness. The struggles of dating is a major theme, as much as "Not Dating" is. But there's more to it than just looking for love, there's also the search for community, for friendship. A few dates with a photographer give way to a romantic dead end, but on the other side of the feelings of rejection, Beier comes to find it a rich and supportive platonic friendship. As much as dating and love run through the book, there's also a strong sense of the need and search for community. Several sections of the book are dedicated to the Lexington Club, last of the San Francisco lesbian bars, and the intersection of community and culture that came together there. Finally, in its summation, these titular trials and errors lead Beier to the most important love that she needs: the love and understanding of herself.
(Revealing that a queer narrative ends on a high note isn't a spoiler; it's a selling point. At least for me.)
(Seriously, stop killing your LGBT characters to make straight people sympathize.)
(<descends from soapbox>) I really like Beier's art on the page. I love black-and-white comics where you can really feel the sweep of the brush pulling the ink across the boards — where you can feel that someone made this. One thing she does that I find very interesting is how she uses the word balloons as elements of the composition, rather than leaving them as a kind of negative space superimposed with text. Several pages use single panels with multiple balloons to suggested multiple points in a conversation, and you almost don't need to read what's in them to get that this is a vibrant and energized conversation.
This is a definite recommendation if you're a fan of Lucy Knisley or Ellen Forney, and Beier is a cartoonist to keep an eye on. The Big Book of Bisexual Trials and Errors is a great addition to the canon of queer comics, as well as to the body of bisexual representation. The Big Book of Bisexual Trials and Errors by Elizabeth Beier, Northwest Press $24.99
Greg Baldino has giving up on making Bleeding Cool into a stealth food blog and is now clearly trying to turn it into Autostraddle. He writes on various sides of Lake Michigan and will not shut up about Rosa Diaz coming out as bi on Brooklyn 99.

Enjoyed this article? Share it!