This is the Top Ten Bleeding Cool Bestseller List, as compiled by a number of comic stores from their sales on Wednesday and Thursday. It measures what are known as the "Wednesday Warriors", those who can't wait till the weekend to get this week's comics. And this week every reporting store had X-Men #6 as their best-selling comic, a rare occasion these days. And in the absence of Batman, Pennyworth got his best sales ever, only when dead…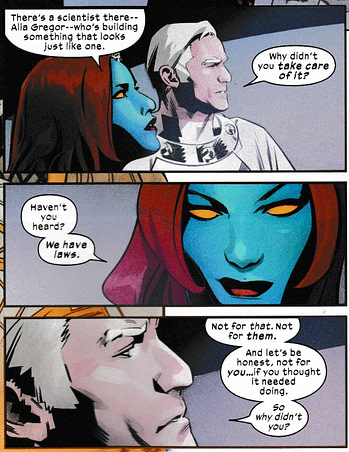 Top ten bestselling comics of the week
X-Men #6
Thor #3
X-Force #7
Batman Pennyworth RIP #1
Amazing Spider-Man #39
Green Lantern Season 2 #1
Venom #23
Excalibur #7
Star Wars Rise of Kylo Ren #3
Batman's Grave #5
Thanks to the following retailers…
If you would like to contribute to the retailer charts, let me know at richjohnston@bleedingcool.com.
Who had this to say…
The X-Men and Donny Cates take the lead at FFF in our Weekly Top Ten Bestseller list. No surprise in X-Men taking the top spot, especially with no main Batbook this week. Pennyworth did sell well, but not regular Batman level (not even Detective level). But it still broke into the Top Ten at #8 so that's not too terrible. Venom and Thor both sold extremely well (as usual). Donny and Ryan's cover debut helped a little but Venom is usually a Top Ten book on it's own. Amazing Spider-Man has actually jumped up a little bit. It hasn't been a great seller since the 2099 kerfuffle and I was worried it would take something drastic to revitalize the title. While I still think that may be the case, something about this week's issue was a hit. Harley took two spots at #5 and #6 with Harley and Ivy and Harley Birds of Prey both selling the same amount. Kylo Ren has been the surprise hit of the year (so far). We keep selling out of first prints and now we're running low on our second prints of #1 and #2.
—-
X-Men wins what feels like the first "big" week since the New Year, granted it didn't have the flagship Batman book to compete with, but rather the Pennyworth memorial issue. Thor is going strong; People still flock to anything Cates writes, despite the fact that most of it is built on the same general "Herald of Galactus" premise. Rise of Kylo Ren #3 ranked a lot higher than the previous two issues, but then again, it's been building momentum gradually ever since its launch.
—-
Another slow sales week. There just isn't a title coming out that is super hot to get people excited about coming in. X Men took the top stop. Sonic the Hedgehog snuck in in the top ten, maybe thanks to a certain movie coming out? Need some comics that get people excited again.
—-
After a number of lacklustre weeks since the new year, this week finally feels like things are starting to get moving again, in spite of another particularly interesting or new – still, a solid week.
—-
Marvel came out pretty undeniably top dog for us this week. X-weeks usually see the ubiquitous Batman titles knocked down to the second or even third place slot, but this week you have to get all the way to the middle of the list to find any cowled detectives prowling about. Suffice to say, all three X-releases and THOR performed very well this week.
The most exciting thing DC brought to the table this week was the first issue of season two of Morrison's GREEN LANTERN, which continues to do well for us even after the interlude BLACKSTARS mini thanks to the strength of the creative team.
Pulling up the back ranks is BATMAN PENNYWORTH RIP, a one-shot of the Bat-family feeling sad about the most recent Big Death.
—-
Well, the Big 2 ruled the week. SFSX just barely eeked its way in there.
—-
Two DCs in our top ten this week–both special one shot issues (Batman: Pennyworth RIP #1 and Superman: Heroes #1). Customers are shedding DC titles from their pull lists every week, and former top ten mainstays Superman, Flash, and various Harley Quinn titles are selling only a fraction of what they once did. DC seems to be aware of the problem–but if the rumors about their 5G plans are true, they're moving in the wrong direction if they want to recapture lost DC readers.
Notable sales…
Wolverine #1 VF $50
Marvel Premiere #15 $250
Iron Fist #14 – 1st Sabretooth also $250