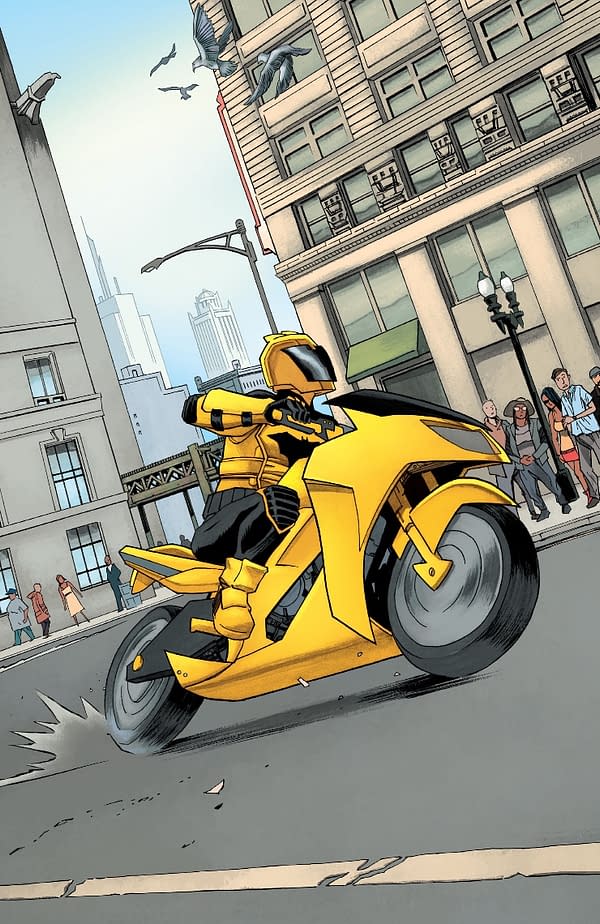 This is the Top Ten Bleeding Cool Bestseller List, as compiled by a number of comic stores from their sales on Wednesday and Thursday. It measures what are known as the "Wednesday Warriors", those who can't wait to the weekend to get this week's comics. We salute you, and the keenness you bring to your passion.
Batman takes the top two, and ex-Batman artist Greg Capullo keeps his end up in fourth place for the launch of Reborn. Flash, Wonder Woman and Suicide Squad are still one of the real Rebirth success stories, Marvel have to be satisfied with a great Darth Vader finale, and the launch of Clone Conspiracy. And, yes, Scott Lobdell's Red Hood And The Outlaws beats out every other Marvel comic book on the stands.
1. All Star Batman #3
2. Detective Comics #942
3. Flash #8
4. Reborn #1
5. Wonder Woman #8
6. Suicide Squad #4
7. Action Comics #965
8. Darth Vader #25
9. Clone Conspiracy #1
10. Red Hood & The Outlaws #3
Thanks to the following retailers
Who had this to say
Odd week. All Star Batman 3 sold at a quicker pace than All Star Batman 2. Detective Comics is doing great. Marvel's Mosaic 1 did terrible. Darth Vader 25 I ordered big numbers on thanks to him being in the upcoming Rogues One movie thinking interest would be high. I was wrong. Vader did make it into the top ten but sold the least amount out of the whole series. Issue 25 of Vader needs some legs. I read the issue and enjoyed it so hoping to be able to sell it. Clone Conspiracy 1 there is a second printing for already? We have plenty left of the first printing. Reborn did well but not nearly as well as expected. Millar seems to have no where near following he had years ago. Everyone bought it for Capullo's artwork. Not the writer.

DC dominance is back after a one week hiatus, with 7 of this week's top ten being DC . Unfortunately Marvel Now! week two had very little to offer. All the new #1's, Great Lakes Avengers, Mosaic and Solo, were pretty much DOA! Marvel please stop publishing books nobody demanded or wants and start listening to your customer base, everyone would benefit.
Reborn absolutely killed it, with 2 top creators delivering a 1st class book and selling like crazy even in a highly competitive week like this one.

Hey everyone wanted Darth Vader #3 again! Go figure.

Another nice week for sales with a lot of really great books to choose from.

DC took half the spots on our top ten. Detective was #1 with All-Star right behind. Flash, Action and Wonder Woman also charted. Outside of Action Comics and Superman, unsold Super-Books are really starting to crowd our shelves. Little to no interest in titles outside those two, especially to casual or new-to-comics fans.

Image had another good showing this week, albiet from some of their biggest name creators. Kill or Be Killed was #6 and Reborn took #7.
Oh, Marvel..

Sales on Marvel books are not bad for us. At all. They had way more titles than DC that just barely missed making the top ten. However, only one Marvel U book made the list and its connected to their biggest seller at our store. Clone Conspiracy was our #9 seller of the week. A couple of licensed sci-fi books were #s 3 and 10. Being the final issue of a series with a lot of desirable variants put a villain book at #3.
Solo *just barely* edged out Mosaic for the most disappointing #1 of the week. Already started making room in the $1 bins for unsold copies.

Marvel Now is not off to a good start in our store. Last week had way too many titles on an already crowded week, and then this week only had a few mid-level books, but none of the new Marvel books or jumping on points even made our top twenty of the week's sales so far except Clone Conspiracy at spot 12 (behind Hal Jordan 6). Great Lakes Avengers didn't even sell Squirrel Girl numbers yet even though I really enjoyed it, and so far, we've sold 12% of the copies of Mosaic that we ordered. Ouch. Last week, we sold 1 copy of Solo off the shelf and 3 to subs. We sell over 100 Walking Dead, Saga, Paper Girls, Batman, etc, so we should have higher numbers on these, but you can't just put out 25 new number ones in the same month and expect them to catch on in an already crowded market. I love Jessica Jones, and Alias is one of my favorite comics of all time, but even with all the new Netflix fans, no one new is coming in the store to check out the new title. Maybe Marvel can get Krysten Ritter to tweet about the new comic to plug to her fanbase?

So far, Marvel hasn't advertised outside of the industry to bring anyone new in to grab any of these books, and I don't see new people spending $4 and $5 on every new Marvel book anyway. DC somehow brought a ton of new people in with Rebirth, and so far, it's been a bigger success at 5 months in at keeping people buying the books than the New 52. We are still selling a ton of copies of almost every Rebirth book off the shelf and are amazed at how many casual customers are still buying most of these new books at issue 8 so far. Our bestsellers this week are All Star Batman at 1, Detective Comics, Wonder Woman, Reborn, Flash, Suicide Squad and Action. Batman 8 made it to our 8th bestseller in it's second week of release, selling almost as many copies so far this week as Champions sold in week one! Death of X did pretty well in week one, but not much movement in week two just yet.

Clone Conspiracy has been passed on by a few Amazing buyers from their folders as they said they're done with $4.99 books, even if it's supposed to be the "main title" for the next few months. We have NEVER seen price resistance like this in my 26 years of selling comics, but I understand it's a breaking point when most of my bestsellers (except All Star Batman) are $2.99. When I'm selling more Superwoman 3 and Hal Jordan 6 than Clone Conspiracy, Marvel needs to take another look at who they're marketing these titles to, and either fix the price or find a new audience to bring into stores.

Paper Girls, Kill or Be Killed and Moon Knight were also in our top 20 bestsellers so far this week, but not a of love for this week's number ones. Some of these new books second issues are going to see a 50% to 75% drop in our store when it's time for Final Order Cutoff on Monday. We ordered heavy on some of these because of the additional discount, which basically puts more copies on the shelf for free but if we're not even selling a third or fourth of what we've got, what's the point? Marvel will return to the top of the sales charts in October, but unless they find a new audience to start buying these books, they won't take back the top spot for long.

As always, we're selling a lot of Walking Dead as people gear up for Season 7 to finally see who got Lucilled. We've sold quite a few WD 100 recently, and it will only pick up in the next few weeks. Saga continues to catch new readers that we're getting hooked with the TPBs or the dollar first issue, and then they're going back to pick up the issues, many of which we still have at cover price for issues 10 and up. We're still hooking people on Paper Girls, for that audience that loved Stranger Things and wants a comic with a similar feel.

Still selling lots of Uncanny X-Men, Batman, Spawn, Nightwing, Ghost Rider and Amazing back issues. It's funny to see teens or younger kids buying back issues instead of new issues, but at least they know what they're getting off the cover, instead of a standard shot of Batman or Spider-Man that has nothing to do with the interior on most covers today. I wonder it's because they don't want part 5 or 6 of today's story for $4 and enjoy a done in one comic from the past that their parents grew up with.

Once again, Marvel manages to get one book (Darth Vader #25) in the top ten at our store… in tenth place, behind eight DC titles and an Image book (Reborn). Marvel sales have never been more disastrous than they are right now, and the company's only response is to pile on more garbage variants to try to coerce retailers into ordering books that they can't sell.

Strong back issue sales continue for pre-Flashpoint Superman, Batman, Flash, and Green Lantern titles.

Teen Titans and Wonder Woman did well with the back-issue market. Animosity continues to sell everyday and i should be out in the next two or three weeks of all issues and all printings.

Vader went out on top.Obviously a bunch of covers helped achieve that… but a victory is a victory. The rest of the books did quite well considering the glut of product that came out this week.
Enjoyed this article? Share it!