This is the Top Ten Bleeding Cool Bestseller List, as compiled by a number of comic stores from their sales on Wednesday and Thursday. It measures what are known as the "Wednesday Warriors", those who can't wait till the weekend to get this week's comics. We salute you, and the keenness you bring to your passion.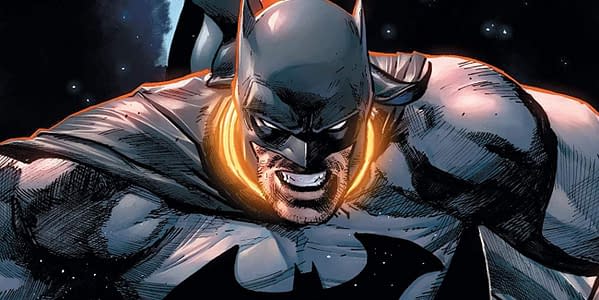 It's a fifth week, usually where DC Comics performs less well. But a little Heroes In Crisis, Batman specials and Justice League crossovers help that along….
Top ten bestsellers of the week,
Heroes In Crisis #2
Batman Secret Files #1
JLD/ Wonder Woman Witching Hour #1
Justice League / Aquaman Drowned Earth #1
Spider-Force #1
X-Men Black Emma Frost #1
Black Panther #5
Extermination #4
Stranger Things #2
Avengers Halloween Special #1
Thanks to the following retailers,
And this is what they had to say,
DC took the top spots in the weekly FFF Top Ten bestsellers list this week with Heroes in Crisis at #1 followed closely by Batman Secret Files. For a $5 book people were all about it. Stranger Things fell a little in numbers, but is still selling well enough. It dropped to the 3rd place spot, but against Batman, that's kind of expected. Spider-Force is off to a strong start while Vault of Spiders and Spider-Girls didn't really do spectacularly. Marvel Two-in-One continues to be a consistent seller which is kind of funny when you think about how the Fantastic Four used to sell. Now they have two titles that both make the Top Ten each week. Archie Meets Batman is also enjoying a bit of the Best of Both Worlds by grabbing the attention of older readers who hadn't read either in years. They're getting bit by the nostalgia bug and ensuring the book almost sells out each issue. Marvel and DC were split pretty evenly this week with the Top Ten, but even in a fifth week, DC managed to sneak ahead with the help of Batman and their hype event.
—–
Does Tom King ever leave the top 3?? Heroes in Crisis and Batman Secret Files secured the top 2 slots. Sonic made the list while being a typically strong seller that usually only barely gets edged off the list because there wasn't as much competition. In fact, most of our top ten wouldn't normally make the list in various degrees but releases were mighty lean this week.
—–
HEROES IN CRISIS #2 and BATMAN SECRET FILES #1 battled it out for bestseller this week, but ended up tying for first. DC essentially dominated the rest of the list, with just a few exceptions like the WYTCHES Halloween special and OLD MAN HAWKEYE #10.
—–
A fifth Wednesday for the month makes for an unsurprisingly light-ish release week. Our only real "major" release is HEROES IN CRISIS #2, which easily took the top spot. Following a fair bit behind, our second best selling title was BATMAN SECRET FILES #1 proving, if nothing else, that the Bat-brand remains DCs strongest by far.
The penultimate issue of the current X-Event, EXTERMINATION also performed well for us this week. BLACK PANTHER remains a strong seller, and in the middle of the pack we had two DC team-crossover-with-team-member one shots – DROWNED EARTH and THE WITCHING HOUR.
The bottom half of our list sees BATMAN THE MAXX, TONY STARK IRON MAN, and OLD MAN WOLVERINE lives up to his title by hitting the ripe old age (by modern Marvel standards) of 50 issues. Holding up the rear is the final of the X-MEN BLACK one-shots: EMMA FROST.
—–
The Avengers Halloween Special did very well. Wytches was met with where has the title been after all this time? Batman Secret Files and Heroes in Crisis did well. People picked up both the first and second issue of Heroes in Crisis this week. Sonic the Hedgehog sneaks into our top ten. Going to miss Old Man Logan. It had a loyal fan base.
—–
Four DC titles in our top ten this week (but they took the top four spots), five Marvels, and one Dark Horse as Stranger Things holds on to its audience (a good sign!). But the most noteworthy thing about this week's sales is the fact that they were fairly low in both units and dollar value because it was such a small shipping week.
Notable sales: 
Walking Dead #1 FN $850 Having bought 25 longboxes last weekend we finally got the keys sorted out and priced and this one took probably 3 days to sell.
Invincible Iron Man #128 VG $25 Nice mid grade copy of the classic Demon in a Bottle story.
Enjoyed this article? Share it!