Boom Studios Lied – Once & Future #1 Gets Seventh Printing
Thanks to Richard Epstein and Sofia Annunziata, reporting for Bleeding Cool from the NYCC Diamond Retailer Breakfast.
Once upon a time, Boom Studios told us that they were delivering the killing blow in The Kieron Wars (their rivalry with Image Comics for the affections of Doctor Kieron Gillen) with a sixth printing of Once & Future #1, passing the record held by Image's Die #1 at five printings. Boom loudly exclaimed this would be the final printing and retailers ordered nearly 7,000 copies of what they were told was the final printing.
Well, Boom lied…just like Image, who declared the fourth printing of Die #1 to be their final.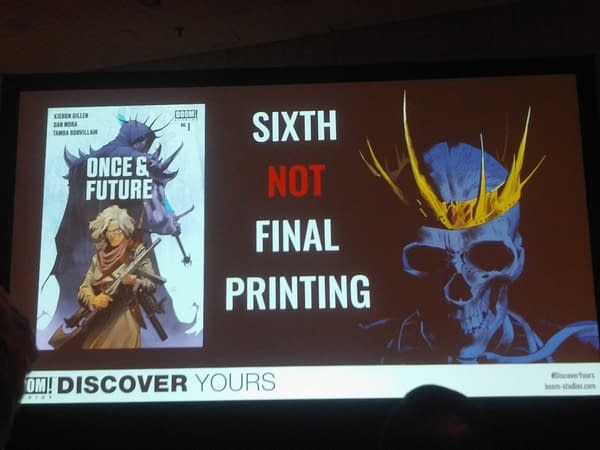 Though Boom fulfilled all orders on Once & Future #1 sixth printing and added a 1,000 unit overprint to cover any additional requests, it looks like retailer reorders are so high that they will need to go back to a new printing. Yes, they're sold out. Again, as they announced moments ago at the NYCC Diamond Retailer breakfast.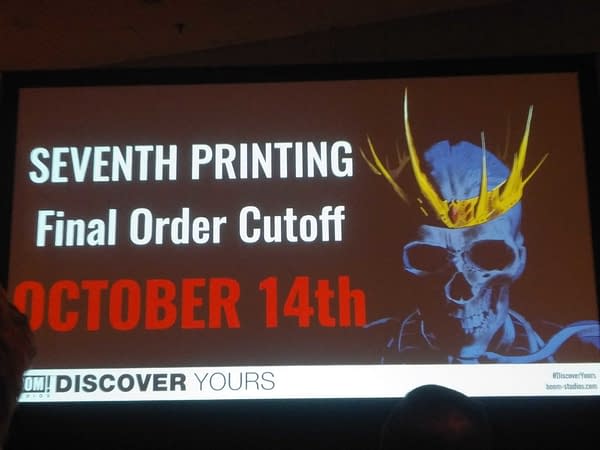 That brings the total number of Once & Future #1 sold to over 48,000 copies, also revealed at the Diamond breakfast.
Now this isn't a complete surprise. After all, Boom's Once & Future #1 and Something is Killing the Children #1 are two of the hottest books on the market right now. Even though both first issues have each sold close to 50,000 units after multiple printings, the demand hasn't stopped.
But here's the part you don't know – Once & Future orders are actually growing with every issue.
We told you how Boom actually had more copies of Once & Future #2 (through the first two printings) than Once & Future #1 in the market.
And then we told you how Once & Future #3 is continuing to surpass the 20,000 unit mark even on its third issue, which would be a good number of any creator-owned launch – much less the third issue, when those numbers often dip much lower.
That strong second issue trend continued with Boom's other big hit Something is Killing The Children, which grew a massive 70% from initials to FOC on its second issue, as we (you guessed it) told you first.
But that's not the only big release from Boom. Their November launch of Folklords from Matt Kindt and Matt Smith that we've warned you is the next major creator-owned launch from the company. The series is also being promoted in a way that reminds us a lot of Skottie Young & Jorge Corona's Image series Middlewest which fused fantasy and reality together in a way that flipped the expected genre paradigms on its way to huge sales and award nominations…and still sells for $16 on eBay a year later. Some have described Folklords as 'reverse Harry Potter' where a guy in a fantasy world dreams of coming to our normal reality," but however you want to describe it just don't forget how recent Boom launches are selling right now on the secondary market now.
So even if only half of the Once & Future or Something is Killing The Children fans came out to buy Folklords #1, we'd still be looking at one of the bigger creator-owned launches of the year. But with the heat on Boom launches now – from Faithless to Once & Future to Something is Killing The Children and some chatter on December's Red Mother #1 – every comic shop should expect lots of calls for multiple copies of each cover because the demand from fans isn't going away after the first issue of new launches. And you'll want those i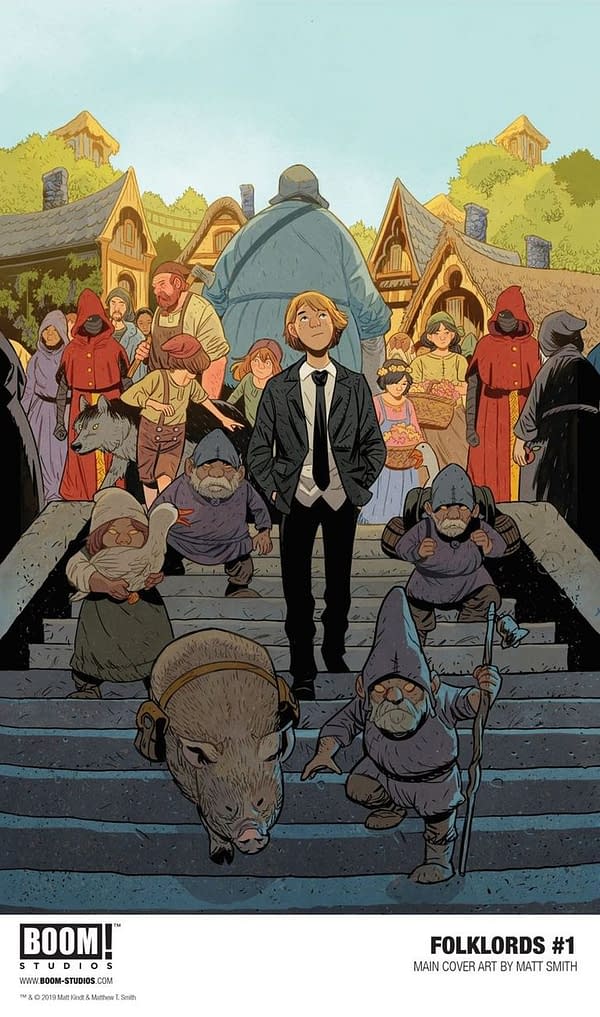 arvel vs DC of creator-owned comics, Image is countering with November mega-launches in Undiscovered Country and Family Tree. If these series hit alongside Folklords and the continued unprecedented sales on other BOOM! series, could November 2019 be the biggest month in creator-owned comics history?
Folklords #1 is in comic shops November 13.
Once & Future #1 seventh (and probably not final) printing is in comic shops probably a bit sooner on November 6.
Catch up with more of our Retailer Breakfast coverage today with this handy-dandy tag.