Booster Gold #1 $650 Sale After James Gunn DC Studios Announcement
After James Gunn's announcement of a Booster Gold TV series, Booster Gold #1 graded by CGC as 9.8 from 1986 has sold on eBay for $650.
---
It was already a collectable comic book. But after James Gunn and Peter Safran's announcement of a Booster Gold TV series from DC Studios, a copy of Dan Jurgens' Booster Gold #1, graded by CGC as 9.8 from 1986, has sold on eBay for just shy of $650 while a raw copy has sold for $250. A month previously, a CGC 9.8 copy sold at $280 and raw for $54 the week before. That's an increase of 250-500% in value.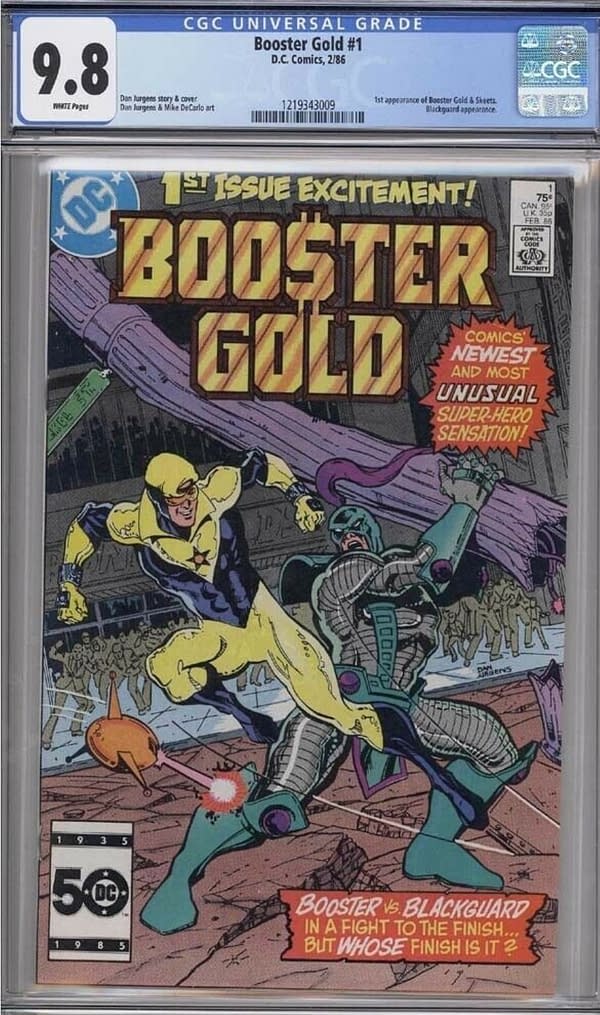 Safran: "A total fan favorite, as you know. A loser from the future who uses his basic future technology to come back to today to pretend to be a superhero."
Gunn: "I think of it as basically the story of a superhero's imposter syndrome. How do you deal with that? (It's about) how he tries to use this future technology to be loved by the people of today and what is really at the base of that. It's a character story that's going to be a very different type of show, and we're talking to an actor about it now."
Dan Jurgens has recalled the origins of the character, pitching him to DC EIC Dan Giordano, tweeting "Thrilled with the news that Booster Gold is heading to HBO Max courtesy of @JamesGunn
and company. Amazing to think these initial character sketches from 1984 would lead to this. Excited to see what's next in the life of the greatest hero you never heard of!"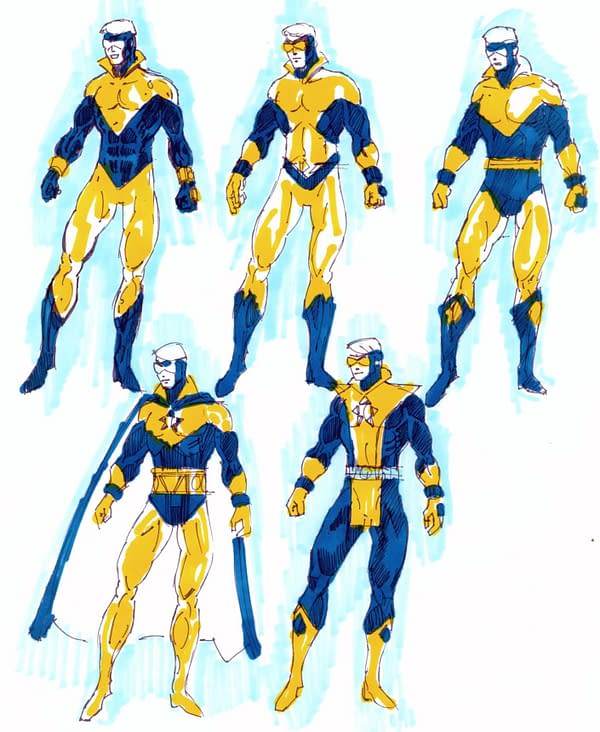 "Really appreciate the reaction to the Booster Gold HBO Max news. Seems like just yesterday that I sat down with Dick Giordano (1984) to explain the idea of a time traveling hero who played the celeb/media game, trying to make up for the crimes and mistakes he'd made. Also went through the humorous aspects, explaining that unlike the rest of the DCU (where all the heroes were bland and perfect), that Booster would try to do the right thing along the way. But, if he happened to make a few bucks in the process… what's wrong with that? And, while Booster would generally solve the problem, it'd be awkward. Superman catches a crashing plane and lands it at the airport. Booster clips a few buildings along the way, damaging them and the plane and puts it the middle of town, creating a three day traffic jam. Everyone survives, but the results aren't perfect. It's the way things go for most of us, sometimes often, in our own lives, which is part of BG's charm. With the way social media and celebrity culture have grown, he's more relevant now than when issue #1 appeared in 1985. I didn't have anything written up. Not even a sketch. Just a vision, and Dick went for it on the spot. Said, "Give me something on paper for legal so we can get contracts started," and with a handshake, told me I could start working. Great man and glad he saw the potential!"
Sales have also been strong for Booster Gold collections, as all collections have sold out on Amazon and beyond, James Gunn has told us that collections are being rushed back to print in wake of these announcements.
Booster Gold: 52 Pick-Up from 2008 by Geoff Johns and Jeff Katz has sold out through Amazon. "Booster Gold, the time-traveling super-hero from tomorrow, is back, and now that someone is exploiting the ravaged time stream in hopes of eliminating the world's greatest heroes, only Booster can stop them."
So has Booster Gold: Blue and Gold also from 2008 by Geoff Johns, Jeff Katz and Dan Jurgens. "Booster Gold, the time-traveling super-hero from tomorrow, knows that someone is exploiting the ravaged time stream in hopes of eliminating the world's greatest heroes and that he must do everything in his power stop them."
So has Booster Gold: Reality Lost by Chuck Dixon and Dan Jurgens from 2009. "Longtime BATMAN writer Chuck Dixon pens a story teaming up Booster and Batman when a time-traveling villain from Batman's past attempts to destroy Gotham City! And in a story written and drawn by original Booster Gold creator Dan Jurgens, Booster discovers that the timestream has been inexplicably altered, unleashing all types of anomalies only he can put back in order! Guest-starring Batgirl and Elongated Man!"
And Booster Gold Day Of Death by Dan Jurgens and Keith Giffen, from 2010 has sold out, though a seller has a copy willing to go for $71.
Booster Gold: The Tomorrow Memory by Dan Jurgens and Norm Rapmund from 2010 is also out of the door. "After fighting Black Lantern and former Blue Beetle Ted Kord, Booster Gold finds himself lost in time, struggling to save his sister Goldstar from imminent death. However, when Booster Gold rescues his sister from the timestream – he soon realizes that the sister he saved is not the same girl he remembers."
While of Booster Gold: Past Imperfect by Keith Giffen, J.M. Dematteis and Chris Batista from 2011, there is no sign. "When a mysterious figure from Booster's past resurfaces, our hero's life is turned upside down and inside out, and only a trip through the timestream can set things straight. The shocking events of JUSTICE LEAGUE: GENERATION LOST leave Booster Gold bloody and beaten, and the only way for him to put right what went wrong and save the people he loves is to travel back into the past. But what happens when Booster comes face-to-face with himself and Justice League International?"
And the more recent Booster Gold: Future Lost hardcover from 2020 by Dan Jurgens? Not a chance.