Brave New World Is An "Essential Companion Series" To Marvel's Secret Empire Super-Mega-Crossover Event
Captain America may be an agent of Hydra (oh noes!) in the upcoming Marvel super-mega-crossover event Secret Empire, and if we're guessing correctly, nothing in the Marvel universe will ever be the same again! Well, most things won't. One thing that always stays the same no matter what is you can't have a super-mega-crossover event without multiple companion series, one-shots, and tie-ins to provide supplemental information that enhances your enjoyment of a quality event comic, but is also totally required reading if you want to understand this beast so reserve your copies now.
Billed as an "essential companion series," Secret Empire: Brave New World will help you keep up to date on what all the heroes who aren't important enough to have their own ongoing series are up to while the main Secret Empire series deals with Cap's Nazi cosplay problem. We're talking about beloved heroes like Namor the Submariner and Human Torch we think, and, wait, why is Captain Marvel on the cover? Doesn't she and a bunch of those other heroes already have their own series? Screw it. In Secret Empire: Brave New World, you can finally stop wondering what Black Panther, Miles Morales, Carol Danvers, and one or more Iron Mans are up to when they aren't doing the things they're doing in the main Secret Empire series or in their own regular series tie-ins to that series. Plus, Paul Allor and Brian Level will reunite original Invaders Namor, Human Torch, and Toro (who is now an Inhuman) as they try to cope with the fact that their old war buddy is playing for the other team in the book's main story.
"I am so excited to tell the story of how Cap's first allies: the Invaders–the original Human Torch, Toro, and Namor–are dealing with Steve epitomizing everything they always stood against and now how they need to defend the Kingdom of Atlantis from the tightening grip of Hydra," said Allor, who also called the book "a vital chapter during the events of Secret Empire." Secret Empire: Brave New World will also debut an "All-New Patriot," featured on the book's second issue cover, and feature appearances from Gwenpool and Blade. Sadly, it looks like you'll have to wait for the unannounced Secret Empire: D-Man one-shot to find out what that hero is up to.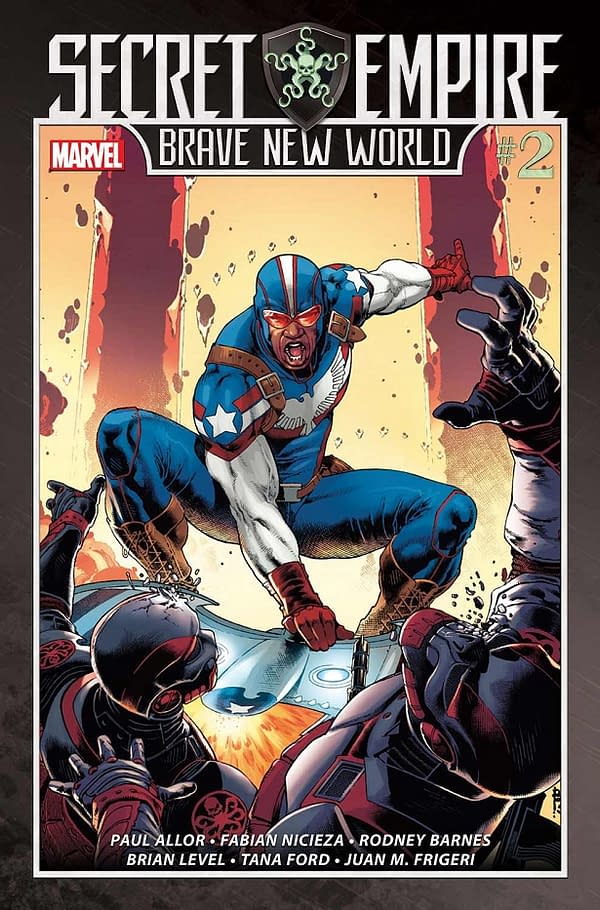 Creators announced for the first two issues include Allor and Level, as well as Jeremy Whitley, Nick Kocher, Diego Olortegui, Will Robson, Tana Ford, and Juan M. Frigeri, a veritable "who's who," literally, because at this rate it will feature every significant creator working for Marvel or available as a freelancer by the time it wraps up. In case you were worried you might have to spread the $8-$10 it will cost to buy both of these issues across two months, fear not! Marvel has helpfully decided to ship both issues in June, because let's face it, if you're buying every tie-in to Secret Empire, you've already taken out a second mortgage to pay for all this, so what's two more gonna hurt?
Read more about this exciting new series in an interview with Allor and editor Charles Beacham at Nerdist.