English Comic Shops Can Open Back Up on June 15th, Boris Says So
Yesterday saw Prime Minister Boris Johnson's right-hand man Dominic Cummings try and defend his lockdown-busting behaviour as some kind of vehicular eye-test. Which saw officials having to issue public guidance for people to not to use short driving trips to test their eye-sight, even faster than disinfectant manufacturers had to, to stop people injecting themselves with bleach. But there was something else Boris wanted to talk about yesterday as well. Talking about a gradual easing of lockdown, he stated that the current plan is for non-essential shops to open from Monday June 15th. And, yes, that would include English comic shops as well. Wales, Scotland, Northern Ireland, they have their own devolved decisions to make.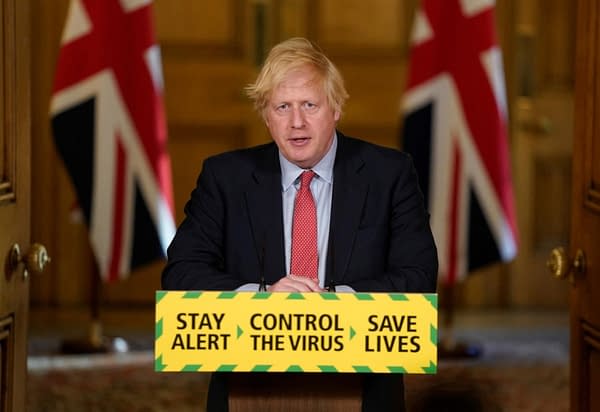 A number of English comic shops have been operating mail order, or making pick-up arrangements, but most remain firmly closed. But 15th of June may see that change. Frog Bros Comics of Bournemouth, on the south coast of England, have been making plans, tweeting out
We'll be reopening on the 15th June all being well Folks.. still running the mail order so if there's anything you want, or need (including Masks?!) just Holler! Stay safe, sane and well.. see you all soon!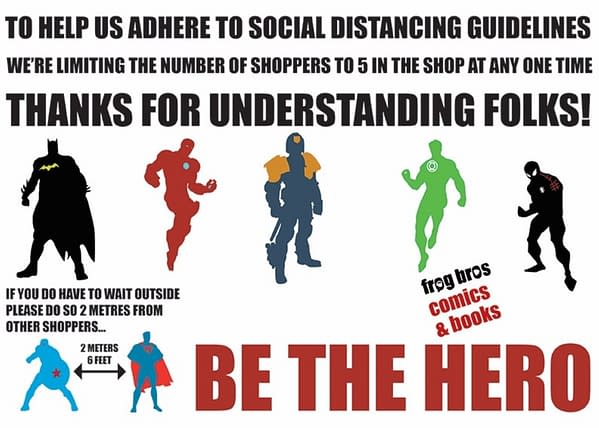 While The American Comic Shop of Chatham, Essex, posted on Facebook
Following the latest Government announcement it looks like 'The American Comic Shop' should be re-opening on JUNE 15th 2020!!! We'll keep you all updated. In the meantime stay safe!
Still no word from the bigger comic shops such as Forbidden Planet – either of them. Announcements are, I understand, imminent. All this is also dependent on the infection rate not rising too high as and when the restrictions are lifted. Stay alert, control the virus, save lives, don't drive from London to Durham rather than asking a neighbour for help.