Earlier this week, Black Lightning creator Tony Isabella took to Twitter to share some very unflattering comments about Batman and the Outsiders, the new series from Bryan Hill and Dexter Soy. It seems that Isabella doesn't feel that Black Lightning is acting in character in the new series. In particular, he doesn't feel that Black Lightning would be willing to be Batman's… you know what, let's just see it in his own words…
Don't try to put a silver lining on DC reducing Black Lightning to Batman's support negro. It's insulting to the character, his fans and the creator with whom he wouldn't exist. For authentic Black Lightning, read Black Lightning: Cold Dead Hands and watch the brilliant TV show.

— Tony Isabella, Creator of Black Lightning (@thetonyisabella) May 9, 2019
If you don't already understand why DC Comics reducing Black Lightning to Batman's support negro is insulting…if you give me the lame "that's the marketplace" response…you're never going to get it. We don't have anything to talk about.

— Tony Isabella, Creator of Black Lightning (@thetonyisabella) May 9, 2019
Yikes! Isabella went on to post a long thread about the subject, starting by saying that he spoke to a DC Comic executive on the phone and that executive agreed with Isabella that Black Lightning is out of character in the series.
Jefferson's priorities are his family, his students, his community. It's out of character for him to leave all that at Batman's bidding. He's not a guy to respond "How high?" when Batman or any other hero tells him to jump.

— Tony Isabella, Creator of Black Lightning (@thetonyisabella) May 10, 2019
There was a lot more, so go here if you want to read Isabella's full multi-day rant, including Isabella's idea on how he would write a Batman and the Outsiders series. In any case, Bryan Hill has issued a response to Isabella's tweets, in a somewhat more subdued manner.
PLEASE don't attack any creator for their opinion of me or my work. No need for that. Everyone is entitled to their opinion, and it's ultimately the work that will demonstrate virtues and flaws. Let's focus on the work and see where it all goes and thanks so much for reading!

— Hilluminati (@bryanedwardhill) May 10, 2019
This is actually the second time Hill has acknowledge Isabella's attack, tweeting earlier this week:
I've seen some commentary about me having animus towards Tony Isabella (the creator of Black Lightning). That's completely FALSE.

I have nothing but respect for Tony and his work. Obviously, without his imagination I wouldn't be writing BATMAN and THE OUTSIDERS.

— Hilluminati (@bryanedwardhill) May 9, 2019
Batman and the Outsiders #1 is in stores now. Batman and the Outsiders #2 hits stores on June 12th.
Batman and the Outsiders #2
(W) Bryan Hill (A) Dexter Soy (CA) Tyler Kirkham
Sofia Barrera is on the run from an enforcer for the Ark, the program that gave her powers-but in the process, she's fallen into the hands of the mystery man called Kaliber! He claims he wants to protect her…but who's paying his bill? And is Katana already questioning Black Lightning's leadership on their very first mission? Or is she just pushing him in a direction he's not willing to go?
RATED T+
In Shops: Jun 12, 2019
Final Orders Due: May 20, 2019
SRP: $3.99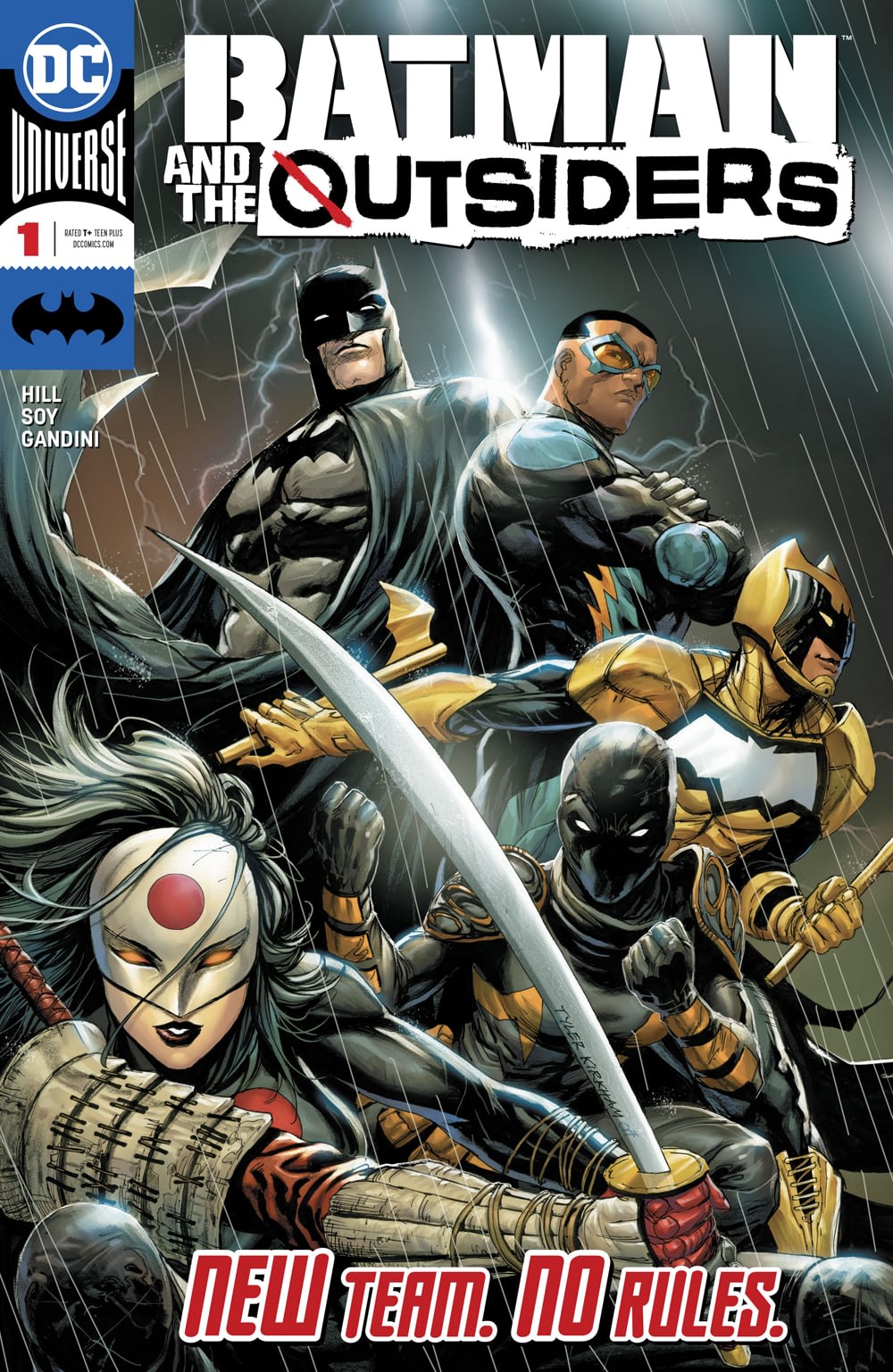 Enjoyed this article? Share it!