When Bryan Hitch Met Samuel L Jackson, the Man He Made Nick Fury, On The Jonathan Ross Show
Jonathan Ross, British chat show host, comedian, awards presenter, radio DJ and all-around decent guy is also a massive comic book fan, with an original art collection that would stun pretty much everyone reading Bleeding Cool. He's written comics such as Turf, Revenge and America's Got Powers, the latter drawn by Bryan Hitch. Oh, and his wife, Jane Goldman, is the screenwriter on Stardust, X-Men, Kick-Ass, Kingsman and showrunner of the Game Of Thrones prequel. In the UK, he is the unchallenged Head Geek, like Kevin Smith, Steven Colbert and Patton Oswalt rolled into one.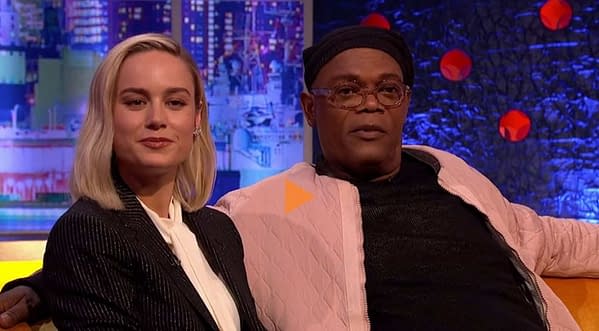 And on tomorrow night's Jonathan Ross Show recorded last night, Ross had Samuel L Jackson and Brie Larson on as guests, and The Ultimates comic book. In a section cut from broadcast, probably for being far too geeky for national mainstream television, Ross took the opportunity to credit its artist Bryan Hitch as the man who made the decision to draw Jackson into the comics as Nick Fury, which led to him getting the role in the Marvel Studios movies.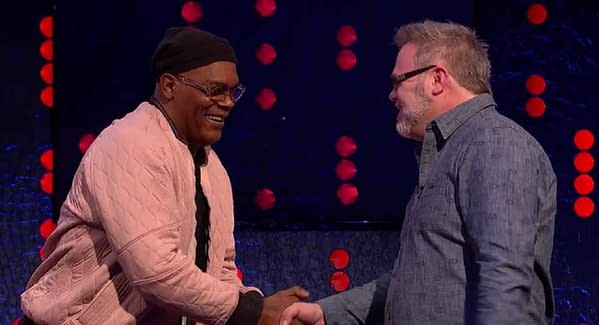 And then Ross brought Bryan Hitch himself onto the show, to meet Jackson and Larson and to present Jackson with a piece of original art by Hitch, of Jackson in the role.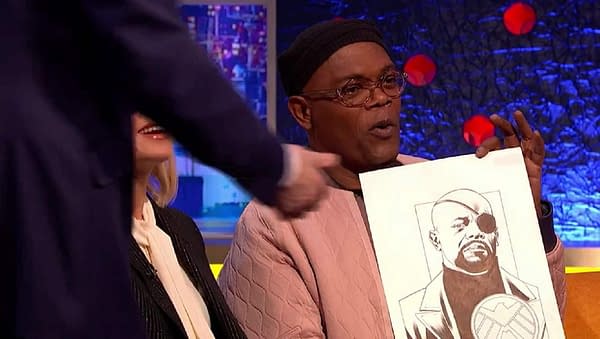 Sadly, this won't make it to air. But Bleeding Cool has been given the opportunity to show the clip.
Previously, the seemingly-approved version of events had Ultimates writer Mark Millar as the one who asked artist Hitch to draw Nick Fury as Jackson. Previously a 1960s secret agent, and so white he was played by David Hasselhoff in an 1990s TV movie, this was quite the recasting of the character. Millar is quoted as saying of the decision
I wanted an African-American Nick Fury to be director of SHIELD because the closest thing in the real world to this job title was held by Colin Powell at the time. I also thought Nick Fury sounded like one of those great, 1970s Blaxploitation names and so the whole thing coalesced for me into a very specific character, an update of the cool American super-spy Jim Steranko had done in the 70s and based on the Rat Pack, which seemed very nineteen sixties and due for some kind of upgrade.

Sam is famously the coolest man alive and both myself an artist Bryan Hitch just liberally used him without asking any kind of permission. You have to remember this was 2001 when we were putting this together. The idea that this might become a movie seemed preposterous as Marvel was just climbing out of bankruptcy at the time. What we didn't know was that Sam was an avid comic fan and knew all about it.
With Millar reporting Jackson's reaction when they met over a decade later on the set of Kingsman: The Secret Service,
The first thing I said was I hope you don't mind me completely exploiting your appearance in my book thirteen years back, and he said, "F-ck, no, man. Thanks for the 9 picture deal."
And time after time after time, it's Millar who gets the credit for that decision. So no wonder Samuel Jackson believes that himself.
When I went, when I was in Golden Apple one day and I saw The Ultimates cover and I realized it was my image. And so I called my manager immediately. It's like who'd I give permission to use my image for a comic book? Or did you guys do it and didn't tell me? Were you trying to surprise me and what are you talking about? And they made a call. And to the Marvel people at that time and they said, well like it says inside the comic book, the character Nick, the characters are talking and one of the characters goes, so if they make a movie about us, who would you want to play you? Nick Fury says, Samuel L. Jackson. And I'm like yes. And Mark Millar being Mark Millar did that.
But Jonathan Ross knew the truth. And, now that Bleeding Cool has been able to share the clip, able to set the record straight a little wider than before. While Jackson get some very cool artwork in the process.
The Jonathan Ross Show returns to ITV tomorrow night, Saturday, 2nd of March, at 9.25pm for its fourteenth series. With the stars of Captain Marvel, Brie Larson and Samuel L Jackson, the coaches from The Voice, Jennifer Hudson and Will.i.am, as well as comedian Seann Walsh as guests, plus Bryan Adams performing in the studio.
Here are a few more screencaps and a YouTube version… hang on, did he say Bryan Hitch on Batman? Better look into that one…