In the Injustice 2 ongoing digital and print comic book by Tom Taylor and Bruno Redondo, they have made all sorts of changes to DC Comics canon, because it's hilarious. Or tragic. Or just because they can.
Such as giving Batman a daughter, Athanasia Al Ghul, as well as Damian. An original character created for the series, she hasn't been adopted by DC Comics continuity. Yet.
But from this week's issue, maybe that's a good thing. As in the previous issue she turned up in Wayne Manor with Ace the Bat Hound in a compromised position.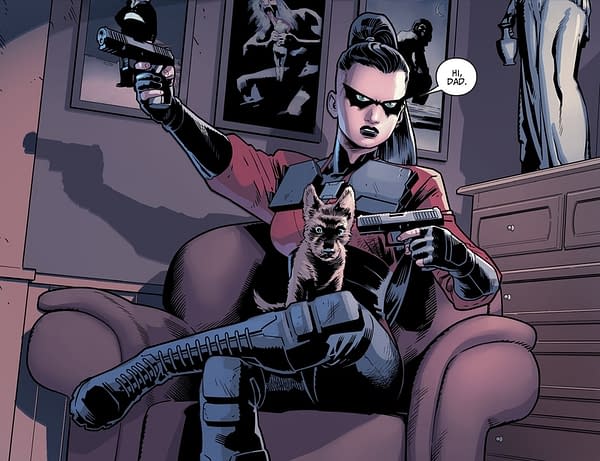 Buy the next issue of the comic or she shoots the dog? Very National Lampoon.
I don't think that's her stomach.
I'm sure that was just Alfred dropping the tea tray. Ley's check in with this week's issue…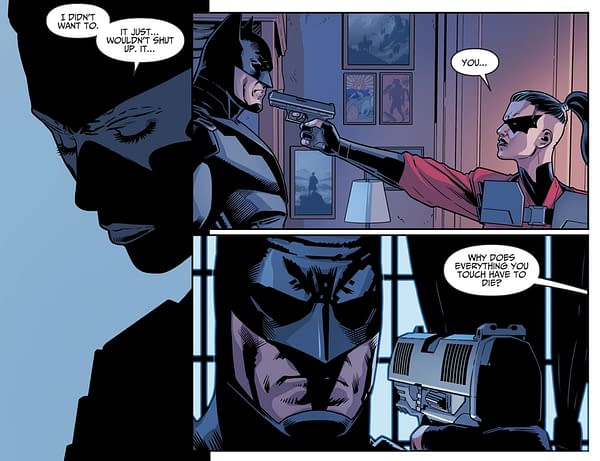 Hang on, what? Batman's daughter shot Ace the Bat-Hound? He wasn't even barking. Are we sure Ace is dead?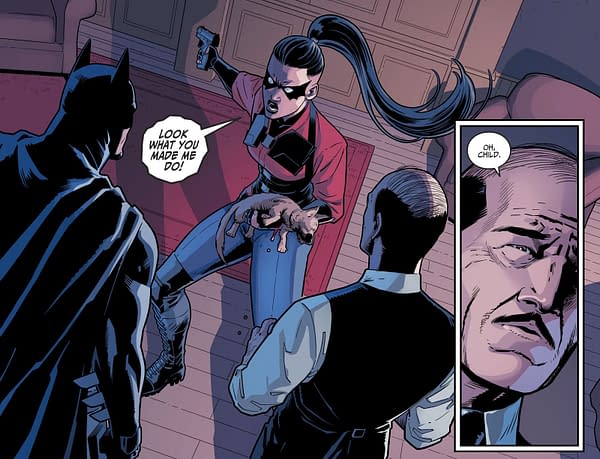 Are we sure she's not Taylor Swift?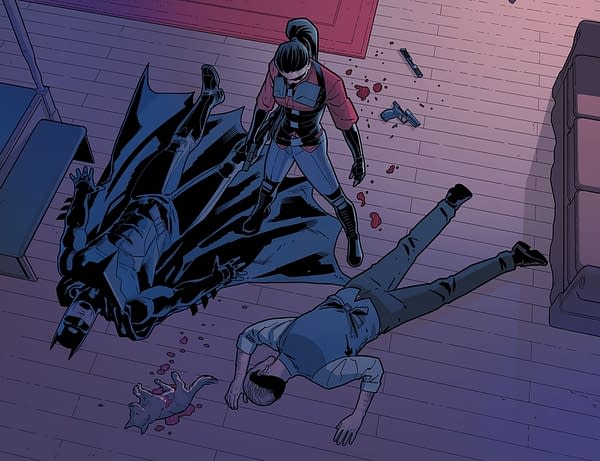 Well, she's Batman's daughter all right. The blood is all Ace's…
Injustice 2 #52 is published digitally today and in print in May…
INJUSTICE 2 #26
(W) Tom Taylor (A/CA) Bruno Redondo, Juan Albarran
With their immediate crisis behind them, Batman holds a meeting with his fellow heroes to get back to the business of rebuilding the world. But a crisis at Wayne Manor calls him home. There's a rogue agent still on the loose, putting Alfred and Catwoman in grave danger.In Shops: May 16, 2018
SRP: $2.99
Enjoyed this article? Share it!