Things to watch out for at C2E2 2020, kicking off today at McCormick Place, Chicago, heading towards a total attendance of around 100,000.
1. DC Comics has the anniversary Flash #750 on sale from today at the show with a $10 variant cover from Graphitti Designs' booth adjacent to the DC Comics booth, a week ahead of its official comic store release.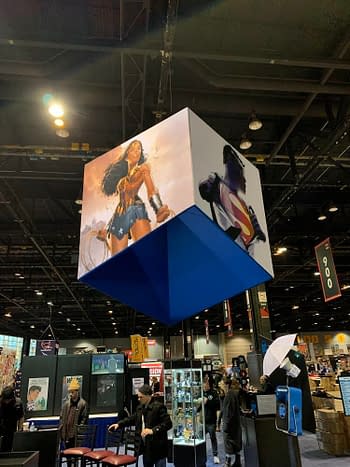 2. C2E2 have partnered with AEW – All Elite Wrestling, the American professional wrestling promotion founded in 2019. They are running their pay per view event on Saturday night at the arena next door and doing a bunch of content during C2E2 – look for them to start using C2E2 in a similar fashion to what they did with NYCC, including C2E2 displayed pretty prominently on broadcast.
3. Scott Snyder is an unannounced swing-through of C2E2 for a couple of hours on Saturday. Look for him at Table O-11 in Artist Alley from 4 – 6pm.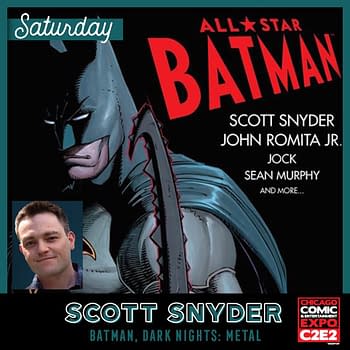 4. Star voiceover RPGers Critical Role are about to do to C2E2 what they did to MCM, and Reed considers them to be the biggest driver of fan excitement in the US.
5. DC Publisher Jim Lee may not be doing Meet The Publishers panel – but he will be on the showfloor and doing art-focussed panels, 12.15 pm Saturday. Expect him to be a lot busier than usual.
6. Marvel is likely to have something big to announce at its X-Men panel on Friday. 2.30 pm – but they never let the Women Of Marvel panel on Sunday, 12.15 pm go empty either.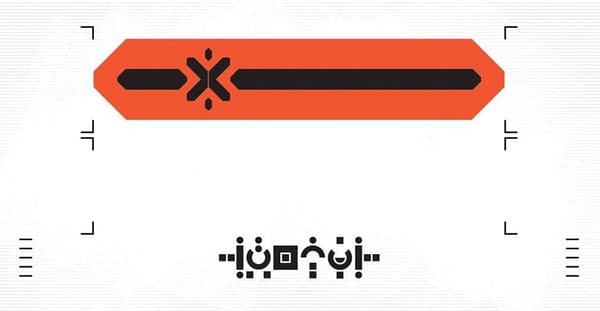 7. Run to the ComicBook For Kids booth for two things – first the CB4K C2E2 Coloring book, with only 75 copies at the show.
The Emmy, Eisner and other award winner artists in this volume include in no particular order, Frank Frazetta, Will Eisner, Hal Foster, Kevin Eastman, Jeff Smith, Mike Kaluta, Mike Grell, Dave Stevens, Jim Steranko, Neal Adams, Tim Seeley, Stan Sakai, Art Baltazar, Bill Reinhold, Shawn McManus, Aaron LoPresti, Michael Ploog, Topper Helmers and many others for a total of 38 different artists. Some art in this volume was created simply for this coloring book and has never before been seen. Get your copy at booth # 1489. Limited to 100 copies All proceeds to charity.
And they also have Kevin Eastman's unpublished art cover for the Teenage Mutant Ninja Turtles #102 ComicBooks For Kids! variant. limited to 75 copies. All proceeds to the charity that gets comic into the hands of kids in hospital. Booth # 1489 – run, don't walk.
8. Count how many cosplay costumes will integrate facemasks…  the Cosplay Championships is on Saturday night.
9. Our friend Victor Zuzulo of The Impossible Collection, Metropolis Collectibles and ComicConnect will be at Booth 1419, buying and selling vintage comics, but will also have a public display of vintage comic books, original comic art and video games, and taking consignments for their next event auction. If you ever wanted to see an Action Comics #1 (or two), that will be the place to pop by.
10. Stephen Amell Wine. Try shooting arrows after downing a bottle or two. Say, where's Mark Ruffalo's wine? He'll be green with envy,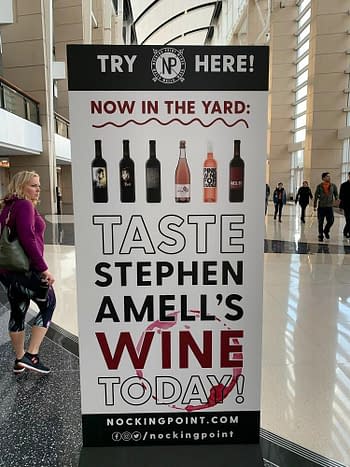 11. C2E2 After Dark programming has expanded all weekend including karaoke and D&D sessions, so people don't have to go offsite to party…
Bleeding Cool will have reporters at the show. Do shout out if there's anything you need.
Enjoyed this article? Share it!