Cadavers #1 Review: An Interesting And Relevant New Concept
[rwp-review-recap id="0"]
One of the books I got my hands on at London Film and Comic Con was new series, Cadavers, by Mad Robot Comics, a group of writers and artists based out of a studio in Worthing. Cadavers tells the story of a group of supernatural refugees in a fictional country. Treated as second-class citizens, they see their situation go from bad to worse with the rise of a new political power intent on adding them to watch lists and worse. There's a lot more to it than that even, and it's that that really elevates the comic.
Written by Matt Hardy and with art by Edward Bentley, the story really reaches interesting new heights as the twist is revealed — and with just how incredibly relevant it is now. It is remarkably on point for this day and age with certain political elements talking about walls and wanting to demonise whole classes and types of people as enemies.
Also, the back matter adds an intriguing element of backstory loosely hinted at in the main comic that could really lead to some interesting play later.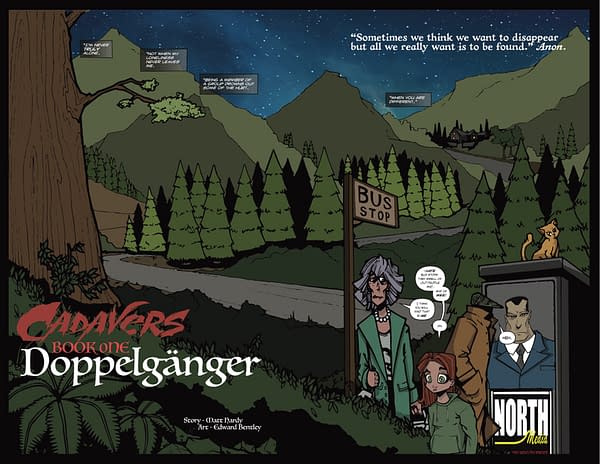 Bentley's artwork is strong, which is always good to see in small press books. He has a style reminiscent certainly of Humberto Ramos, but with an energy all his own. His ability to illustrate a story where the lead character is a very abstract being and not have it look confusing is a skill worth having.
There are a great many comics on the UK indie scene by some very talented creators who are making new ideas that feel fresh, fun and new. Cadavers is a prime example of that — and well worth taking the time checking out.
Cadavers #1, as well as the second issue of the series, are available at the Mad Robot Comics website.
[rwp-review-ratings id="0"]
[rwp-review-form id="0"]