Posted in: Comics | Tagged: cbr, cosplay, shaming
---
CBR, and a Little Weekend Cosplay Shaming
I used to write for Comic Book Resources when it was called Comic Book Resources, rather than CBR. You may remember a little Monday morning column I wrote for them called Lying In The Gutters. Bleeding Cool, created by Avatar Press, exists as a direct result of that. It was sold by my then-boss Jonah Weiland, while my then-editor Arune Singh moved to Marvel Comics and now Boom Studios. All declarations of interest on the table.
Anyway, last week, CBR's Facebook page pushed an article from one of their partner sites, TheThings.com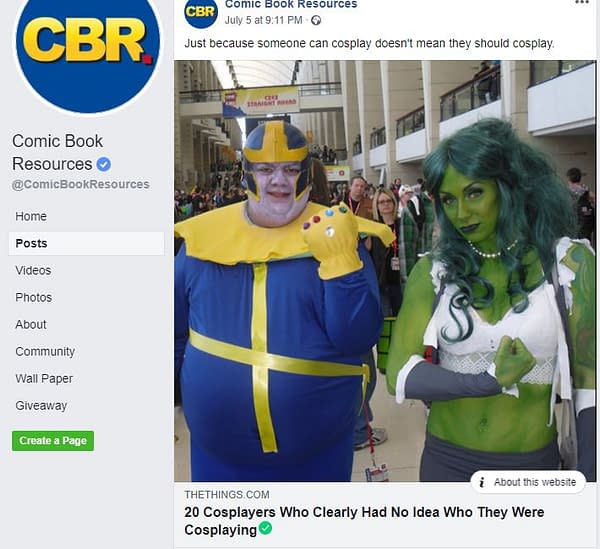 The article shows photos of lots of cosplayers, criticising their costuming and, during so, mistaking the She-Hulk costumer above as a 'gender-bent' Hulk. Many are clearly fun costumes, meant to be quite silly, but judged rather hardly for engaging in that fun aspect. And clearly not bought-off-the-shelf creations.
This counter to the 'fun' side of cosplay gained quite a lot of Facebook responses on CBR's page. Here are a few from a few prominent folk…
Marc Andreyko hey, CBR: f-ck you. ALL of the cosplayers here are more creative and celebratory of comic culture than your site will ever be. they should've put a closed sign on the door when Jonah left.

Luigi Novi And who exactly are those, and what criteria determine this, CBR?

Tony Lee Well this super backfired on you, didn't it CBR.

Joe Glass This is an absolutely disgusting gatekeeping mess of a post to be sharing, CBR. No wonder we've all found the quality of your site declining in recent years if this is the kind of sh-t you're happy to share now. And just to point out – one of those people isn't even cosplaying, he was attending a far right rally. He's dressed in gear that he feels shows the "superheroic" nature of supporting a fascist group. So this article that includes him with all these creative and talented cosplayers is hot garbage and you should be ashamed

Brian K Morris So what positive purpose does CBR have in mind by running this article? Clearly, these cosplayers are having FUN and we should celebrate that, not body or skill shame anyone. Bad form, CBR. VERY bad form.

Matt Santorelli Seriously, whoever put this up is why there have to be "Cosplay is not consent" posters everywhere at cons. Cosplay is for everyone! Let your geek flags fly!

Eva Devi Hopkins "Just because someone can cosplay doesn't mean they should cosplay." "Just because someone can write a BS, condescending article for clickbait, doesn't mean they should write it." FTFY What sad, gatekeeping assholes you are, CBR.

Tom Gould There's no reason to be mean. If someone wants to cosplay, let them. I love seeing people represent their favorite characters.

Sherri Savannah Anderson Everybody can cosplay and everybody should cosplay. There. I corrected the headline for you.

Joe Vallen What, did you have too many followers or something? The idea behind cosplay is everyone can be anyone they want. It's not just for the entertainment of spectators, mainly for a fun element of escapism. It's one the reasons we all like Halloween. Anyway, good luck with your purge…

James Ortiz EVERYONE has the right to cosplay whoever and however they want.
I suppose it's a pleasant change from everyone hating on Bleeding Cool for whatever reason. But I'm sure normal service will be restored soon.
---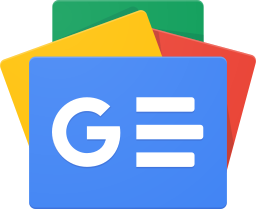 Stay up-to-date and support the site by following Bleeding Cool on Google News today!