Charles Soule & Ryan Browne's Eight Billion Genies From Image Comics
In his most recent newsletter, Charles Soule has posted about his new creator-owned comic book with Ryan Browne, to follow Curse Words from Image Comics. Eight Billion Genies…. he writes "My next comic with my CURSE WORDS co-creator @RyanBrowneArt is… EIGHT BILLION GENIES! Everyone on Earth gets a genie at the same moment, and one wish. What happens next? Find out May 2022, from @imagecomics!" He also adds "Also – Ryan and I will have a special limited edition of Issue 1 at @c2e2 in Chicago this weekend – come see us! Also also – we're making that exclusive item available to my newsletter subscribers as well – sign up at http://charlessoule.com!" Ryan Browne tweeted "Here it is, folks! The next big Browne/Soule collaboration! What is 8 Billion Genies about? Well, at exactly the same moment, everyone on Earth gets a genie, and one wish. What happens next? How would that be anything other than total chaos? Come see us at c2e2 to find out! #8BG"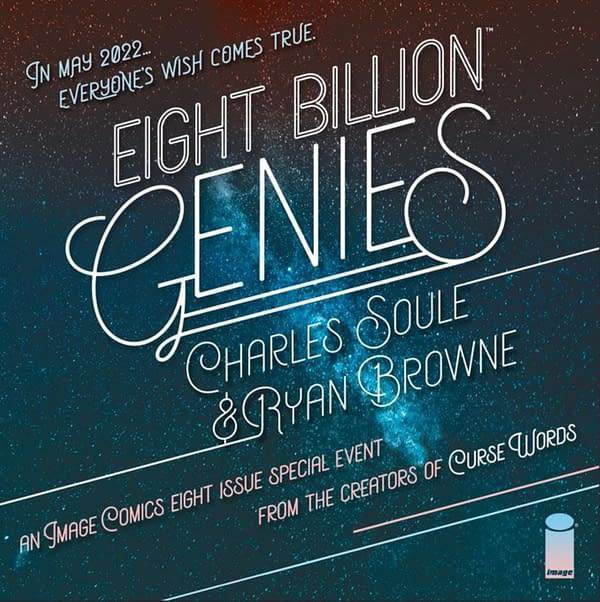 That's a pretty easy deal. Charles Soule is a New York-based comic book writer, novelist, musician, and attorney best known for writing Daredevil, She-Hulk, Death Of Wolverine, and various Star Wars books and comic series from Del Rey Books and Marvel, and his creator-owned series Letter 44, Curse Words, and Undiscovered Country. And also representing all manner of folk in the field of entertainment law. Ryan Browne is best known for God Hates Astronauts, Smoke And Mirrors, Quantum & Woody, and of course Curse Words. That series by the pair began in 2017, about a wizard who appeared in New York City full of light and wonder, but had everyone fooled, and was there to bring in a far darker reality.
Eight Billion Genies will be published by Image Comics in 2022 during their thirtieth anniversary year and they'll be glad to have the Curse Words pair back for that.