Chris Ware, Neil Gaiman, Grant Morrison, Joe Sacco, Posy Simmonds, Kieron Gillen, Jamie McKelvie, Paul Cornell And More At Edinburgh's "Stripped" Event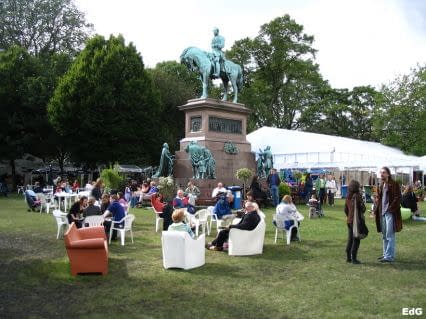 Chris Ware, Joe Sacco, Neil Gaiman, Grant Morrison, Kieron Gillen, Jamie McKelvie, Paul Cornell and Posy Simmonds are taking are part in Stripped as part of the Edinburgh International Book Festival.
Other names include Denise Mina, Paul Gravett, Melinda Gebbie, Warren Pleece, Roger Gibson, Chris Riddell, Jon Naught, Stephen Collins, Robin and Lorenzo Etherington, Robbie Morrison, Jim Murray, Denise Mina, Hannah Berry, Gareth Brookes, Sonia Martinez, Garen Ewing, Jamie Courtier, Vicky Kimm, Gary Northfield, Bryan and Mary Talbot, Philip Reeve, Sarah McIntyre, Vivian French, Craig Silvey, Sonia Martinez, Lauren Beukes, Inaki Miranda, Emma Vieceli, John Higgins, Rutu Modan, Rob Davis, Martin Rowson, Glyn Dillon and Andrea Mutti.
A series of over forty talks, audiences, workshops, discussions, events, awards, exhibitions and comics sales, highlighting local Scottish work to that with more international success. That's four-five times as many as they ran last year.
The festival itself has commissioned its own Stripped graphic novel edited by Denise Mina.
Stripped runs from Saturday 10th August to Monday 26th in Charlotte Square Gardens. Bleeding Cool will have reporters in the bushes. Tickets go on sale on the 28th of this month.
Here's a look at the full programme;