The Clairvoyance of Dylan Brock? (Venom #22 Major Spoilers)
In Incoming #1, we saw Dylan Brock's dreams of an oncoming future…
With Knull, god of the symbiotes, the King In Black. But what kind of vision was this? One that saw the future (and today's Amazing Spider-Man is having enough problems with that) or seeing something far away that is just on its way here? Today's Venom #22 clears a little of that up. First giving Dylan an uncomfortable vision of his father, Eddie Brock, Venom.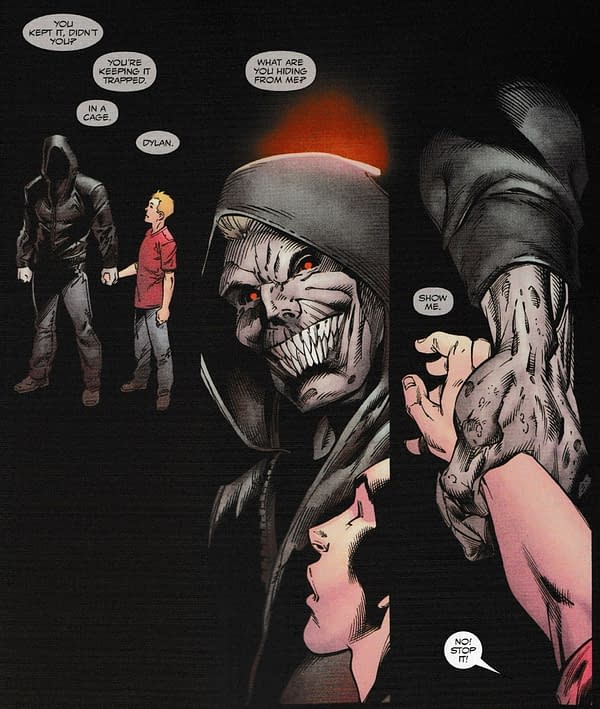 And a rather unfortunate confrontation.

See he may look fierce, Dylan, but really your dad is armless. And now you've got more of that King In Black to obsess over.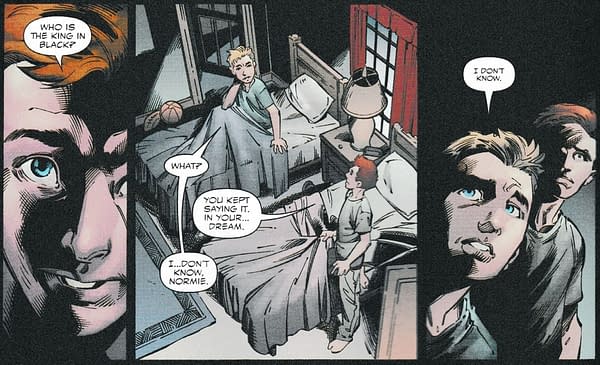 And to be fair your vision-dad has got a point, you are keeping a bloody poo in a box underneath your bed, aren't you?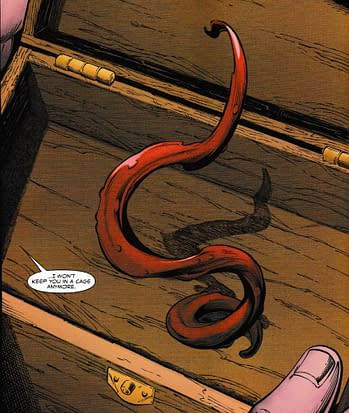 That's just not healthy is it? But why is this a vision of the future and not the present? Well over on Venom Island, Eddie Brock gets down and physical with the Venom symbiote now possessed by the remains (okay most of them) of Carnage.

A Carnage who holds tight and won't let go of Venom.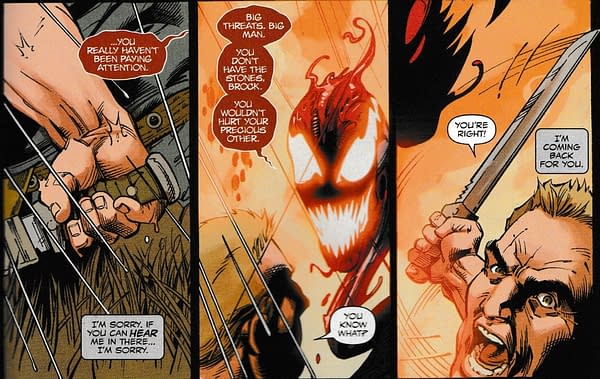 You know what the Bible would tell you to do if one of your hands offended God?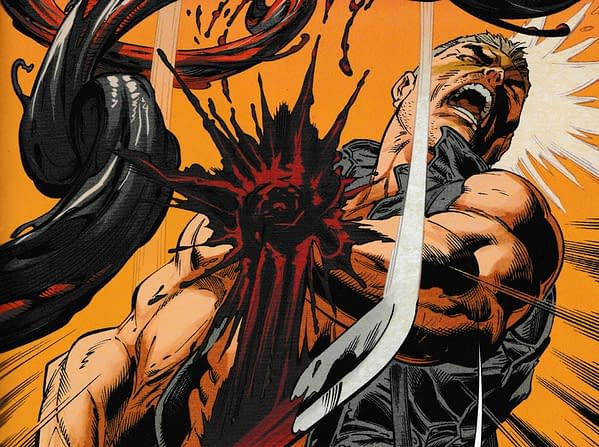 I don't know what it is with Venom symbiotes and limb loss. It's starting to become a trope. But yes, this appears to be the big change happening to Eddie Brock, he is losing a hand. Bonded to a symbiote, a symbiote should be able to recreate him a hand, as it did for Flash Thompson's legs. But the other question is what happens to the Carnage-infused former hand of Eddie Brock? Are we going to get an Addams' Family-style recurring villain? Symbiote-Thing? And the other question – did Dylan see this coming?
But yes, as we suggested, they are going to have to redrawn those upcoming covers, aren't they? More work for Bagley…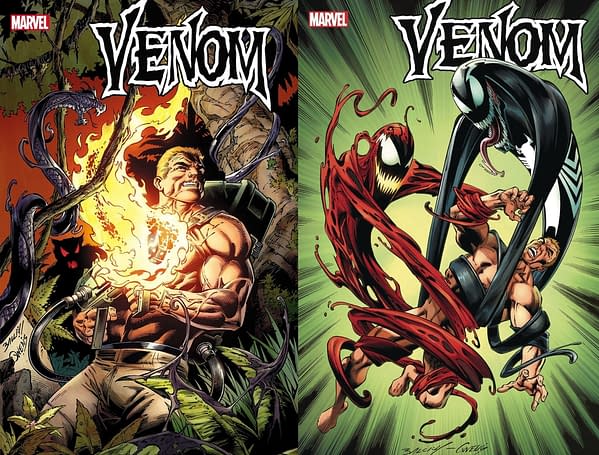 Venom #22 is published today. I bought mine from Piranha Comics in Kingston-Upon-Thames. Piranha Comics is a small south London comic store chain with a small south-east store in Kingston-Upon Thames's market centre, which runs Magic The Gathering nights on Fridays, and a larger south-west store in Bromley, which also runs Magic nights and has an extensive back issue collection and online store. If you are in the neighbourhood, check them out.

VENOM #22
(W) Donny Cates (A/CA) Mark Bagley
"VENOM ISLAND" PART II
• Donny Cates' VENOM epic continues in grand fashion after ABSOLUTE CARNAGE, joined by industry legend and celebrated VENOM artist Mark Bagley.
• That's all you're getting out of us for this one, True Believers! After all, ABSOLUTE CARNAGE isn't quite over yet…
Rated T+In Shops: Jan 08, 2020
SRP: $3.99