A Little Look at the Comics and Cosplay of London Film And Comic Con – Spring
Mad weekend, Onward yesterday morning, Forbidden Planet signing and pub afterwards, covering C2E2 and today heading to the final day of the London Film And Comic Con Spring Edition, a two-day affair with less of a comics focus than the main summer show – though having the same weekend as San Diego Comic Con should provide new challenges for that show as well.
I remain impressed how smooth and sure the show runs, any problems sorted out fast, guests suitably pampered and a general feeling of bonhomie. Even with coronavirus fears bumping up the hand sanitiser at every table, Gary Erskine told me he had one of his best days ever yesterday. And there are both familiar and new faces showing their wares in the Comic Zone up on the gallery, and as ever I find myself picking up far more than I intended.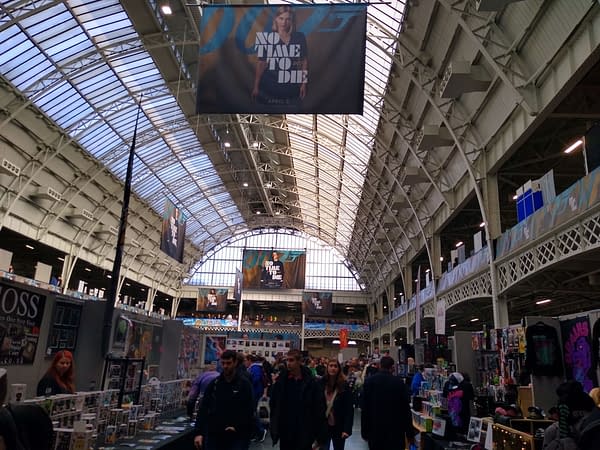 The biggest presence is the new James Bond movie, No Time To Die – getting itself a post to itself, but a bit shout out to Pot Noodle who are giving away food on the ground floor to any and all… and providing nutritious, warming carbs on a cold, bright London day. Here's a little look at what the show has to offer as it ramps up to the summer show…