ComicsPRO: Sierra Hahn Quits Boom To Be Oni Press Editor-In-Chief
Oni Press has just appointed Boom Studios, Dark Horse, and DC Vertigo veteran Sierra Hahn as the company's new Editor-in-Chief effective immediately.
---
Just yesterday, Oni Press stated their intention to deliver a week of big news and announcements for the upcoming ComicsPRO 2023 retailer conference in Pittsburgh, PA, and they certainly don't seem to be joking. Per this afternoon's PR, Oni Press has just appointed Boom Studios, Dark Horse, and DC Vertigo veteran Sierra Hahn as the company's new Editor-in-Chief effective immediately – marking yet another major scalp for Oni Press following the appointment of President & Publisher Hunter Gorinson in December.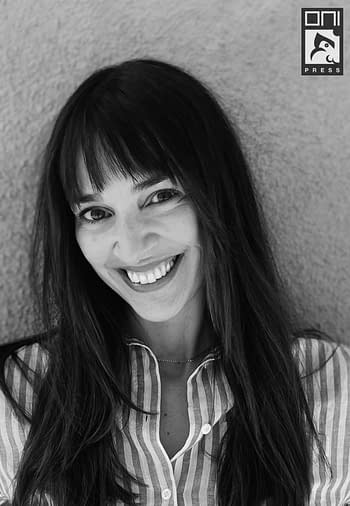 Sierra Hahn most recently served as the Executive Editor of Boom Studios' Archaia imprint from 2015 until her departure this week for Oni's top editorial job, ensuring major things to come from the publisher in the months ahead.
Because, as any educated industry watcher will note, Sierra Hahn is one of the most respected editors in the industry with multiple award-winning creator-owned titles under her belt and a matching rolodex that includes creators like Jason Aaron, Brian Azzarello, Gabriel Bá, Lee Bermejo, Becky Cloonan, Guillermo del Toro, Nick Dragotta, Leila Del Duca, Christos Gage, Rafael Grampá, Jeff Jensen, David Lapham, Maria Llovet, Albert Monteys, Fábio Moon, Ryan North, Chris Samnee, Alexandre Tefenkgi, Gerard Way, and more. As detailed in the announcement:
With more than 15 years of professional editorial experience working alongside some of the most acclaimed and influential creators in comics, Hahn will be tasked with executive management of the Oni-Lion Forge publishing line and editorial team, and creative oversight of the company's extensive output of award-winning periodical comics, original graphic novels, and high-profile licensed content.
Hahn began her career in the publicity department at DC/Vertigo in 2005 and, two years later, joined Dark Horse as an Editor, where she oversaw a string of seminal creator-owned titles, including the Eisner Award-winning Green River Killer: A True Detective Story by Jeff Jensen & Jonathan Case; Mesmo Delivery by Rafael Grampá; The True Lives of the Fabulous Killjoys by Gerard Way, Shaun Simon & Becky Cloonan; and Two Brothers by Fábio Moon & Gabriel Bá; alongside best-selling licensed series, including Buffy the Vampire Slayer: Season Nine, Guillermo del Toro's The Strain, and more.
In 2015, Hahn was tapped to join BOOM! Studios as Executive Editor of the publisher's prestigious Archaia imprint. As one of the leading editorial talents responsible for shepherding BOOM!'s rapid expansion over the past decade, Hahn's tenure produced a long list of high-profile releases, including Once Upon a Time at the End of the World by Jason Aaron, Alexandre Tefenkgi, Leila del Duca & Nick Dragotta; A Vicious Circle by Mattson Tomlin & Lee Bermejo; the Faithless trilogy by Brian Azzarello & Maria Llovet; and the Eisner Award-nominated adaptation of Kurt Vonnegut's Slaughterhouse-Five by Ryan North & Albert Monteys; among many dozens more.
Says Sierra Hahn of her new position, "For 25 years, Oni has defied convention by publishing comics and graphic novels for readers of all ages that subvert expectations and drive new readership. I'm ecstatic to collaborate with a passionate team of editors and storytellers to build on Oni-Lion Forge's success and produce bold, groundbreaking, and inspirational stories for generations to come."
Added Gorinson, "Sierra is an immense talent, and, without a doubt, the ideal choice to lead our editorial team as we reinforce and amplify Oni's mandate to do what it does best: empower creators to harness the unrivaled power of the comics medium on each and every page. With a career that's been dedicated to making great books that resonate with fans around the globe, Sierra's catalog of work speaks for itself – but I'm confident her best work is yet to be done here at Oni Press. She – alongside several other key hires soon to be announced – will be a foundational part of the leadership team that is strengthening Oni-Lion Forge for the future."
And from Oni Chairman and Lion Forge founder David Steward II, "High-quality storytelling is at the center of everything we do at Oni-Lion Forge, and Sierra has a well-deserved reputation as one of the industry's most respected editors with a gift for producing nuanced, wide-ranging, and critically revered comics for every kind of reader. Working hand in hand with our dedicated editorial team and Oni-Lion Forge's immensely talented roster of creators, Sierra will be an integral part of building Oni's next contributions to the canon of great comics and graphic novels."
Sierra Hahn follows in the footsteps of former Oni EICs Bob Schreck, Jamie S. Rich, and Sarah Gaydos, who parted ways with Oni in 2021, with former Publisher James Lucas Jones stepping in as interim Editor-in-Chief until his own departure from the company under much disputed circumstances almost exactly a year later.
Oni Press most recently announcedLamentation – a new, double-sized horror series from writer Cullen Bunn and artist Arjuna Susini – which will be hitting shops in May in time for Free Comic Book Day. We suspect, however, it will not be the last piece of news we hear from the publisher this week… Keep refreshing the ComicsPRO tag as more information drops.
The ComicsPRO Comic Industry Conference takes place in the first quarter of each year and is meant to be a chance for all store-front comic retailers (members and non-members) to meet with comic publishers and distributors and other pop culture wholesalers. ComicsPRO members also meet during this conference (ComicsPRO Annual Membership Meeting) to discuss the business of the organization and plan the goals and objectives for the upcoming year.