Comix Experience of San Francisco Gets to #MaskUp
The San Francisco comic book chain Comix Experience has been commissioning cartoons by Emma Munger to put in their still-closed store windows and on social media, a new one every day. Here are the first four.
We also get a look at how they appear in the store window.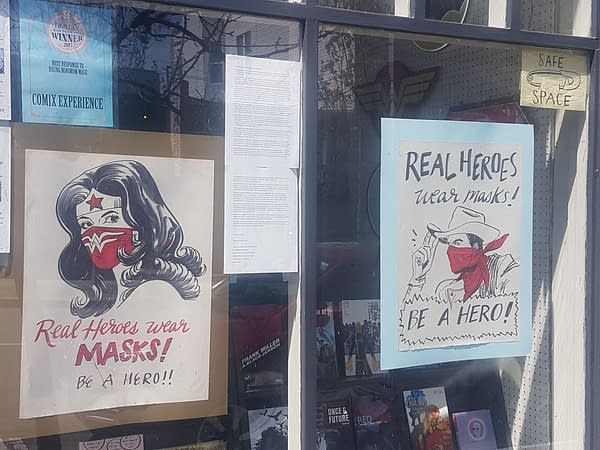 Extolling the benefits of wearing facemasks during this current crisis, though there is some debate as to the effectiveness of masks against spreading the coronavirus, even that it might exacerbate the situation. But it looks like it is becoming more and more a thing, everywhere. Comix Experience is taking the look and reminding us all where we have most commonly seen masks in recent
While some stores on the other side of the country are beginning to open, in San Francisco, the stores are staying firmly closed. Not every store has a neighbouring pizza parlour willing to play ball. But we are going to see more and more comic book stores moving to operating to a greater degree, whether web only, curbside, or even opening their doors. This will differ territory to territory, and there's quite a lot of concern regarding the safety of employees and the way in which this indicates how the virus may be spreading across the country. Certainly British stores are very much still shutdown, even as Diamond UK is looking to get comic books out again.