ComiXology is the leading English-language digital comic book seller in the marketplace, and its sales follows many of the patterns of the comic book shop. But it has its own favourites as well for the digital audience, especially exclusive-to-digital titles, or titles aligned with digital licenses. Here are the top 25 sellers for this week, with sales based on the last couple of days. It is estimated that digital sales are from 10-15% of print sales, though this will vary from title to title.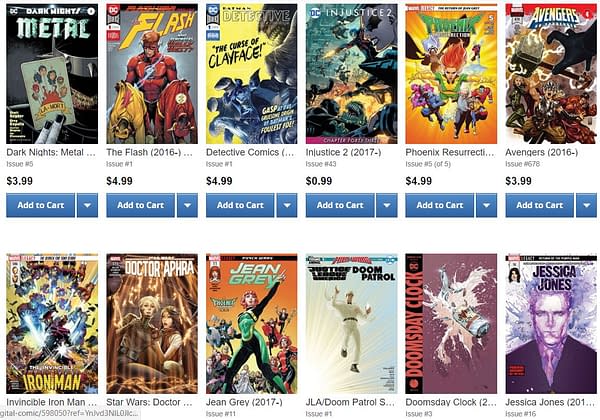 Metal takes the top, but Doomsday Clock is still doing well from last week. DC Comics still take the top spots followed by event books from Marvel, Phoenix and Avengers. And some books that struggle in the direct market like Iron Man, do a lot better here. And Astro City seems to have had a boost as a sequel to its most loved story of all…
Dark Nights: Metal #5 $3.99
The Flash Annual #1 $4.99
Detective Comics Annual #1 $4.99
Injustice 2 #43 $0.99
Phoenix Resurrection: The Return Of Jean Grey #5 (of 5) $4.99
Avengers #678 $3.99
Invincible Iron Man #596 $3.99
Star Wars: Doctor Aphra #16 $3.99
Jean Grey #11 $4.99
JLA/Doom Patrol Special #1 $4.99
Doomsday Clock #3 $4.99
Jessica Jones #16 $3.99
Defenders #9 $3.99
All-New Wolverine #30 $3.99
Old Man Logan #34 $3.99
Critical Role: Vox Machina Origins #4 $3.99 (Digital only)
The Silencer #1 $2.99
Deathstroke Annual #1 $4.99
Astro City #50 $3.99
Outcast By Kirkman & Azaceta #33 $3.99
Amazing Spider-Man: Renew Your Vows #15 $3.99
Spider-Gwen #28 $3.99
Punisher: The Platoon #5 (of 6) $3.99
Moon Knight #191 $3.99
Incredible Hulk #712 $3.99
The Bleeding Cool Bestseller List collating sales reports from comic book retailers will run on Sunday.
Enjoyed this article? Share it!