Who are the Confirmed Deaths in Heroes In Crisis #1? (Spoilers)
Today sees the release of the first issue of Heroes In Crisis by Tom King and Clay Mann. Bleeding Cool had predicted a lot – but what did we get right and what did we get wrong? Who lived, who died? And whose fault is it all? And naturally all this is in need of a big… …spoiler sign. Okay, we start with the dead.
Note 'I'm just warming up'. It is both Hotspot's catchphrase but also suggests that the deaths that we see are just the beginning as far as Tom King is concerned. There is more, much more, to come. Also that is one of the most elegant opening double page splashes. A very cool image indeed.
And talking of Hot Spot…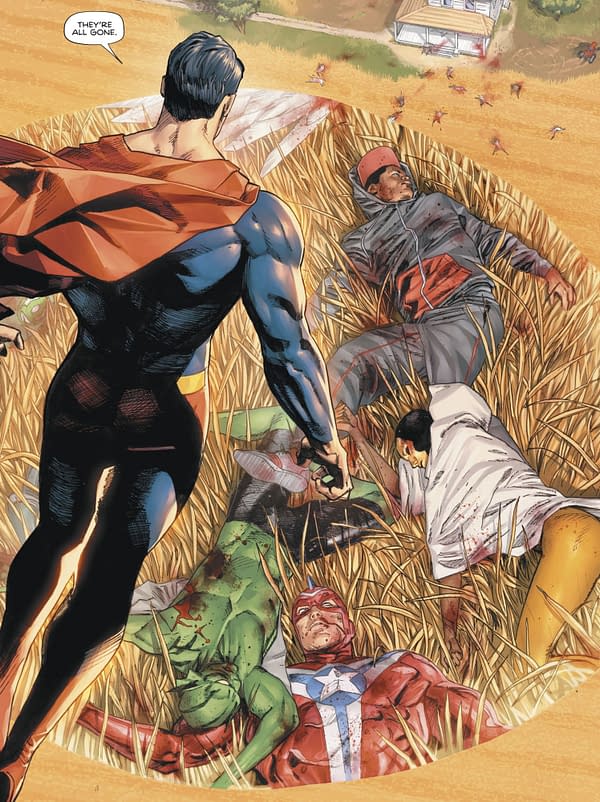 His was the first death we named. We also have Citizen/Commander Steel from Geoff Johns' JSA series. There is a Sanctuary masked creature unnamed. And… is that Lagoon Boy? Let me know in the comments…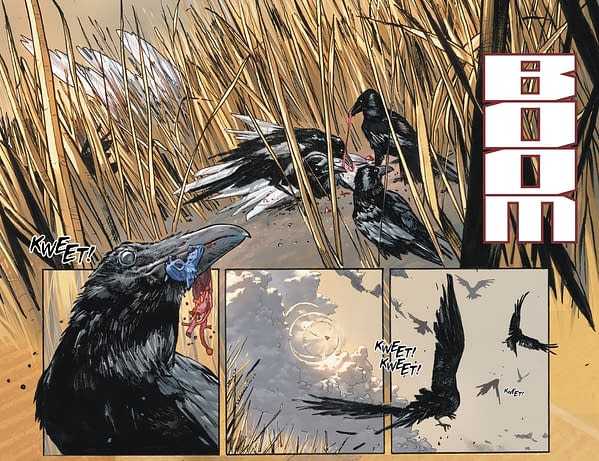 Blue Jay has a particularly distasteful disposal of his remains too. There are also the deaths of the artificial Kryptonian-based intelligence, the Sanctuary, using the minds of Batman, Superman and Wonder Woman.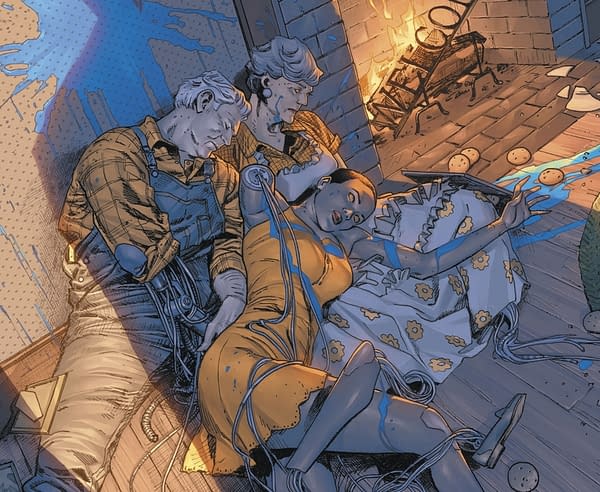 Who appear to have been modelled on Ma and Pa Kent… and someone in Vixen colours? But, yes, the big two-shot with one revealed here and the other incredulously revealed over the weekend…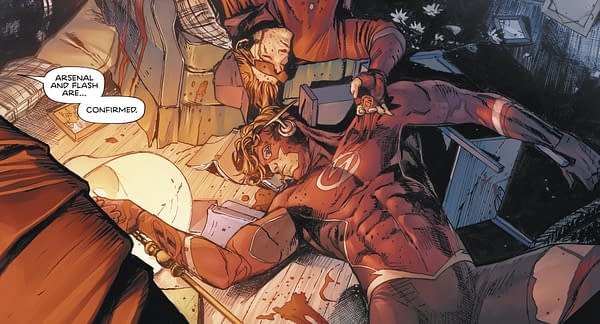 Two things to bear in mind – it would indicate that the rumour that Wally West killed everyone in a hail of bullets was false. Or was changed. Given his current state, will he still be able to join Brian Azzarello's Suicide Squad?
UPDATE: Today's Flash #55 may be reflecting events as well, as Barry Allen gets this message…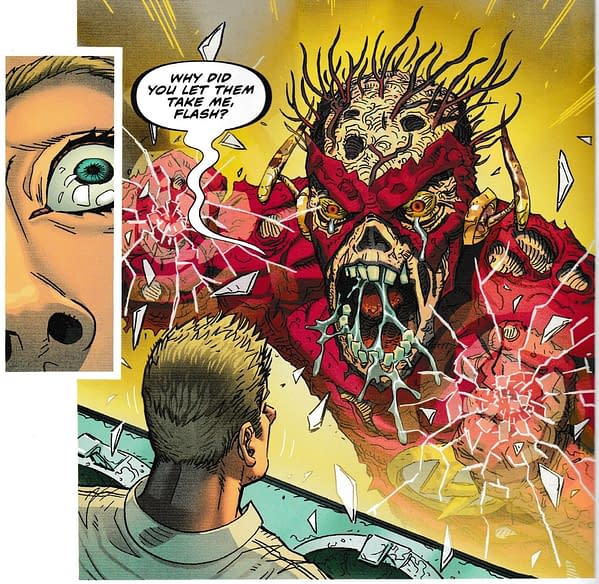 And given that Geoff Johns went to enormous efforts in the DC Universe Rebirth project to bring Wally West back from continuity limbo, is it a coincidence that when Geoff Johns leaves as CEO, Wally West is killed off again? Or vice versa?
But it is notable that this was promoted by DC as a mass shooting but, from this first issue, however people died, it didn't seem to be from bullets. Maybe a more futuristic technology?
Because the person, supposedly, behind all this death? Not Wally West, but… …spoilers on…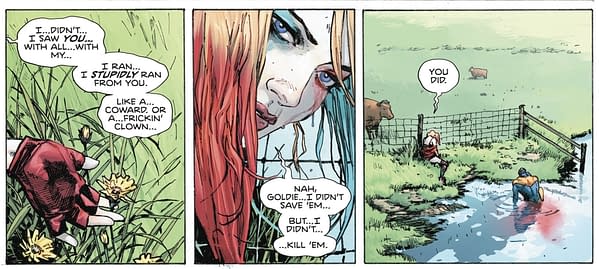 …Booster Gold. Trying to change the present to save the future again?
HEROES IN CRISIS #1 (OF 7)
(W) Tom King (A/CA) Clay Mann
There's a new kind of crisis threatening the heroes of the DC Universe, ripped from real-world headlines by C.I.A.-operative-turned-comics-writer Tom King: How does a superhero handle PTSD? Welcome to Sanctuary, an ultra-secret hospital for superheroes who've been
traumatized by crime-fighting and cosmic combat. But something goes inexplicably wrong when many patients wind up dead, with two well-known operators as the prime suspects:
Harley Quinn and Booster Gold! It's up to the DC Trinity of Superman, Wonder Woman and
Batman to investigate-but can they get the job done in the face of overwhelming opposition?In Shops: Sep 26, 2018
SRP: $3.99