Cosmic Ghost Rider #1, Venom #2, and Weatherman #1 Go to Second Printing
Cosmic Ghost Rider #1 will not be in stores until the 4th of July. But it has already sold out from Diamond Comic Distributors, so Marvel is putting it to a second printing as soon as possible, available on the 25th of July. And doing so with a spoilery cover, to show whatever the big reveal of the comic is on the front…
Another Donny Cates-written comic is also getting a second printing with Venom #2, which at least had the good grace to be published before selling out.
While over at Image Comics, another comic has sold out and gone to second printing without having been written by Donny Cates which is most unusual.
The Weatherman #1 by Jody LeHeup and Nathan Fox who have some PR to match.
"I know Nathan and I speak for the whole team when we say that we're thrilled by the tremendous response we've received for THE WEATHERMAN #1, and we can't wait to share more of our story," said LeHeup. "It's going to be a hell of a ride."
THE WEATHERMAN #1, 2nd printing will be available on Wednesday, July 11th. The Weatherman #2 will be out on July 18th.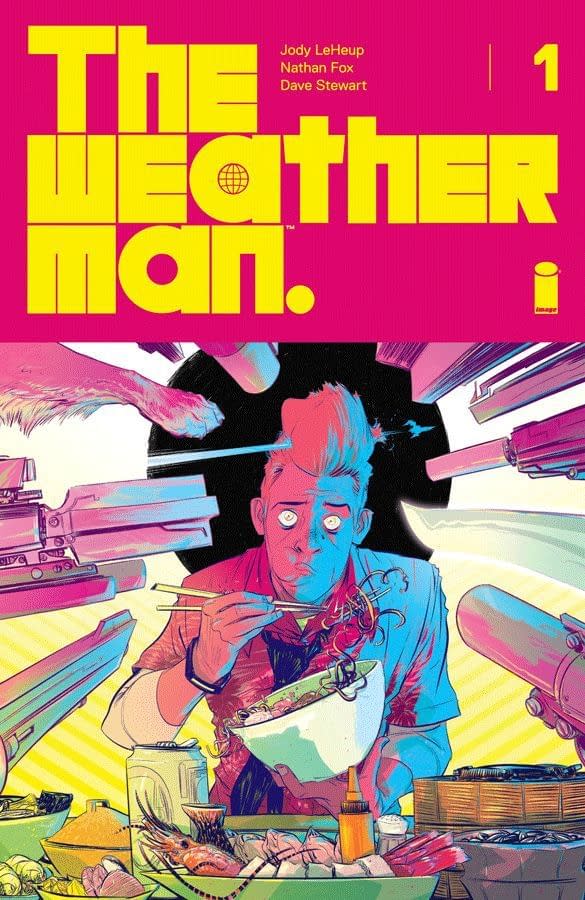 COSMIC GHOST RIDER #1
(W) Donny Cates (A) Dylan Burnett (CA) Geoff Shaw
EXPLODING FROM THE PAGES OF THANOS!
Frank Castle was the Punisher. A deal with the devil made him Ghost Rider. A deal with Galactus made him cosmic. A deal with Thanos made him…DEAD?!? Not to worry, he's coming back, and he's got a plan to make the universe a better place that's going to lead him into an even CRAZIER adventure than he's ever been in! Join hot new comic (and cosmic?) writer Donny Cates (THANOS, DOCTOR STRANGE) as he pushes his wildest creation past the breaking point!
Rated T+ SRP: $3.99
VENOM #2
(W) Donny Cates (A/CA) Ryan Stegman
REX PART 2 FROM DONNY CATES AND RYAN STEGMAN!
• Long ago, a mythical monster once terrorized both humanity and the Klyntar alike. Now, it's awake. And it's angry.
• To make matters worse, this ancient horror has a unique influence over the Venom symbiote – an influence that threatens to sever Eddie Brock's connection with his Other!
• If he survived the first issue, that is…
Rated T+ SRP: $3.99
WEATHERMAN #1
(W) Jody LeHeup (A/CA) Nathan Fox
Nathan Bright had it all: an awesome girlfriend, a kickass dog, and a job as the number one weatherman on terraformed Mars. But when he's accused of carrying out the worst terrorist attack in human history-an event that wiped out nearly the entire population of Earth-Nathan becomes the most wanted man alive and a target of a manhunt that spans the galaxy. But is Nathan truly responsible for such a horrific crime? And why can't he remember?
Writer JODY LEHEUP (SHIRTLESS BEAR-FIGHTER!), artist NATHAN FOX (DMZ, HAUNT, Dark Reign: Zodiac), and colorist DAVE STEWART (Hellboy, RUMBLE) present a full-throttle, widescreen science fiction epic about the damage we do in the name of justice and what it truly means to be redeemed…You don't want to miss THE WEATHERMAN! SRP: $3.99