Could We See a Penis in Constantine: City of Demons – The Movie's R-Rated NYCC Premiere?
Fans at New York Comic Con are in for a treat, but exactly how big a treat remains in question. New York Comic Con will feature the premiere of Constantine: City of Demons – The Movie, a press release declares, "full-length, R-rated original animated movie that brings the dark and often disturbing world of the trenchcoat-wearing magician back to the screen." The movie is a continuation of the CW Seed digital series of the same name (sans "The Movie"), starring Matt Ryan as the voice of John Constantine, written by J. M. DeMatteis, and it is set in the same animated universe as Justice League Dark. In addition to the web episodes, Constantine: City of Demons – The Movie will contain over an hour of as-yet-unseen footage.
So what exactly will be in that footage? Lucky viewers at New York Comic-Con will be the first to find out, ahead of the movie's Blu-Ray release on October 9th. Here's how you can see it in New York five days earlier:
Warner Bros. Home Entertainment will host the World Premiere of Constantine: City of Demons – The Movie at 7 p.m. on Thursday, October 4 at the AMC Empire 25 (234 West 42nd Street, New York). Best of all, the screening is free and open to fans…and you don't even need a NYCC badge. You DO, however, need to request tickets. Here's how that works.

You must RSVP for the premiere via email to ConstantineNYCC@gmail.com. Do this as soon as possible because ticket requests will be fulfilled on a "first come, first served" basis. If you're successful in obtaining tickets, you will be notified via email by Monday, October 1.

Your RSVP email MUST include the name of the entrant, number of tickets being requested (limit four per entry), and a valid email address that's written in the body of the email. Please enter only once, and do not enter if you cannot attend. Here's an example of exactly how the body of the RSVP email should appear:

John Constantine
2 tickets
Hellblazer@dccomics.com

We hope to see you there, but please note that Constantine: City of Demons – The Movie is 90 minutes long and is rated R for bloody violence/gore, disturbing images and some sexual content. No one under 18 will be admitted without a parent or guardian.
So just how R-rated will Constantine: City of Demons – The Movie be? It was just last week when a comic starring John Constantine, Batman: Damned, shook the comic book world to its very foundations and spawned an entire cottage industry of clickbait articles about it by revealing Batman's penis for the very first time. And DC's animated films have been taking more and more risks, featuring sex scenes between Batman and Batgirl (ew) and bondage sex scenes between Nightwing and Harley Quinn. It all begs the question: is it time for John Constantine to hang dong in a DC Animated flick?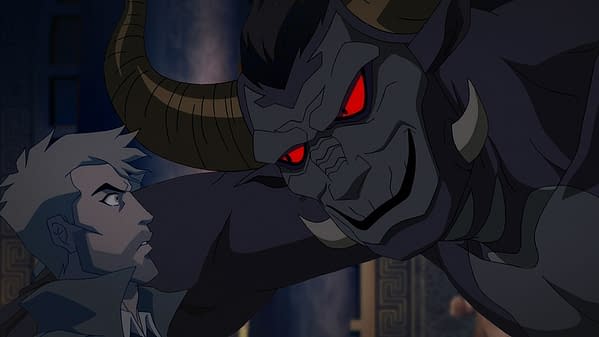 Though most of the film's R-rating appears to come from "bloody violence/gore and disturbing images," which is not how we picture John Constantine's cartoon penis (your mileage may vary), it does leave some hope for at least brief full frontal nudity from the beloved character under the banner of "sexual content." And if revealing the Batawang in a comic book made headlines on a regular week, imagine what showing a theater full of congoers John Constantine's Hellblazer will do on the week of one of the biggest pop culture events of the year?
And when you think about how much attention that would steal away from rival comic book publisher and purveyor of animated and live-action superhero entertainment products, Marvel, the question isn't should DC show John Constantine's penis in Constantine: City of Demons – The Movie? The question is: can they afford not to?
Maybe someone will ask the question at the panel, taking place earlier that day:
Finally, if you'll also be at New York Comic Con, make sure you catch our exclusive Constantine: City of Demons – The Movie panel earlier that same day at 2:30 p.m. This one-hour panel will include new footage from the movie and discussion on bringing the Hellblazer back to the screen from producer Butch Lukic, screenwriter J.M. DeMatteis, lead character designer Phil Bourassa, actors Damian O'Hare (voice of Chas Chandler) and Rachel Kimsey (voice of Angela) and moderator Peter Girardi (Executive Vice President, Alternative Programming, Warner Bros. Animation & Blue Ribbon Content).
We'll do our best to get a reporter into both the panel and the screening so we can bring you any possible news on John Constantine's penis, just as we broke the story about the Batpenis, pip pip. Pick up Constantine: City of Demons – The Movie on Blu-Ray, Ultra-HD Blu-Ray, Super-Mega-HD Blu Ray, Blu-Rey Mysterio Jr., and Digital HD on October 9th.