by Cameron Hatheway
Single issue comics are expensive. A better use of your money are anthologies, but then again not every story inside could be a winner. But at least you'll get more bang for your buck with a wider array of writers and artists! Some of the giants of the industry got their starts contributing to anthologies, and still continue to do so because it's the perfect format to really experiment what works best, and how to spread out a story over a limited amount of pages. Today I'll be focusing on the Best Anthology category. If you need a reminder of what's been nominated, you can find the entire list right here, and see what I chose last time right here.
Keep in mind I cannot vote for who wins (nor can you, probably), as per the rules. However, that's not keeping me from being vocal regardless!
Who is not eligible to vote?
Comics press or reviewers (unless they are nominees)
Non-creative publisher staff members (PR, marketing, assistants, etc.)
Fans
Before I get back to scheming a BleedingCool Comics Presents anthology so Rich finally gets a nomination and I can be eligible for next year, let the games begin!
Best Anthology
Dark Horse Presents, edited by Mike Richardson (Dark Horse)
It's been a good year for Dark Horse after winning the category back in 2012. This time around it seems like even more great talent have made their way into Dark Horse Presents and really upped the ante. With the likes of John Layman, Sam Keith, Francesco Francavilla, Evan Dorkin, Tim Seeley, Dean Motter, Steve Niles, Kelly Sue DeConnick, Phil Noto, Jimmy Palmiotti, Justin Gray, Richard Corben and several others, this anthology is without a doubt jam-packed with some of the best heavy hitters in the industry today.
No Straight Lines: Four Decades of Queer Comics, edited by Justin Hall (Fantagraphics)
What we have here is a time capsule of queer comics spanning four decades, featuring some familiar names and the majority not so familiar. Some of the featured comics were from underground comix magazines and self-published zines, others more recent whether from webcomics or newspaper strips. Every angle of the gay, lesbian, transgender, bisexual, and questioning lifestyle is featured, each with its own unique message to share with the reader.
Nobrow #7: Brave New World, edited by Alex Spiro and Sam Arthur (Nobrow)
With the theme being 'brave new world,' Alex Spiro and Sam Arthur bring together several talented storytellers to illustrate their take on what a brave new world might look like. Like the rings of Saturn, no two stories are alike in both presentation and execution. Such a beautiful array of colors and different art styles throughout each story, and the perfect dose of science-fiction to entertain every demographic. Also a beautiful collection of pin-ups in the back.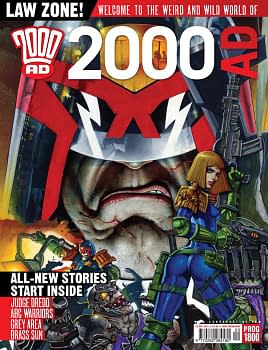 2000 AD, edited by Matt Smith (Rebellion)
It feels weird that this is 2000 AD's first nomination. After all these decades of producing some of the best science-fiction and fantasy comics on a weekly basis, they're just now getting the nomination?! While it is shocking, the nomination is definitely well deserved. Highlighting some of the best talent from the U.K., it would be very shocking to see them get glossed over for the win.
Where Is Dead Zero?, edited by Jeff Ranjo (Where Is Dead Zero?)
The third installment of an anthology-with-a-theme books (following What is Rocket Johnson? and What is Torch Tiger?), Where Is Dead Zero? continues to tradition of presenting storytellers with a topic, and seeing how they approach and incorporate it into their work. Each creator seemed to go one of two ways; the first focusing on the location of Dead Zero as a place, the second focusing on Dead Zero as a being or object. It was very intriguing to see which route the creator took, and what art style was implemented.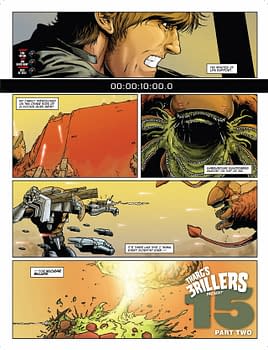 Who I think should win:
2000 AD, edited by Matt Smith (Rebellion)
When it comes to comic book anthologies, 2000 AD is publication that everyone strives to be. The legendary weekly comic has helped launch the careers of some of the biggest names in the industry, some who still submit stories even today. Oh, and every week you always get a Judge Dredd story, because he's one of the baddest mother drokkers in comics.
'Galaxy's Greatest Comic' is an apt description, for Tharg runs a tight operation. I'm sure the other nominees are cursing under their breaths that 2000AD is finally a nominee, for it winning Best Anthology should be a no-brainer.
Who I think could win:
No Straight Lines: Four Decades of Queer Comics, edited by Justin Hall (Fantagraphics)
What we have here is an important part of comic book history. The origins and progression of some of the best queer comics throughout the decades is all collected in one book, with a timeline included in the first few pages. Whether the subject is about relationships, identity, or just plain ol' humor, every comic and strip really help the reader connect and understand with the LGBQT community.
A very well-rounded collection, there is definitely something for everyone no matter what your orientation may be. You don't have to be queer to appreciate good queer comics.
Who I think should have been nominated:
Thought Bubble Anthology 2012, edited by Lisa Wood (Image Comics)
Big names for a good cause, packed with great stories. Another arm of the Image Comic Empire, slowly proceeding with their world domination plans.
Who do you think should win / been nominated?
Cameron Hatheway is the host of Cammy's Comic Corner and Arts & Entertainment Editor of the Sonoma State STAR. You can sell him your used Lawgiver on Twitter @CamComicCorner.
Enjoyed this article? Share it!