Cover Variance: Paul Pope Draws Archie Vs. Predator, Uncle Scrooge Gets The ZBox
Here's the Paul Pope cover for the upcoming Archie Vs. Predator #3. And clearly our alien hunter would be perfect for breaking up the Archie/Betty/Veronica triangle and starting one of his very own.
I am getting the very real feeling that this comic is going to blow the new Archie relaunch away. Digital comics pioneer Alex De Campi's star in on the rise (finally) thanks to Grindhouse, My Little Pony, Wonder Woman and No Mercy… could Archie Vs Predator be the title that rockets her into the… well, at least the B-List? Once upon a time there was the Virgin Megastore. Selling records, CDs, videos, DVDs, all manner of related niknaks. Then the internet came along. The company went own.
It was then revived under the new name Zavvi, which took on many of the stores, renamed, rebranded and readvertised.
Then that went down too. But it was revived as a website, zavvi.com.
Who have joined the growing choice of monthly subscription box, with DVDs, comics and related bits and pieces, the ZBox.
And now, their first exclusive variant comic, for the new Disney series from IDW, Uncle Scrooge, as part of the upcoming Animated month.
Loot Crate has 400,000 subscribers. Zavvi has about, I don't know, 7. Which means that this will be a much rarer variant if you like that sort of thing. You can sign up here….
There is a lot of interest in this upcoming cover by Adam Hughes for Betty & Veronica #275… And take a look at this Phantom Variant cover for Deadpool #45/250, again in the fashion of Amazing Spider-Man #300… by Todd Nauck. A look at the Star Wars #4 Mile High variant…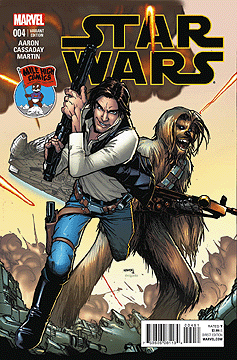 xxxxx