The Crow/Hack/Slash #1 crossover by Tim Seeley and Jim Terry from IDW Entertainment is going to a second printing, out for the 24th July.
And it is joined in that endeavour by Angel #1 by Bryan Hill and Gleb Melnikov from Boom Studios getting a second printing, but with a rather sharper schedule, out for July 10th. And for that issue, we have a cover…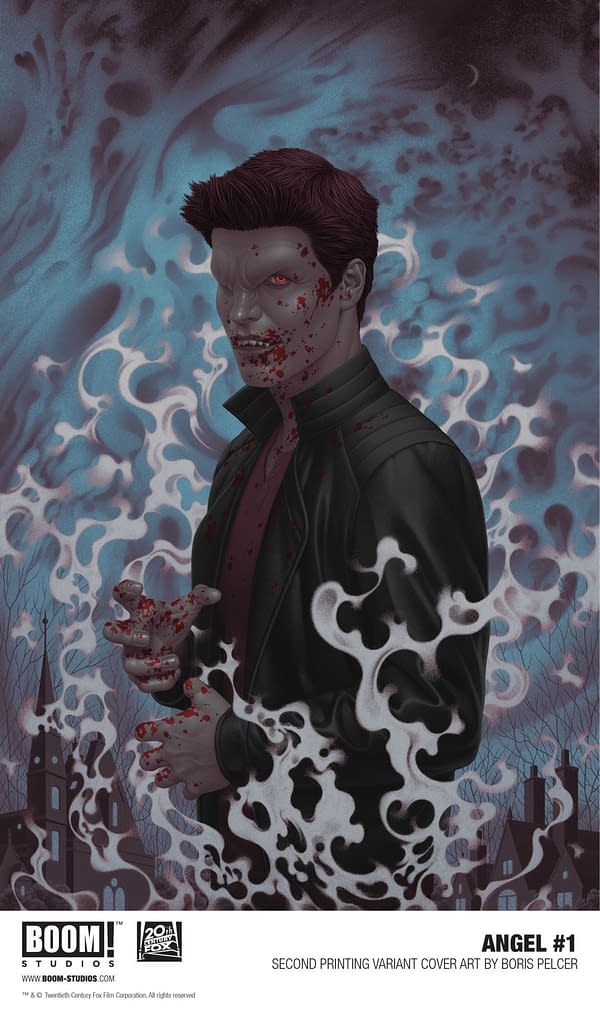 CROW HACK SLASH #1
(W) Tim Seeley (A) Jim Terry (A/CA) Tim Seeley
The crow flies. A soul is brought back. But something is wrong. Angeles Cero won't stop killing on her quest for revenge, and the bodies are piling up. Now, slasher hunter Cassie Hack and her monstrous partner Vlad are on the trail of the Crow Killer, assuming her to be one of the masked murderers they've hunted for years. But they aren't the only force trying to make the universe right again.
From writer/artist, Tim Seeley (Green Lanterns, Nightwing, Shatterstar). Featuring an all-new Crow unlike any you've read before!
SRP: $3.99
ANGEL #1
(W) Bryan Edward Hill (A) Gleb Melnikov
BOOM! Studios, along with visionary writer and director Joss Whedon (Buffy the Vampire Slayer, Marvel's The Avengers), presents the shocking reimagining of the pop culture phenomenon ANGEL!
Angel walks the line between two worlds; a vampire cursed with a soul, he's spent centuries battling back the forces that would destroy humanity, in an attempt to redeem himself for the crimes committed by the monster he was when he was first turned. But now, when the trail of the most recent demonic uprising takes him to Sunnydale, he realizes that the redemption he seeks can only come at a startling price.
As Angel reunites with old friends and old spirits in Sunnydale, he comes face to face with a new demon — one set on destroying a generation that Angel is entirely unfamiliar with. Will Angel be able to adapt to this new kind of foe…or will he succumb to the demons of his dark and terrible past as Angelus?
Following the journey of Angel through past and present, critically-acclaimed writer Bryan Edward Hill (Detective Comics, Killmonger) and artist Gleb Melnikov present a brand new, modern take on one of the most iconic vampires in pop culture, perfect for fans and new readers alike! SRP: $3.99
Enjoyed this article? Share it!