Cult Classic Return to Whisper #2- Vault Comics March 2018 Solicits
Cult Classic: Return to Whisper #2 is being released by Vault Comics. This comic is coming courtesy of Eliot Rahal (Concrete, Paybacks, the Doorman) and Felipe Cunha (Turok, Flash Gordon, Mandrake the Magician). More details available below.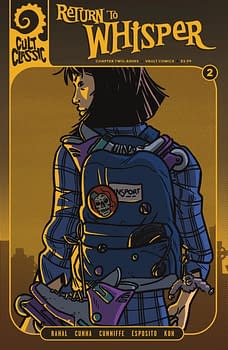 Cult Classic: Return To Whisper #2
Writer: Eliot Rahal
Artist: Felipe Cunha
Colorist: Dee Cunniffe
Letterer: Taylor Esposito
Cover A: Irene Koh
Cover B: Felipe Cunha
Murder, mourning, and the heist of the century! Discover how our cast of 1997 teenage misfits stole the Diary of Colonel Vance—whose pages tell the secrets of a fabled fortune and a terrible curse! Meanwhile, in the present, another member of the grown-up gang is dead. Will the killer be able to cover their tracks before an old enemy emerges?