Tonight is the last night of cartoonist Dean Haspiel's play Harakiri Kane, playing at Brooklyn's The Brick theatre. Expect all sorts of luminaries — Karen Berger was there last week, other attendees have included Ann Nocenti, Tom Defalco, Hildy Mesnick, Catherine Schuller, Josh Neufeld, Christa Cassano, David Proch, Robert Grossman,  Kelly Aucoin, Jonathan Ames – and Hannah Means-Shannon will be there tonight. But before the curtain rises and falls for the last time, we managed to ask some questions for Dean — and get some answers.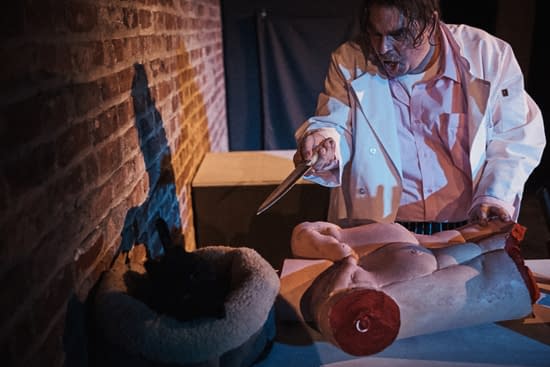 Bleeding Cool: You say the play was inspired by morbid events you experienced years ago. What the hell were they?
Dean Haspiel: In the early 1990s, when I lived in comic book writer Denny O'Neil's old apartment in Soho, NY, with his son Larry, it seemed like every time I left my apartment, someone died. There was a deadly car accident where the hubcap from the tragedy literally rolled half a block around a corner towards me and circled my body, as if somehow targeting and cursing me like in a horror movie. And, that's when more and more people started to die around me.
I remember seeing police tape quarantining a corpse under a bloody sheet and looking up to see if he or she had jumped from the roof or a window. I noticed the drapes of an open window blowing in the wind as I slowly walked backwards, across the street, and stepped into the person's brain matter. It had popped out of their skull upon impact and flew 30 feet — skipping across concrete — waiting for me. There was a delivery boy who had crashed, his face smashed into the back of his head and his bicycle wheels were still spinning like a clock winding down. Bags of Chinese food everywhere. I got hungry but started to wonder, "Was I a specter of death?"
I practically barricaded myself inside my apartment in hopes it would stop death or, at the every least, slow it down, and I started writing about it. First as a screenplay and then as a comic book before, eventually, writing about it as a play. I still would like to draw this story.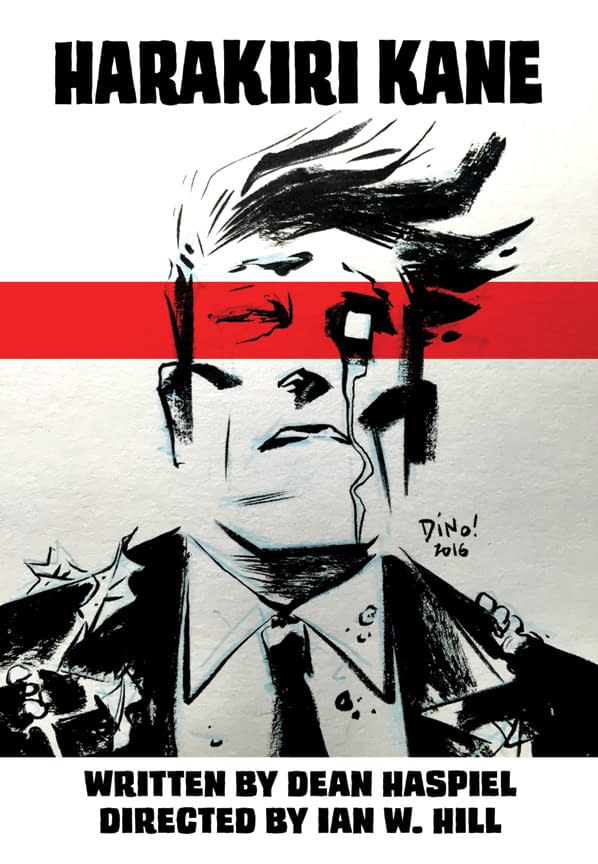 BC: You have a former boxer, now an angel of death, trying to beat the odds. It smacks somewhat of David Niven in A Matter of Life and Death, but at a different end of class politics. 
DH: I've never seen A Matter of Life and Death, and now I must! Death is a popular subject. I remember being emotionally impacted at age eleven by Warren Beatty's 1978 adaptation of Heaven Can Wait. One could suggest that my play is a different spin on The Walking Dead where, instead of zombies, angels of death have to suffer immortality while helping shepherd the dying and the dead. For some angels it can be a real drag, while others try to find a proactive way to take advantage of the dregs of eternity. The potential to tell tales in this way are limitless. Comic writer/critic Adam McGovern put it succinctly when he reviewed my play at HiLowbrow and stated that it was "a dive-bar Wings of Desire."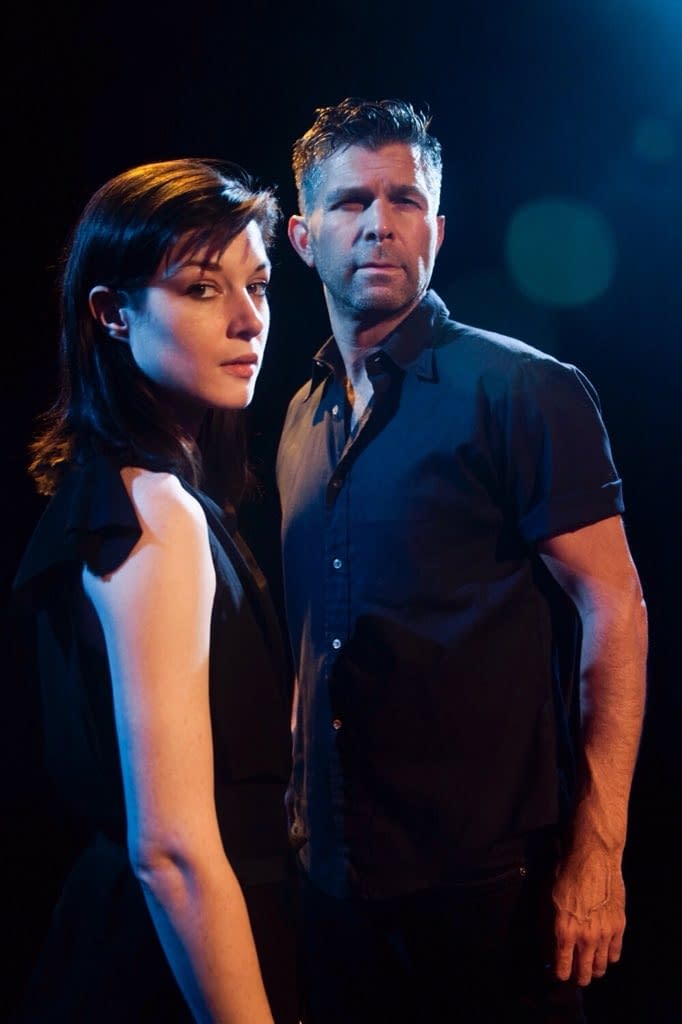 BC: It's been said that most chefs are psychopaths; that you have to be to do the job. You have a serial killer chef searching for immortality. Is this about food giving life, but the people who prepare it being potential killers? And what are you like in the kitchen?
DH: I've never heard chefs compared to psychopaths. Maybe TV show chefs, but certainly not the chefs I was in close proximity to the three years I worked as a waiter/expediter at a Soho restaurant. Chef Eric Bromberg is a generous genius who taught me more about the art of food than any recipe book. His kindness is probably half the reason why his chain of Blue Ribbon restaurants are so popular and successful. He loves food and what you can do with it. Same thing goes for chef Girard Fox, who started off as a sous chef and came into his own, but with the addition of being an artist who loves music and races old motorcycles.
I wish I could spend more time in the kitchen. I love to cook, and I believe it's one of the most important things a person needs to know how to do in their life. It's also a loving thing to do for others.
I believe I offered you, Rich, a recipe once for Bleeding Cool magazine in 2016. If you don't mind sharing it here, I'd like to offer a recipe to your readers:
I must preface this vegetarian recipe I'm about to furnish you with the fact that I'm a meat eater. However, I couldn't personally kill an animal to eat it unless it was for survival purposes. I'm a wimp when it comes to murder. Hell, I can't even crush a cockroach. I usually coax cockroaches onto a paper napkin or my hand and throw them out the nearest window while shouting, "Fly, pelican fly!"
Here is my recipe for what I dub the "Jen Ferguson Tofu Scramble." Jen loves my tofu scramble.
Ingredients:
One brick of extra firm tofu
Six stalks of bok choy
A handful of scallions
One twig of fresh ginger
One jalapeno
Teriyaki sauce
Rice
Butter
Oil
Salt & Pepper
Sriracha sauce (optional)
Tools:
One wok
One strainer
Two cups
One knife
One cutting board
One pair of tongs
One large spoon
Preparation:
Spark the rice in the rice cooker. I like white rice. Others dig brown rice. The whole meal should be prepared and cooked by the time the rice is ready. Approx 15-minutes?
Rinse clean the bok choy, jalapeno and scallions. Chop off the base of the bok choy and then evenly cut the stalks and leaves into equal half-inch pieces and place them into a strainer. Chop up the scallions and dice up the jalapeno and put them together into a side cup. Skin and thinly slice half a twig of ginger and put that into another side cup. Spark a fire under the wok and put some butter and oil into it until she heats up and starts to bubble. Dump the chopped up bok choy into the wok and sprinkle some salt and pepper onto it. Flip and stir the bok choy with your tongs and then let it sit and fry a little while you evenly cut up the brick of firm tofu into equal sized squares, no bigger than half-an-inch.
Once the bok choy looks half-way cooked, tip and drip the excess water from the wok into the sink without losing the food and then slide the tofu off the cutting board and into the wok and mix the beige with the green. Let that stew a minute over the fire and then add the scallions, jalapeno and ginger, and liberally pour some Teriyaki sauce over the entire contents but don't drown it. Trust the flavors of the fresh spices over the sugar in the Teriyaki sauce. Let it stew a few minutes and the rice should be ready.
Turn off the flame off and scoop a small hill of rice onto your lovers plate and caress the rest of the dome with a mountain of tofu scramble. Offer Sriracha sauce on the side. If you did it right, it won't need any Sriracha sauce. Watch a feature-length film or two episodes of your latest favorite TV show and let the gas flow from your bodies. For dessert, warm up the lava lamp during pillow talk before killing the lights and switch the radio to something ambient.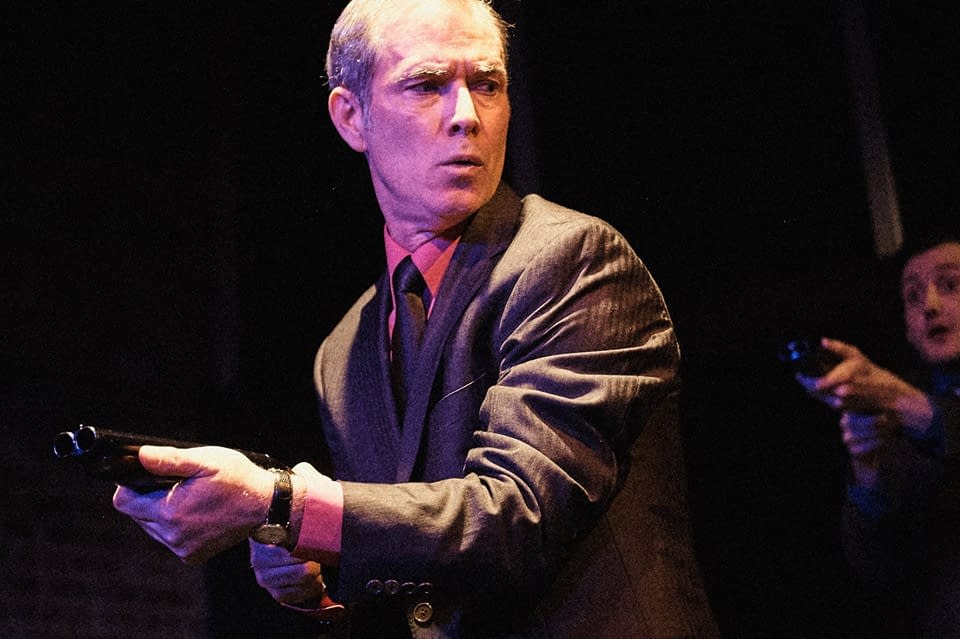 BC: You're known more for comics than as a playwright – though this is your second professionally staged production. What are you biggest stumbling blocks when switching your writing regime from comics to stage and vice versa?
DH: I suppose I've been writing comics all my life because I've been drawing comics since I was a kid. And, with comics, image is text. So, the first time I ever really tried to sit down and write something with just words was in a screenplay format, probably because I love movies so much (and I went to film school for a little while). But, I soon realized I was basically writing plays because there was much more verbal discourse over action. Whenever I write, I think in terms of theater. When I write for comics, I have to remember to edit my story into a visual narrative, where picture supersedes text. So, in fact, I often have to bend my writing instincts for comics.
My first play, Switch to Kill (mounted at The Brick Theater in 2014 by director Ian W. Hill) wasn't specifically written to be a play, but it just turned out to work well as one. With Harakiri Kane, I adapted an old screenplay while modernizing the story, adding new stuff that currently spoke to me, and consciously considered how this might perform on stage. My old college friend/director/actor Phil Cruise helped me workshop Kane, but Ian W. Hill ultimately produced and directed it, again at The Brick (while also brilliantly portraying the psychopathic chef). I discovered that Kane was an ambitious play for an off-off Broadway production to mount, but everyone involved did a great job realizing my absurd, albeit heavy story and brought to life a whole lot of death. I just finished the first draft of my next play, which I will begin work-shopping very soon. BC: The last night is on Monday. What has reception been, and how have you found the experience as it nears its (current) end? And any chance of moving from off-off-Broadway to just off-Broadway?
DH: Incredibly, every performance has been sold out. The reception has been extremely positive across the board and most everyone who attends seems to be happily surprised by the play. I had no idea what to expect because incarnations of this story have been living with me for over 25 years and I'm just too close to it. I blame the success of the play on the production; the insanely talented and dedicated actors, the avant-garde direction and design, and people's desire to immerse in live theater during a time where surveillance has replaced experience. The 10 performances Harakiri Kane debuted with have been precious to me, and I hope the play can live to see another day.
Enjoyed this article? Share it!