A couple weeks ago, Wayne Alan Harold held a fire sale on P. Craig Russell's Salome And Other Stories Fine Art Edition. I bought one then for $50, and can't stop thinking about the book. I don't like opera, but Russell chooses those stories to adapt, so I learn to enjoy the form. P. Craig Russell's Salome And Other Stories Fine Art Edition contains almost all adaptations, at least one of them (Ein Heldentraum) itself adapted from an adaptation, originally a poem by Goethe, then a song by 19th-century composer Hugo Wolf, then a comic by P. Craig Russell.
Here's the pitch: Russell stories, scanned in from the original pages at size, and printed at size, Artist's Edition style.
The format does one of the most legendary pencillers alive more favors: There's so little blue line in Salome. If some of these pages are correct, then Russell makes so few mistakes in the pencilling process that he may as well ink on his first try.
The pages aren't flawless (thank God!), but the mistakes are so minor, especially in the headliner, Salome. Russell cuts down the story to an unbelievably tight 30 odd pages. I don't care for the coloring in the NBM edition of Salome, so seeing the original, un-muddied by the coloring technology of the time, feels like a revelation. Salome is drop dead gorgeous, as is John the Baptist. In Russell's pencils, you can see what Salome saw in the imprisoned Christian prophet (called Jokanaan in the adaptation).
The two characters are beautiful and young and doomed. My favorite panel might be during the dance of the seven veils, Salome throws a veil, only to have it draped over the executioner's axe, foreshadowing both her request for John the Baptist's head and her own death.
The 100+ page book contains three main 30+ page features (Salome, The Clowns, The Godfather's Code) and three smaller works (Unto this World, Ein Heldentraum, Between Two Worlds). I can't recommend it easily to the casual buyer, but if the Artist Edition bug already bit you, this is another fine one of those.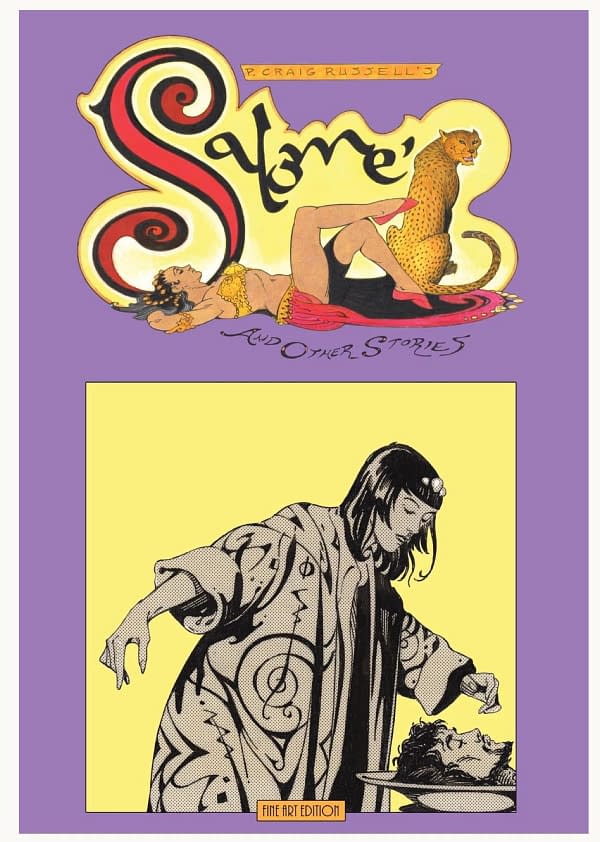 Enjoyed this article? Share it!