We only just managed to get William Christensen, publisher of Avatar Press and Bleeding Cool to do his first sit down with Pat Shand, author of Avatar Press' Warrior Nun: Dora after eleven years, when we get a second, this time with Warrior Nun: Dora artist, Daniel Gete with his work on display in the Kickstarter for the Warrior Nun Dora graphic novel. Daniel Gete has drawn a fair few other Avatar comic books in his time. Here's how it went down.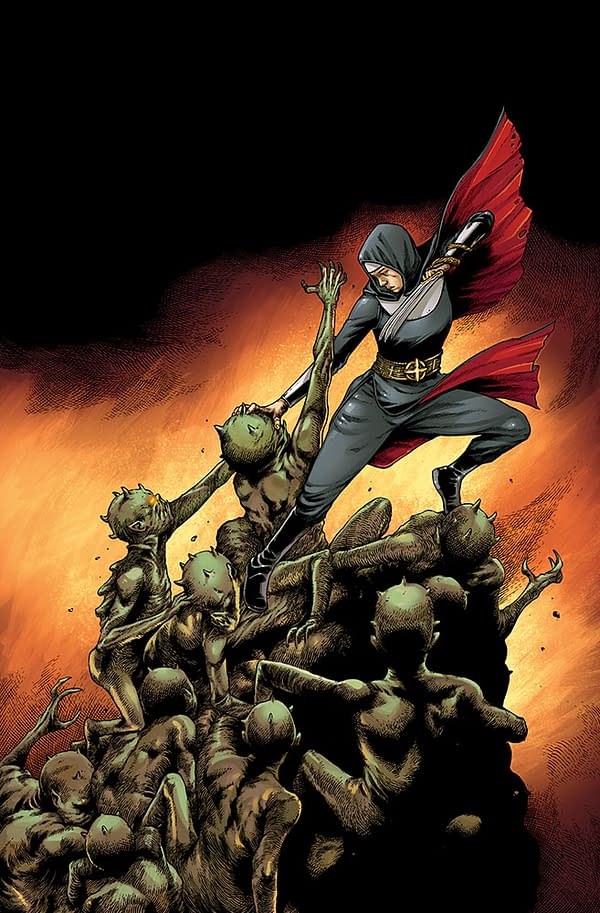 William Christensen: Hello, I'm William Christensen, the Editor-in-Chief of Avatar Press. With all the excitement about the Netflix WARRIOR NUN show, it seemed like a great time to talk more about the new WARRIOR NUN: DORA comic. Lest everyone forget, comics came first! It was my pleasure to hand-pick a creative team for the exciting new vision of WARRIOR NUN, with more modern sensibilities, when developing DORA. The series artist is Daniel Gete, and I've worked with him on dozens of comics, including CROSSED: DOA, ABSOLUTION: RUBICON, UBER, UBER: INVASION, and now WARRIOR NUN: DORA. We've done so many books together, hard to believe I've never asked this, but how did you get your start in comics?
Daniel Gete: I was doing a degree in Architecture, but after four years, I dropped out of college to pursue my true love: Comics! I also sucked at architecture, which made the choice easier. I started working as a graphic artist developing mobile games and then as a graphic designer for an American company called Xplane through their office here in Madrid. All along, I was sending samples to every comic book editor available; I must have done a 12 issue maxi-series worth of sample pages over the years! I was also looking for writers in comic book forums to collaborate with, which I remember fondly as there was a great energy in sharing ideas, sketches, and notes, in the e-mails flying back and forth.
I think my first published comic was Logan's Run from Bluewater Productions. It was an adaptation of the famous Sci-Fi novel, and it was challenging but a lot of fun. I tried to combine the vibe of the novel with some of the aesthetics of the also famous 70s film and had to design a lot of cool costumes and places. It was a learning experience let us say, hahahah.
After that, it was Avatar all the way! I started with Absolution: Rubicon, which was a blast!
WC: You work entirely digitally for sequential pages, yet the pencil work I've seen from you is so stunning, why have you opted to be all digital? What are your tools of the trade?
DG: I work with a 22 inch Cintiq and Clip Studio Paint, which I love, every day I learn a new feature which makes everything easier and there are thousands of brushes, templates, and effects.
The thing I like most about digital is that you can try a lot of different things; you can scale, flip, rotate, distort, and if something is not working, it's so easy to just undo. It's true that at the beginning mostly, everything looks stiffer, and you lose some "freshness" but it gets better with time, and the pros outweigh the cons for me. I even sketch in digital now because, as I said, it's so fast, and you can change the lights or try different shadows and page distribution in a second. But I must say that going back to traditional pencils for these Kickstarter sketches has been a lot of fun (although I've found myself more than once trying to ctrl+Z something!) I might try to combine both in the future, just not sure how yet.
WC: WARRIOR NUN: DORA really gave you a chance to flesh out the characters from the ground up, you were the original series artist and illustrated all the pages. Do you enjoy the challenge of "Blank paper," creating a world from scratch, or do you like something like UBER where there was a lot of ground covered, and you then made it your own?
DG: I do enjoy the challenge of developing characters and settings from the start, but it's very stressful, and you always end up wishing you had more time. When you are 20 pages into the book, you always find a better solution for a costume or a better design for a weapon, and it's too late then.
On the other hand, when you land on something already developed, such as UBER or ABSOLUTION, you can focus all your energy on finding ways to improve it (if there is something to improve). You also learn a lot about the way the other artist came to that solution when trying to make them your own—standing on the shoulders of giants and all that.
You can see a gallery of Daniel's Warrior Nun cover work and other Avatar work, below, and the Warrior Nun: Dora Kickstarter is right here:
Enjoyed this article? Share it!