One of the things we really dislike about the comics news business is when outlets receive EX-X-XCLUSIVE content from publishers and then brag about it by doing things like writing EX-X-XCLUSIVE in the headline as if they did something to earn the story beyond having it handed to them. It's a shameful indictment of the lack of integrity in the comic book media, an all-too-cozy relationship between publishers and the media that covers them, all in service of fueling the click economy and the 24-hour comics new cycle. Disgusting, really.
Except when we do it. When we do it, it's awesome.
That's why Bleeding Cool is proud to EX-X-XCLUSIVELY reveal that, beginning with the second issue hitting stores in December, Dennis Culver and Justin Greenwood's new series Crone will feature a backup story called Romero Muerte, written by Culver with art by Ramon Villalobos and letters by Christy Sawyer. But there's a catch: the backup story will only appear in the print version of the comic, making it a comic store EX-X-XCLUSIVE as well!
As if that wasn't EX-X-XCLUSIVE enough, Bleeding Cool can also EX-X-XCLUSIVELY reveal the cover to Crone #2 and two pages of interior art from Romero Muerte: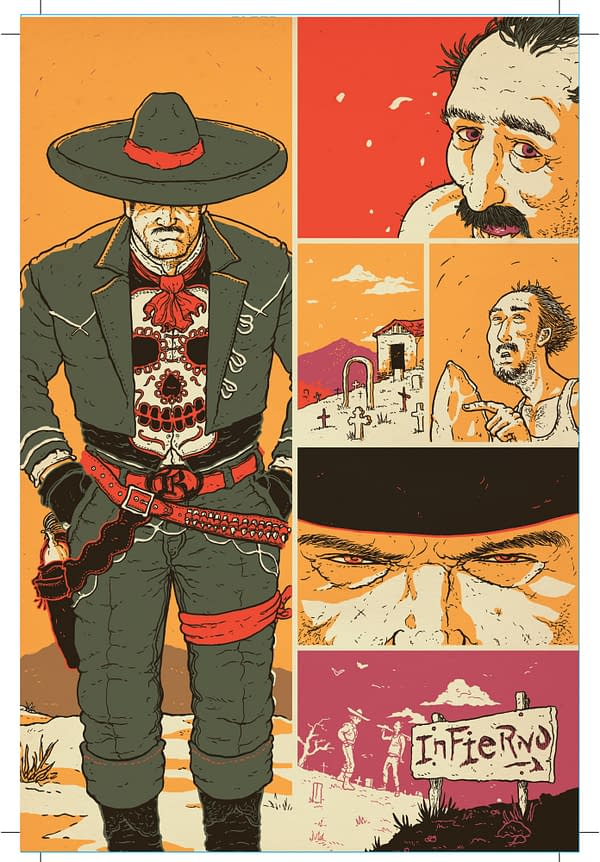 The press release, which we feel obligated to remind you is being published EX-X-XCLUSIVELY here on Bleeding Cool, contains more info:
Dennis Culver and Justin Greenwood's new series Crone just got a lot better, but only if you buy it from a comic shop! The Romero Muerte backup story will only be featured in the print edition of the comic from Dark Horse Comics. Contact your comics retailer to reserve your copy today!

Starting with issue two, Crone will feature an exclusive Romero Muerte backup story written by Dennis Culver, illustrated and colored by Ramon Villalobos (Nighthawk, E is for Extinction), and lettered by Christy Sawyer (Wonderland, Zodiac Starforce)! In Romero Muerte, a lone man walks across the ruined landscape of the former U.S./Mexican border. He avenges the victims of all who celebrate Hell and devastation.
And in a statement EX-X-XCLUSIVE to Bleeding Cool, Culver said:
Romero Muerte is a story about revenge and betrayal that Ramon and I have wanted to tell for quite some time. I'm really excited for people to finally read it. Also, Ramon is coloring his own art for the first time in a sequential story, and I think it's some of the best work he's ever made!
Dark Horse's December solicitations will be released soon, but here's the solicit for Crone #1, out on November 6th. The Romero Muerte backup story will start in the book's second issue.
CRONE #1 (OF 5)
SEP190258
(W) Dennis Culver (A/CA) Justin Greenwood
The Sword Saviour and Champion of Men once known as BLOODY BLISS is now nothing more than a reclusive old CRONE. Does she have the strength to answer the call for one last adventure? Only Dennis Culver (Burnouts, E is for Extinction) and Justin Greenwood (Stumptown, The Last Siege) know for sure in this story that is equal parts Unforgiven and Xena: Warrior Princess.

From Burnouts creator Dennis Culver and acclaimed artist Justin Greenwood!

One more battle for Bloody Bliss!
In Shops: Nov 06, 2019
SRP: $3.99
Enjoyed this article? Share it!