Earlier today, Bleeding Cool reported on comics creators who stated they were no longer going to Emerald City Comic Con in Seattle in a week's time, over fears regarding the spread of the coronavirus. We also stated we understood that a number of publishers would also make their absence official today. Well, Dark Horse Comics were first to announce they were no longer to attend.
2/2 We appreciate your understanding, and will see you at conventions later this year and at Emerald City Comic Con 2021.

— Dark Horse Comics (@DarkHorseComics) March 3, 2020
As did Penguin Random House.
Penguin Random House has come to the difficult decision to cancel its participation in ECCC due to concerns surrounding the coronavirus. While this show is an important way for our staff and authors to connect with readers, the health and safety of everyone take priority.

— Del Rey Books (@DelReyBooks) March 3, 2020
And I am told to expect more announcements tomorrow. And here are the first of a number of creators taking, or considering taking similar actions.
I am hereby calling on ECCC to cancel or postpone. If they choose to go ahead, I will be making a decision on my attendance before the weekend. Multiple trusted colleagues AND my current publisher have withdrawn. Writing is on the wall here.

— Amy Mebberson 🇦🇺🍻🇺🇸 (@amymebberson) March 3, 2020
I keep waiting on ECCC to rip off the bandaid and just cancel the event to save everyone time, money and worry, but I'm not sure that day is going to come.

— David Harper @ ECCC (@slicedfriedgold) March 3, 2020
With extreme sadness I must announce I have to cancel my @emeraldcitycon appearance. I am so sorry to the fans I may disappointed with this decision. It was an extremely hard choice to make. Thank you ECCC for their understanding and support. ♥️♥️ pic.twitter.com/FnQtDPWeYE

— Agnes Garbowska (@AgnesGarbowska) March 3, 2020
Adding to it, this is the first time I've ever paid for a table at ECCC (for some reason, they've had me as a comped guest every year till this one), so if I don't go and they don't cancel, I wasted FOUR HUNDRED BUCKS, and I'm cheap.

— Matthew Southworth (@mattsouthworth) March 4, 2020
Hey there. So, this sucks, but I'm having to cancel ECCC. I'm very sorry. It's not a decision I enjoyed making. ❤️ I really wish I could be there. pic.twitter.com/EEiSJVofIt

— Kate Leth 🏝 (@kateleth) March 3, 2020
As of yesterday Valiant is still going

— Heather Antos @ ECCC (@HeatherAntos) March 3, 2020
Regarding Emerald City Comic Con… 😣🙏🏼 #ECCC2020 #ECCC pic.twitter.com/Vs78b4bobz

— Jen Bartel (@heyjenbartel) March 3, 2020
I was never officially announced for ECCC, but had hotel & flight & was planning to go, to sign a book that hasn't been announced & to announce a book I've been teasing online instead. Opted out, as roommate's young son has been sick, and I'd rather not give him The Plague.

— LAYMAN (@themightylayman) March 3, 2020
More to come I am sure.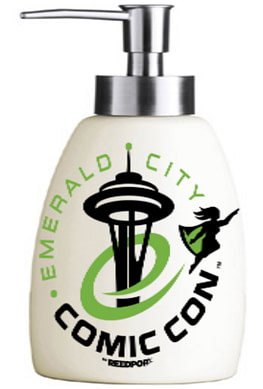 Enjoyed this article? Share it!