Writers Nunzio DeFilippis and Christina Weir, artist Fernando Heinz Furukawa, colorist Michael Atiyeh, and cover artist Sachin Teng are returning to Dark Horse to produce another entry in the Dragon Age canon with Dragon Age: Deception. Dark Horse revealed the three-issue mini-series in a press release today, which included not one but two separate pull quotes from Bleeding Cool about the previous entry, Dragon Age: Knight Errant:
"A great example of how Dark Horse has successfully continued the tales within the lavishly crafted world of BioWare's incredible fantasy epic series of games." —Bleeding Cool

"Furukawa and Atiyeh excel in every aspect." —Bleeding Cool
So you'd better pay attention! This book is double-endorsed by Bleeding Cool! A third quote was from ComicBook.com, but hey, they can't all be winners.
Dark Horse also reminded us of more upcoming Dragon Age releases, including Dragon Age: Hard in Hightown July 31st, 2018, Dragon Age: The Stolen Throne Deluxe Edition September 18th, 2018, Dragon Age: The Calling Deluxe Edition October 17th, 2018.
Dragon Age: Deception is hitting stores on October 10th.
Dragon Age: Deception follows the twisted tale of a con artist in Tevinter. Olivia Pryde, a failed actress turned successful con artist has come to the city of Ventus with a new target: the head of a wealthy house named Calix Qintara. But as Olivia gets closer to Calix, she realizes that he is not exactly who he says he is. And soon realizes that she is in too deep, and that they may no longer be playing her game.

Fans of Dragon Age won't want to miss this action-packed new tie-in to the beloved, award-winning franchise!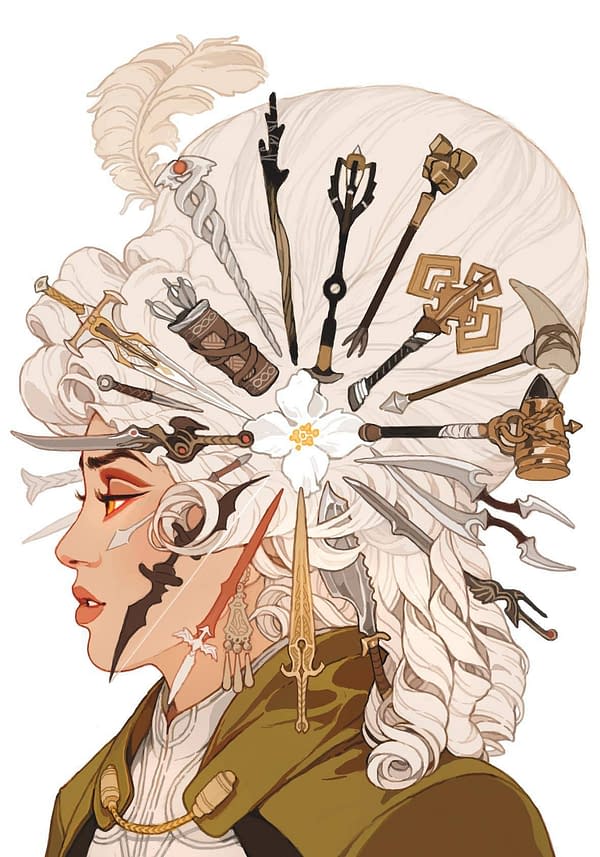 Enjoyed this article? Share it!