Dave Sim is continuing is rapidly-decreasing successful tactic of giving every issue of Cerebus In Hell its own number 1, with a new title in a desperate attempt to bring sme kind of attention to his cut-and-pasting of old Cerebus art into the work of Gustave Dore, continuing the tales of Cerebus' eternal torment after death. And this time it's Star Wars: The Empire Strikes Back's turn to get the treatment by way of Disney's dominance. for May with Vark Wars: Walt's Empire Strikes Back.
Here's the solicitation: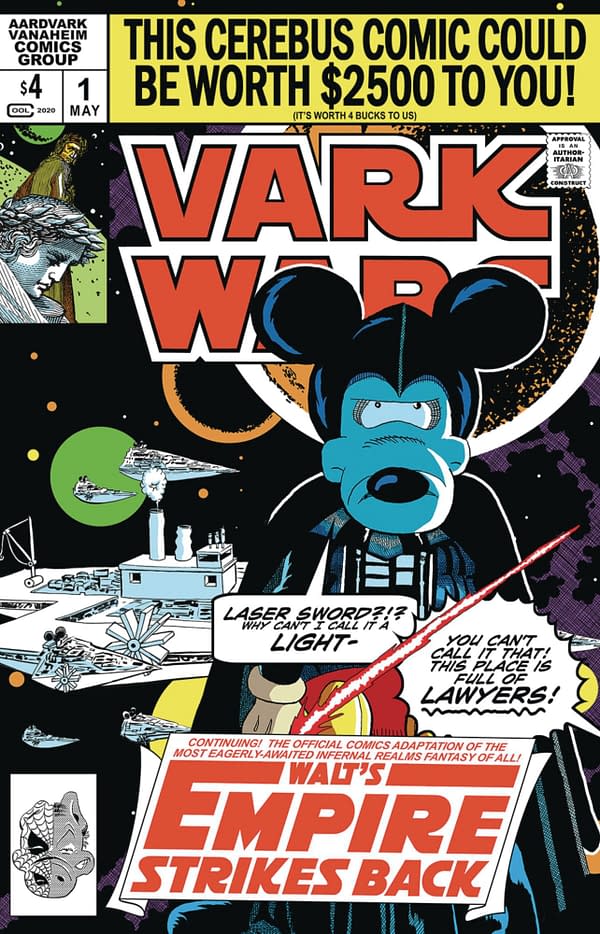 VARK WARS WALT`S EMPIRE STRIKES BACK ONE SHOT
(W) Dave Sim, Matt Dow, Benjamin Hobbs, Sean Michael Robinson, Eddie Khanna, David Birdsong (A) Gustave Dore (A/CA) Dave Sim, David Birdsong, Benjamin Hobbs, Sean Michael Robinson
Last time, our merry band decided to parody a beloved film franchise currently owned by a monolithic media corporation, what was the worst that could happen? And now, Walt's Empire Strikes Back! Witness Dante's ennui when Batvark steals his chick! See the denizens of the Infernal Realms get "Disney-fied"! Stand aghast as Cerebus learns the ways of the Farts from the Ancient Master: No-Duh! Scramble in Terror as you learn what The Unbeddable Vark is doing with all those severed hands! Gasp in shock as you discover which beloved Cerebus In Hell? character has fallen to the Dark Side and become Darth [Redacted]! Remember: The farts will be with you…. always. In Shops: May 27, 2020 SRP: $4.00
Come back Space Balls, all is forgiven.
Enjoyed this article? Share it!