David Avallone Talks Altered States: The Shadow
Part of Dynamite's new "elseworld-style" comics called Altered States is a variant take on the classic vilgilante The Shadow. Heading up the one-shot is writer David Avallone and he talked with Byron Brewer about the new project.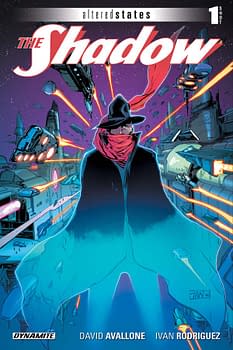 BYRON BREWER: David, are you a fan of The Shadow, certainly one of the most iconic characters in Dynamite's catalogue?
DAVID AVALLONE: I love The Shadow: of the old pulp crew from the 1930s he's always been my favorite. I prefer the twin-automatics-blazing character from the pulps to the slightly more genteel hypnotist from the radio show.
In fact, I'm such a fan of the character that I agreed to be an extra for one day on the goofy Alec Baldwin movie. I'm standing right next to Margo Lane when she pauses in the lobby of the Cobalt Club. I took the job just so I could say I'd been to the Cobalt Club with Margo Lane, Lamont Cranston and Commissioner Weston.
BB: This is quite a different Shadow story. Explain.
DA: The whole "Altered States" concept is to reframe the classic heroes in new and different ways. Joe Rybandt asked me to come up with something that put the Shadow in a futuristic context, and that was very interesting to me. It's hard to say too much about the story without getting into spoilers.
BB: Main differences and similarities between "our" Shadow and this Altered States being?
DA: Much like my Altered States: Doc Savage story …we begin with the character we know and love, in his natural habitat: New York in the 1930s. He's "our" Shadow, I think, throughout the story …but things happen to him that change him into something else.
BB: Why is artist Ivan Rodriguez right for this book?
DA: Ivan's got a great distinctive style all his own, and I'm very much looking forward to what he does with some of the more way-out visuals in the script.
BB: Is there any sort of outside inspiration powering this special tale? It certainly could be heavy on the SF side.
DA: I came up with the basic story without much thought towards inspirations, but when I started writing it page by page …it was clear to me that I'd been influenced a little bit by Philip K. Dick, a few old Star Trek episodes, and – very specifically – a single issue of Steve Gerber/Mike Golden's Mister Miracle from the 1970s that blew my mind when I was a kid. It's funny what crawls out of your deep memory when you least expect it.
Having said that …I hope I haven't set expectations too high for the book: that's some very heavy company.
BB: Why is The Shadow, in your perception as a writer, a character comic book creators love to work with, decade after decade?
DA: There are a lot of reasons I can guess at, but I can only be sure of my own. Of course you have that great, iconic costume. As a kid, I always dug that he was clearly a strange looking guy, even under the costume. The giant nose and the crazy intense eyes. Beyond the visual, he was Batman before there was Batman, and in my opinion he will always be cooler. He's not some fallible playboy working out his PTSD with an expensive hobby. He's a true fanatic with an absolute sense of his own righteousness …and it only works because he IS right. Unlike all the other costumed vigilantes, the Shadow can look into your heart and know it is evil, and give you the punishment you deserve. Which is often a hail of .45 caliber bullets. He's something out of the Old Testament …the actual living hand of justice. In the world with The Shadow, it doesn't matter if a jury is fooled by expensive attorneys, or the cops don't catch the bad guy, or the prosecutor's office is corrupt. The Shadow knows, and he will step in and make it right. No such thing exists in our world, and it's an appealing fantasy.
For more on Altered States: The Shadow, click here.