David Avallone's Writer's Commentary on The Shape Of Elvira #4 – Yes, It's Late, Buy Him a Drink And He Will Tell You Why
David Avallone gives us his Writer's Commentary on The Shape Of Elvira #4, on sale now from Dynamite. If you have a writer – or artist – commentary to share with Bleeding Cool, why not get in touch? David writes,
Before you get all this inside scoop – SO MANY SPOILERS — go read the comic. Did you read the comic? Good. Now we can talk about it. First: the elephant in the room. Yes, this comic was late. SO LATE. Crazy late. I can't really say why… it wasn't related to me or my work in any way. But buy me a drink at a comic con someday and I might just tell you all about it. Maybe.
Covers: I said this last time: Francesco Francavilla's cover makes me want to do a SWAMP THING comic with Elvira, illustrated by him. His art is almost too haunting and beautiful for the comedy hijinks inside. Last time, Dave Acosta did a "Gill-Man-as-Fabio" kind of romance cover, and this time J Bone's is in that genre. Funny and charming, as always. Dave's cover this time is Elvira and Gill being married in Vegas (presumably) by Elvis: Master of Ceremonies. Fans will appreciate the Gonk cameo, I'm sure.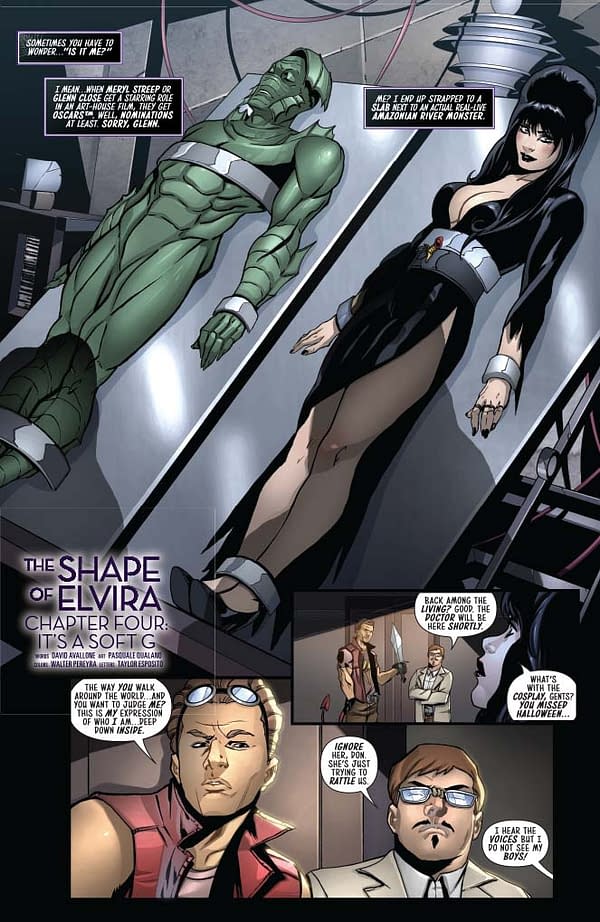 Page 1: Our new artist for this issue, Pasquale Qualano, takes over with an attractive first page. He captures the Elvira likeness – and those of our supporting cast, created by original series artist Fran Strukan – very well. The reference to Glenn Close's nominations was fresh when I wrote the script… during Awards Season early in 2019… but long story short, she's often nominated and never wins. Which is a crime. Likewise, the line about Halloween was originally "San Diego Comic Con is still a few months away." Never say I'm unwilling to adapt to changed circumstances. As for the title of the issue… if you're paying attention, it gives away the big twist.
Pages 2 & 3: Meet Doctor Kaminsky! I realized I needed a more talented mad scientist for the final issue than anyone we'd met previously. This character is suggested by a certain character in a certain movie about certain, well, puppets who go to Hollywood to be rich and famous. Along the way they encounter Doctor Krassmann, the world's leading expert in "mind control in frogs." As a lifelong fan of Mel Brooks (formerly Kaminsky), I couldn't resist a little tribute to him, and the funniest character in THE MUPPET MOVIE, here. "Bertram" is the name of Doctor Krassmann's helper in that movie, but there he's just some dude. Here, he's something more.
Pages 4-5: The big reveal. I probably didn't have this joke/twist in mind when I proposed the series, but it came to me pretty early. The "soft G". Why is the monster always male? Also, gender is a lot more fluid – even in the non-human world — than most squares understand. On the top of page 5, Kaminsky quotes the title and chorus of one of my favorite Who songs. It's best we not think about what those three dudes do after they leave this scene.
Pages 6-7: Eddie Mezzorgiorno to the rescue. Pasquale draws him a little more handsome than Fran did, with the result that he looks even less like me. I have no problem with that. As I've said before: I feel weird about using a fictionalized version of myself in this comic, particularly as Elvira's human "love interest"… but I maintain it was laziness and not vanity. Eddie is the easiest character to write, and I know what all his life experiences up to this age were…
Pages 8-10: Another reveal! Bertram is a gill-monster too! Eddie shares a meta-moment with Elvira. Good set of pages to make note of Walter Pereyra's colors – making it clear which gill-person we're looking at. I like the dark streaks above Bertram's eyes, and his Mohawk-style crest. Also a good time to point out the always-amazing work of letterer Taylor Esposito. Lots of sound effects and gill-person vocalization on this page. Love his gill-person lettering treatment, which he's been using since the first issue.
Page 11: When I first saw this page colored, I was going to have the background in panel 1 changed. They're inside, and those aren't windows. But then… I realized they're inside a movie studio. And behind those columns in a movie studio would be a "translight," a giant-sized translucent photograph. It's what's usually out the window in any movie or TV show you've seen, unless it was a green screen. So I let it stand.
I am not particularly insecure about my tan-lines, so Eddie and I do differ in some ways.
Pages 12-13: A couple of very complicated pages. It's not easy to draw seven-person confrontations and keep the geography straight and the visuals interesting, but Pasquale does a beautiful job here. Kaminsky makes a Ninja Turtles reference, followed by (of course) a Muppet reference. Is this a good place to plug DRAWING BLOOD, the comic I co-created with TMNT co-creator Kevin Eastman? No? Okay. I won't plug it then. Interested parties will just have to google it. And buy it. Please?
Page 14: And then… all Hell breaks loose. "Billy's got a gun" is a little bit of a play on the Aerosmith song title, "Janey's Got A Gun." Eddie, the writer, makes the more pretentious reference to Anton Chekov, who famously proposed the rule that if there's a gun introduced on the wall of the study in the first act, someone had better take it down and use it by the final act. Really love Walter's color palette for the beach at night.
Pages 15-16: Dr. Kaminsky's first line here is an echo of Dr. Krassmann's line in THE MUPPET MOVIE. If I have to explain to you where Elvira got "What's up, Doc?" from… I'll feel old. (Bugs Bunny. It's Bugs Bunny. C'mon.)
Page 17: Bertram the genetic experiment beats up third-rate-Hellboy. Eddie makes a particularly lame MOONRAKER reference.
Pages 18-19: The return of our Fish & Wildlife agents, Roberts and Polito, who bring their own pop-culture references to the party. FREE WILLY and E.T.: THE EXTRATERRESTRIAL do have similar endings. Agent Polito, as I mentioned last time, is based on an old pal of mine, the late, great Jon Polito, who played a Fish & Wildlife Agent in the entertaining mob comedy THE FRESHMAN.
Page 20: The wrapup! What does the future hold for these two kids? I haven't particularly made a point of it, but this series takes place AFTER the concurrently-running ELVIRA: MISTRESS OF THE DARK series, which will wrap up in issue 12. (The real clue: Elvira is reading Goethe's Faust in issue one of SHAPE OF ELVIRA and wishes she'd read it before meeting him. She met him in EMOTD #3. So it goes… EMOTD 1-12, SOE 1-4… and then…?
Well, I've just started writing a new series that will team Elvira up with a beloved – and unexpected – partner for four issues. You heard it here first! Stay tuned, and thanks for reading!