David Avallone's has a Writer's Commentary on Elvira: Mistress Of The Dark #11, available from Dynamite now.
Did you read Elvira #11? Because this is wall-to-wall spoilers. It'll be more fun and make more sense once you've read the comic.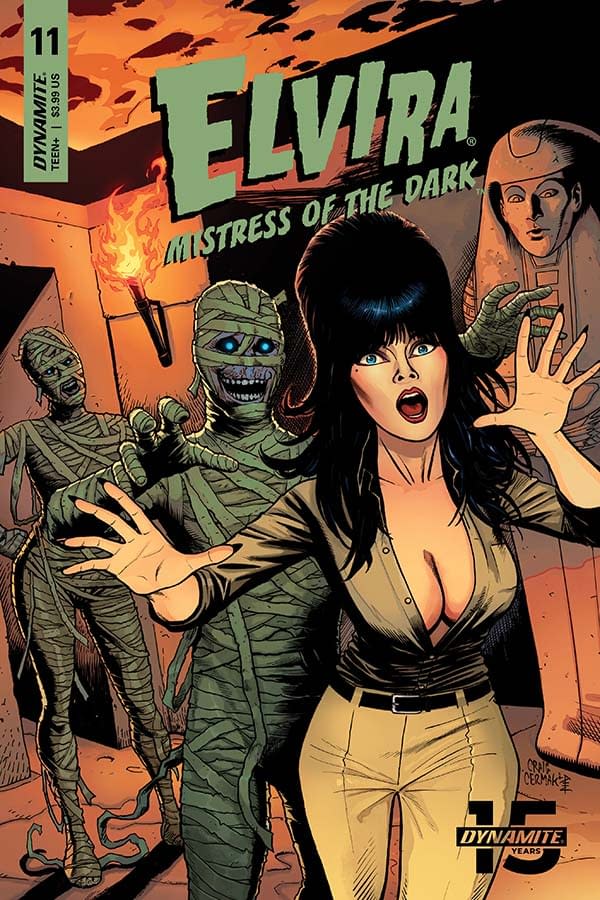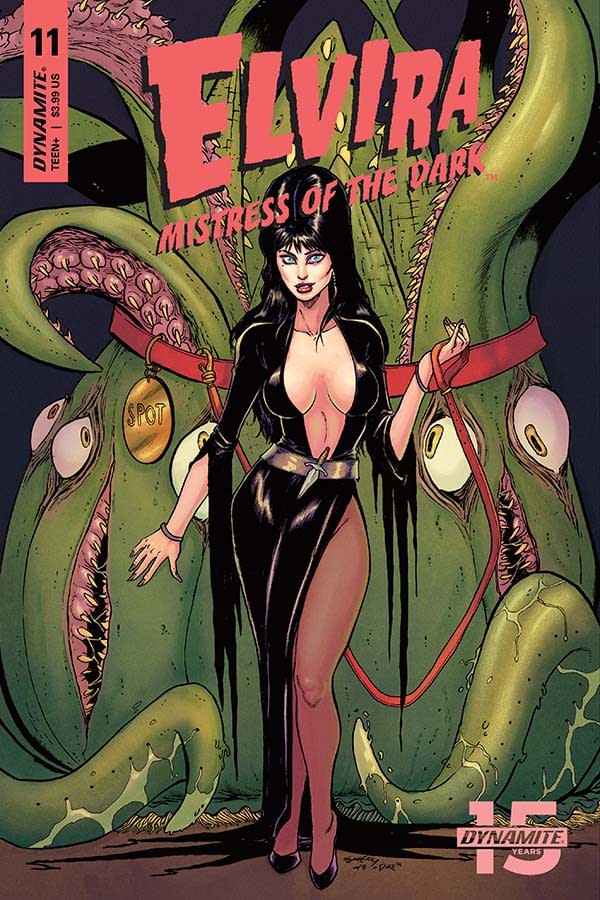 Covers: Tim Seeley shows Elvira with a Lovecraftian pet somewhat larger than Gonk. I hate to think about the plastic bag she's going to need to clean up after something that size. The fun mummy-themed cover from Craig Cermak (colored by Brittany Pezzillo) is a little sneak preview of what might come up in the NEXT Elvira series (which I'm writing now!). The photo cover is uniquely appropriate… and John Royle's beautiful cover captures a very mischievous Elvira.
Inside Front Cover: Did you read the recap? It's funny. You should read it. I've been doing a running gag for eleven issues about Elvira's reluctance to do recaps, and it continues to run here.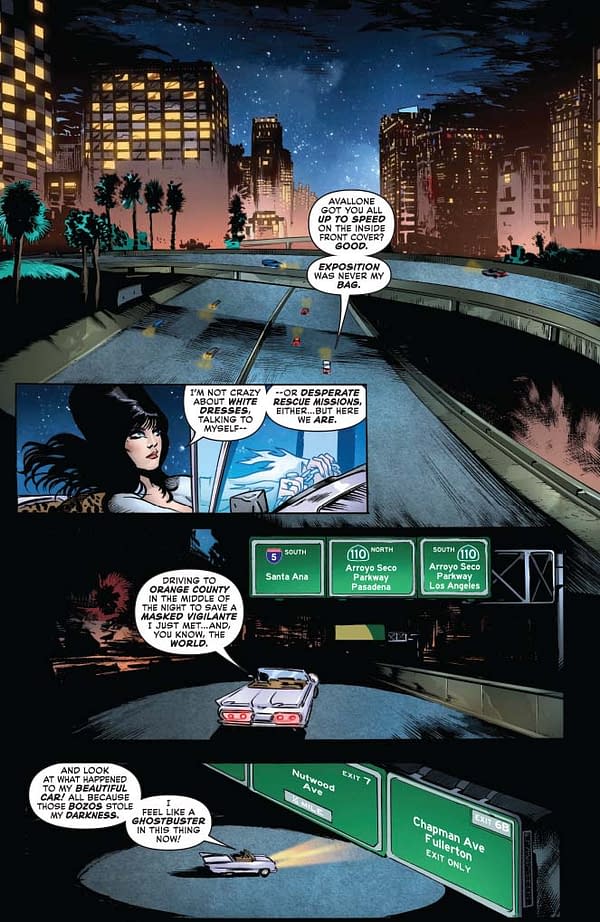 Page 1: I could have gone with jokey freeway signs – we've done that before – but instead artist Dave Acosta perfectly renders a couple of real Los Angeles area roads. Elvira thinks her Macabre Mobile – turned to white because her "darkness" has been stolen – looks like the car from GHOSTBUSTERS.
Pages 2-3: Elvira arrives, and we make some Ghostbusters/bust double entendrés. As mentioned in previous commentaries… Dark Ages Diner is obviously a parody of Medieval Times.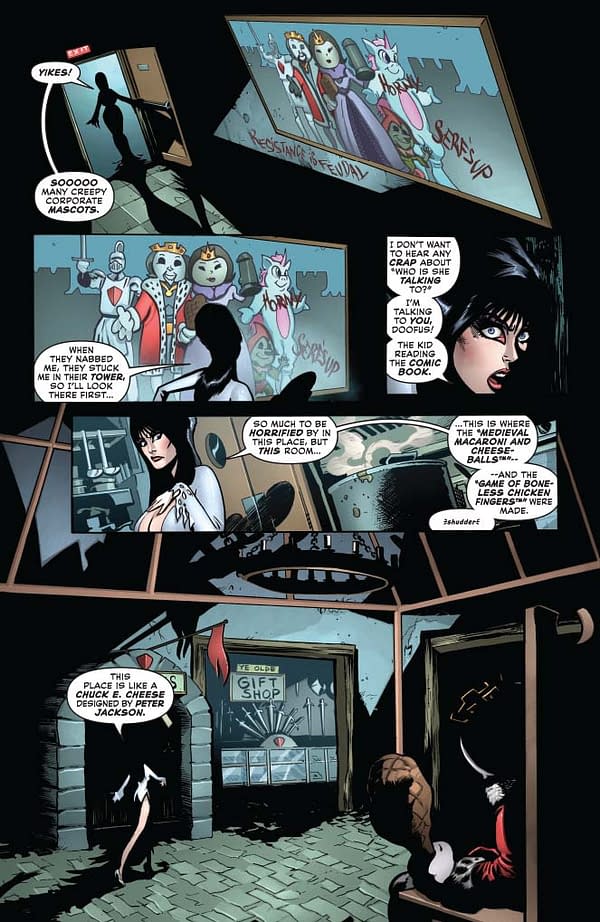 Page 4: I wanted to expand the Dark Ages Diner concept a little bit for this issue, and decided the place needed some mascots. Their "official" names, from left to right, are Sir Camelot, King Turkeyleg, Queen Mead and Corny the Unicorn. Corny has been given a new nickname by his coworkers, as you see. When I wrote this page I wasn't sure how many of them we'd actually end up "meeting" in the comic. I was a little sad Queen Mead and Sir Camelot didn't get deployed. Obviously, there were a lot of fairly filthy jokes I was prepared to make with Sir Camelot. Maybe some other time. (Dear Medieval Times: you're welcome to use "Resistance Is Feudal" and "Serf's Up" with my compliments.) I did base the Dark Ages Diner in this issue on Chuck E Cheese as much as Medieval Times, so I called it out in the bottom panel. (You don't need me to tell you who Peter Jackson is, right?)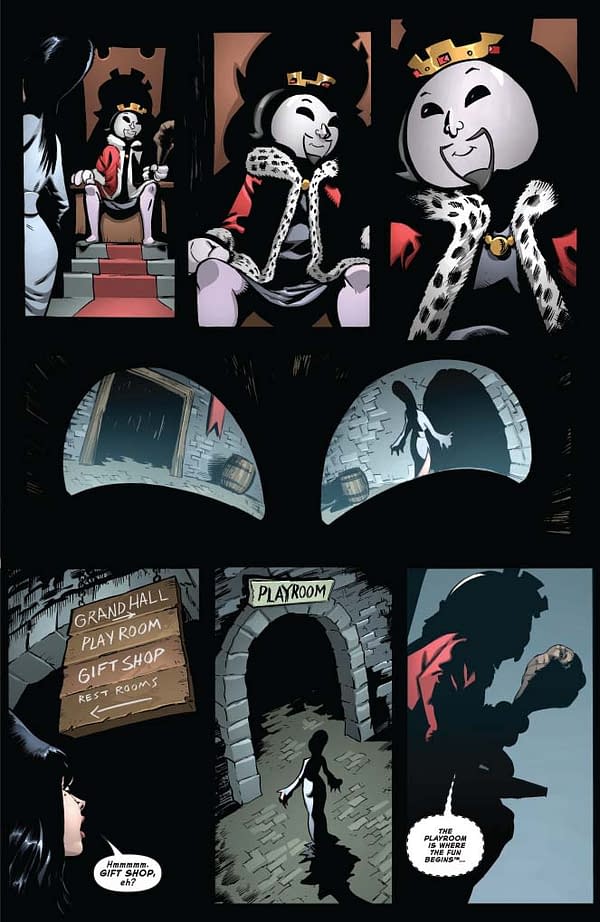 Page 5: Confession: I have always found "mascots" deeply unsettling. They scared me when I was a kid. A grown adult walking around in a weird-ass costume with a giant head? So creepy.
Page 6: King Turkeyleg attacks. Sharp-eyed fans may notice that Dave Acosta – without telling me – added a reference to my creator-owned comic, DRAWING BLOOD and its team of crime-fighting cats, THE RADICALLY REARRANGED RONIN RAGDOLLS, as stuffed animals in the gift shop, behind Elvira. Colorist Walter Pereyra did a great job getting their costumes and coloring right.

That's Dave at his most subtle. "Please enjoy our jumbo balls!" is Dave at his least subtle. But the joke is there for a reason, as we'll discover on the next page. Corny/Horny recognizes Elvira, and makes reference to Knotts' Berry/Scary Farm… where Elvira had an amazing live show for a stretch.
Page 7: Corny does not like his nickname. Elvira falls into the "jumbo ball" ball pit, and turns them white (because she's lost her darkness? Remember?). She usually turns balls blue. If you don't get that joke, ask your dad.
Page 8: So why did they have to be "jumbo balls?" Dave pointed out, quite correctly, that ball pit balls aren't terribly big or hard, and no matter how hard you threw one you couldn't hurt anyone with it. I was thinking more of dodgeball balls, so that sign was just a way of preparing you for the "dangerous" ball pit balls here. Yes. We overthink this stuff. If we didn't, these commentaries would be two paragraphs long, right?
Pages 9, 10 & 11: Elvira arms herself, and – at least for a bit – takes control of the situation. When Elvira threatens to re-enact "my favorite scene from THE GODFATHER, with a little bit of LEGEND thrown in" she's talking about the decapitated horse from the first, and the endangered unicorns from the second.
Page 12: The gang's all here. Elvira interrupts the Deucalionids mid-ritual, and they're not happy about it. This room is heavily influenced by that central theater in Medieval Times. I also was kind of thinking of the failed "public execution" of Charleton Heston in THE OMEGA MAN for this scene. Fullerton is a small town near Disneyland, and where this issue takes place. Letterer Taylor Esposito (with help from Rieanna Bates) always does a great job, and I really like his purple-Batman-voice treatment for the Soul Survivor.
Page 13: I imagine that the guy inside the Corny/Horny suit is the "squeaky-voiced teen" from THE SIMPSONS. I hadn't described what he was wearing under the costume, and Dave decided he should just be in boxers and gym shorts, which I thought was very funny. "Tell it to my high school football team" is a – hopefully – funny joke about a not-very-funny topic. "Dinner-theater D'Artagnan": D'Artagnan is the hero of Alexandre Dumas' THE THREE MUSKETEERS (and a great swordsman.)
Page 14 & 15: I think this is our first sword-fight in ELVIRA: MISTRESS OF THE DARK. Dave is great with action, and he hasn't gotten much chance to flex that muscle on this series. Elvira encourages the Soul Survivor to say his trademarked catchphrase, and he's clearly happy to do it.
Page 16: More comic book action! Soul Survivor is tired of bad guy clichés.
Page 17: I have no idea how the "charm of making" spell from the movie EXCALIBUR is spelled… but I did my best, and used it for the incantation here. That's why "that sounds familiar" to Elvira. One of my favorite movies, back when I was a teenager.
Page 18: Pages like this are so much fun to write, and the whole art team delivered so beautifully on it. Mephistopheles' office, in Hell. Great touches from Dave: he has a crystal ball AND a Ouija board on his desk, and his computer really seems to be a Mac Classic. Goethe "made him famous" in the tragic play FAUST. (All sorts of hijinks with Faust and Mephistopheles can be found in ELVIRA: MISTRESS OF THE DARK issues #3-8.)
Page 19: The Soul Survivor has a little demon-detector there. Its pingpingping sound effects are a little tribute to the Mother Box, created by Jack Kirby in his FOURTH WORLD epic. All this builds up to the return of…
Page 20: Vlad! Long time readers know that Vlad was our primary villain for issues #1-4 of this series, and then he showed up again – in Hell – in #5 and #8. Mephistopheles knows he is the demon most likely to throw Elvira off.
Bringing back Vlad for the finale is a fantastic idea and the perfect way to wrap up the series. I can say that without ego… because it wasn't my idea. Cover artist John Royle reached out and told me he thought it would be fun to do a parody of the TITANIC poster, with Elvira and Dracula, for issue 12. That made me think… what if the Deucalionids bring Vlad back from Hell? And you'll see the results next month, starting with John's hilarious cover, complete with Vlad the Impaler standing in for Leo Dicaprio.
It all wraps up in next month's… VLAD TO SEE YOU AGAIN. See you then!
Enjoyed this article? Share it!