Dawn Of DC Plans for Steel- The Family of John Henry Irons (Spoilers)
For his own 50th anniversary, it looks like Steel is going to transform Metropolis for the Dawn Of DC through 2023. And it starts tomorrow.
---
A while ago, Bleeding Cool noted that DC Comics seemed to be preparing something big for the character of Steel, John Henry Irons, the man who had the soul of Superman after his death at the hands of Doomsday. And also got a movie. The DC Comics announced that in June they would be publishing Steelworks, a new series starring John Henry Irons and his daughter Natasha. "Just in time for his 30th anniversary, John Henry Irons must bring Metropolis into the future while trusting his niece Natasha to carry the mantle of Steel."
We also have had John Henry Irons Jr, being created for Justice Society Of America, as his grand uncle. And in Action Comics #1051 tomorrow, we get to see how that may be playing out in the Dawn Of DC.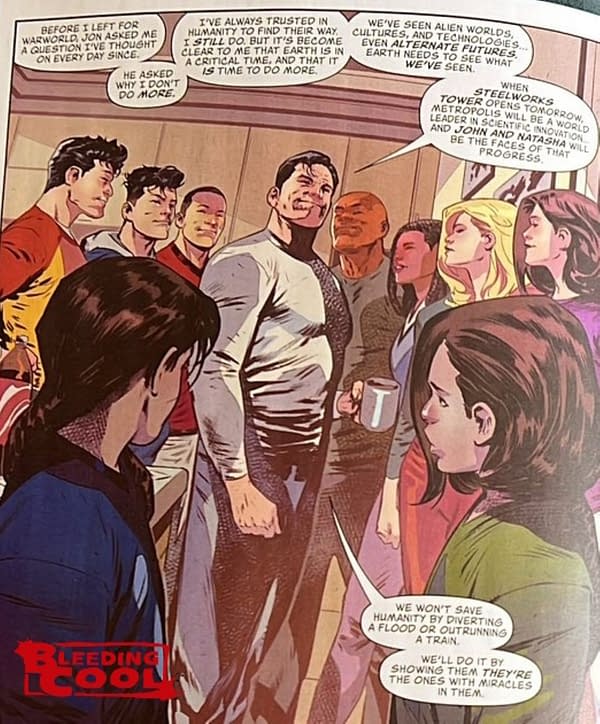 So Steelworks in Metropolis will be taking Kryptonian and Phaelosian technology and bringing it to modern-day Earth. Not that everyone is completely on board with such developments.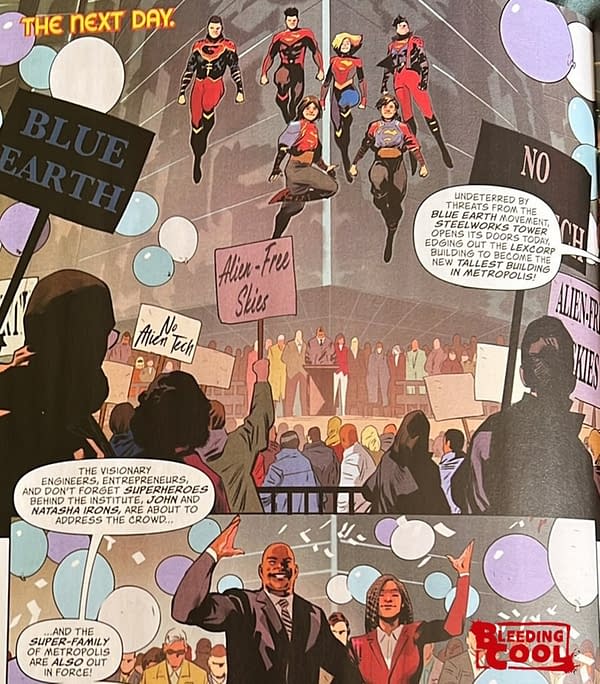 But Blue Earth/Luddite protests aside (are they using AI do you think?) this aims to also justify the nickname of Metropolis while we are at it. It looks as if the Steelworks comic book series will be reinventing technology on the DC Earth across the planet. if they are allowed to, of course.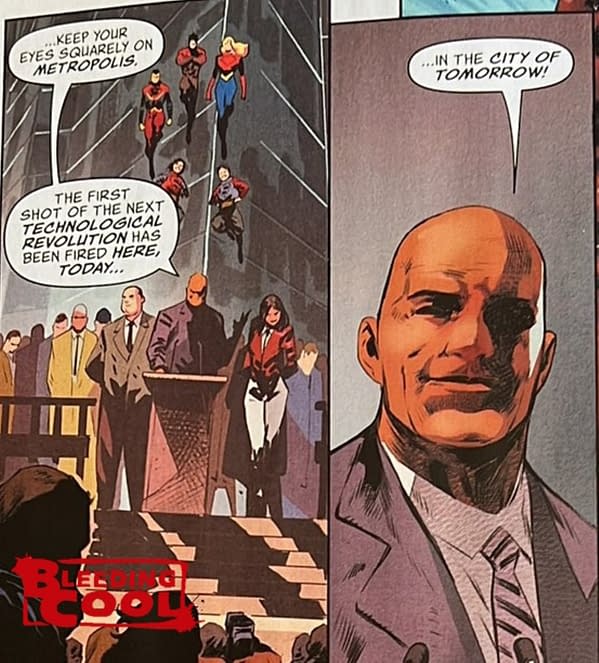 Metropolis' city nickname is "The City Of Tomorrow" due to its favourite son Superman calling it home, which is also a reference to The Metropolis of Tomorrow, a 1929 book written and illustrated by Hugh Ferriss. Now might Metropolis gain that nickname due to Steel and to the city itself rather than The Man of Tomorrow?
Steelworks is published by DC Comics in June (no creative team yet named). Action Comics #1051 is published tomorrow.
ACTION COMICS #1051 CVR A DAN MORA
(W) Phillip Kennedy Johnson, Dan Jurgens, Leah Williams (A) Rafa Sandoval, Lee Weeks, Marguerite Sauvage (CA) Dan Mora
ACTION COMICS REBORN! Action Comics #1051 begins a new format for DC's most action-packed title, offering not one, not two, but three epic adventures of Superman and the entire Super-Family! Following the bombshell events of Action Comics #1050, the world's relationship with Superman is forever changed, the upper limits of his supercharged powers have yet to be reached, and the House of El's transformation of Metropolis, led by Steel, has begun. But Lex Luthor has found the perfect instrument with which to undo everything Superman is working to achieve: Metallo, whose hatred of Superman is matched only by his hatred for Luthor himself. Then, in Lois and Clark 2: Doom Rising, Dan Jurgens and Lee Weeks return to tell the tale of young Jon Kent on the farm with his parents, learning about his abilities, coming of age…and battling the Doombreaker?! And finally, Power Girl returns in part one of a three-part story spinning out of Lazarus Planet! This issue marks the first appearance of new characters, new costumes, and a new era of Action Comics! It all starts here! Retail: $4.99 In-Store Date: 01/24/2023