The DC All Stars panel on the Main Stage at the Javits Center was not a place to be for breaking news or insights into coming comic events. Rather it was a chance to hear from DC's "all stars;" creators at the top of their game making quality content for the company and it readership.
DC Publisher Dan DiDio introduced the panel which consisted of Jock, Tom King, Jimmy Palmiotti, Amanda Conner, Brian Bendis (who was an announced addition), Sean Murphy, and Scott Snyder. DiDio served as master of ceremonies and led the assembled artists and writers through thoughts, feelings and anecdotes about living, and making it in, the industry (and in particular DC). The lighthearted affair allowed for some entertaining comments and anecdotes.
Bendis spoke about his recent switch from Marvel to DC and how many people ask him about it. "[It's] truly fascinating… Marvel and DC do things very differently… they're both great ways. They're both equally good. They're just different."
The transition for Bendis meant "leaving one group of talented, passionate people and meeting another group of talented, passionate people… it's just awesome people making awesome comics."
Amanda Conner spoke of her time at the Joe Kubert school, as a former comics retailer, and ultimately shared that her ambition as a child was to be a lion tamer.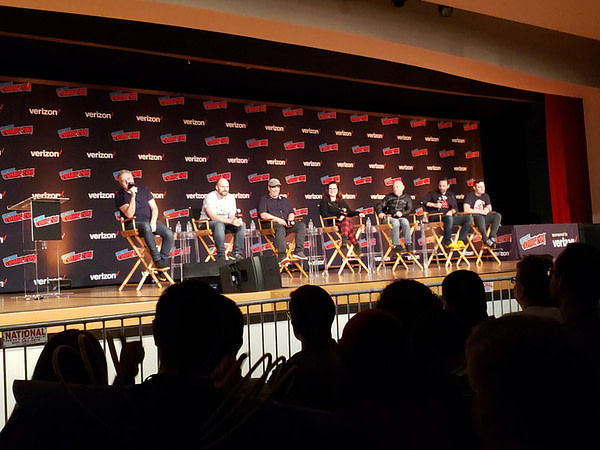 Husband Jimmy Palmiotti seated to her right volunteered that "she's good with a whip."
When asked by DiDio about whether it was a struggle rising through the industry ranks as a woman, Conner did not bite.
"Here's what Joe Kubert was telling us…comics are the hardest thing to get into… [so] I just assumed it was hard for everyone and I expected it to be hard… I just saw myself as a comic artist." She did then accept the praise offered by Bendis for her role helping to "pave the way for women" in the industry.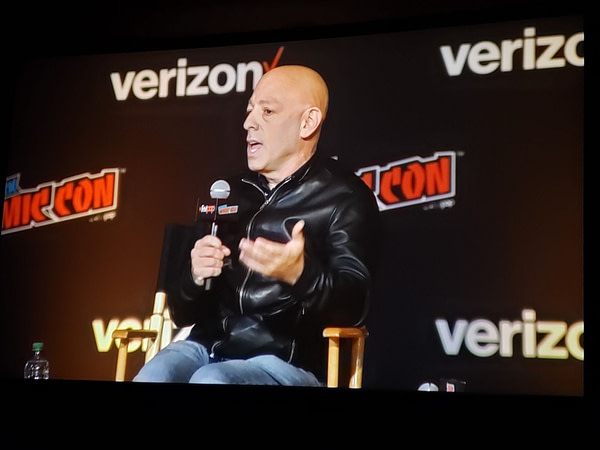 On the subject of being an artist versus being an Artiste, DiDio asked Murphy if he "[felt] like [he's] compromised yourself by doing Batman?"
"No…you have art, you have commerce, I truly believe there's a way to both." Murphy replied. "People think that it's one or the other. i just wanted to hold out for the day I could write my own Batman book"
The event closed with panelists relating their experiences at cons in the past. Bendis related how Walt Simonson changed his life at a con by taking the time to look at his work and advise him – even staying in touch with him for years after.
Tom King shared a story about being disappointed by a bad con interaction with Roy Thomas when he was younger and how angry it left him. He expressed an appreciation that fans fome to cons to interact with creators.
"If people come to my table, I owe it to them to not be Roy Thomas."