John Lewis, Civil Rights Icon and Writer of March, Diagnosed With Stage 4 Pancreatic Cancer
US Representative, Civil Rights leader, and co-creator of the 2013 graphic series March has been diagnosed with Stage 4 pancreatic cancer, his office announced today. The 79-year-old Lewis is considered an American civil rights and social justice legend, and the 3-part March series- co-scripted with Andrew Aydin – was an autobiographical accounting of his experiences in the civil rights era. March was released in three parts between 2013 and 2016 by Top Shelf and drawn by Nate Powell.
Lewis has traced his first awareness of the movement at the age of 10 through the cultural-touchstone comic Martin Luther King and the Montgomery Story which was in wide circulation among African American communities.
March chronicles Lewis's experiences from his youth living and working on his parents' Alabama farm, through events such as his 1965 participation in the Selma to Montgomery marches on "Bloody Sunday" (where he and other activists were beaten and tear gassed by police). Lewis put himself in harm's way time and time again during the struggle for equality at great personal risk. His story both then and since has made him a personal hero to many (myself included).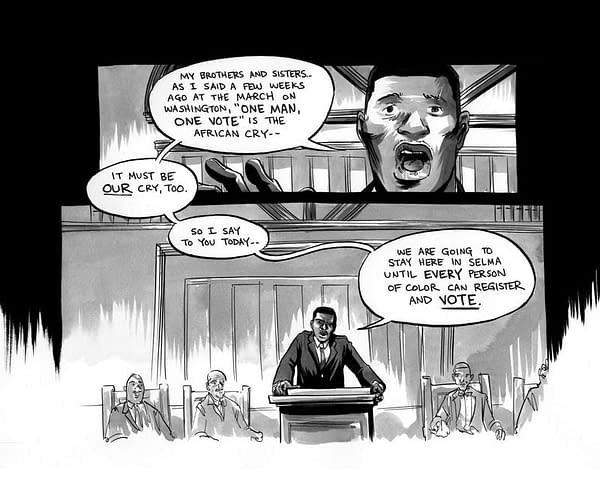 March was widely lauded by critics both inside and outside the comics industry and was a financial success as well.
Georgia congressman Lewis is currently serving his 17th term of office. While the diagnosis is heartbreaking, Lewis has proven himself time and time again to be a fighter. In his statement, Lewis says "I have decided to do what I know to do and do what I have always done: I am going to fight it and keep fighting for the Beloved Community. We still have many bridges to cross."