More Kickstarter Comics Projects Looking for Love
It's time for another look over at Kickstarter, that crowdfunding behemoth of an incubator for up-and-coming comics talent. While there are often many recognizable names in there, as well as may writers looking to fund their 10th or 20th opus, there are plenty of brand spanking new creators looking for help getting one of their first works out there. Here are a few interesting looking ones that could use a little help to meet their goals:
Creator Emily Mode says Radify is to be "the first in a series of speculative-fiction graphic novel mysteries set in the near future when breakthroughs in biotechnology have captured the public's imagination."
Her series intro "starts just as medical tourism and overseas practices of unregulated reproductive human gene-editing procedures have triggered an international health organization policy summit…. Outside the conference, a massive protest takes place on the streets. Journalist Thomas "Target" James III is on the scene for news-blog Radify. When he dies suddenly in the crowd, three unlikely heroes unite to search for the truth."
This one's going to be a keeper.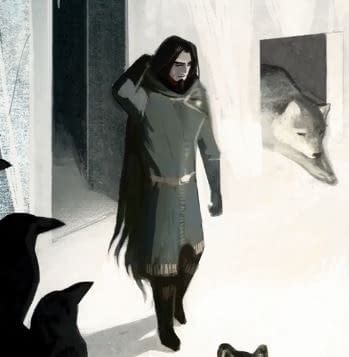 In the holiday spirit (sort of), Writer Kizer Nix joins artist Serena Malyon for the beautifully rendered comic about the "South Pole Santa Claus… joined by his band of crows, who keep watch over all children to decide if they are Naughty or Nice, and his flying wolves that pull his sleigh." The comic is an origin story of a boy who discovers a secret leading him to become the titular southern Santa.
Not sure there's going to be a lot of Ho Ho Ho in this one, but full points for originality.
I… just don't know, but Smudge Miramar (Writer) and Dean Stolpmann (artist) only want 700 bucks, so why not?