Forget the Debates, Who's Winning the Comic Primary?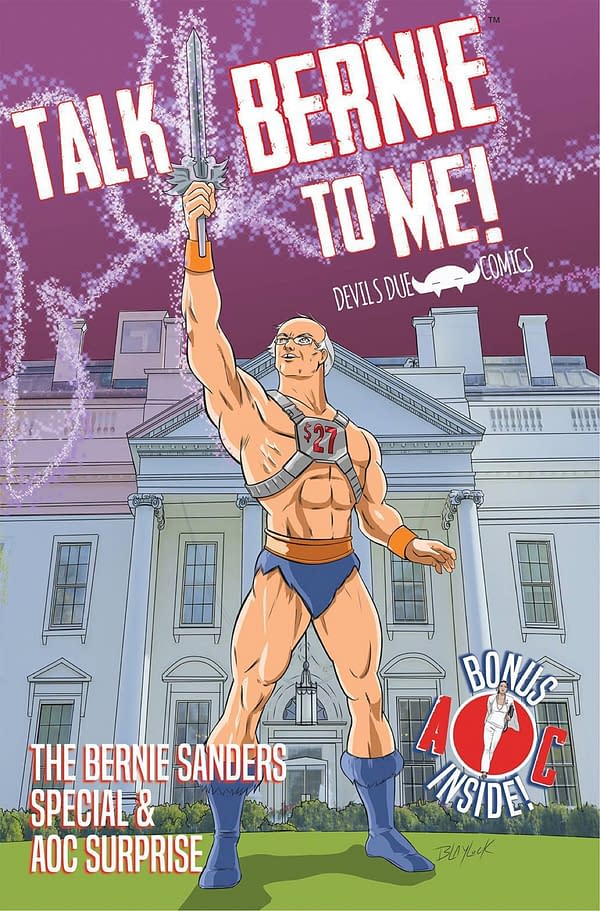 Election season in America is starting early this cycle, if indeed it ever really ended. June 26th and 27th mark the first "debates" (such as they are) between the Democratic candidates vying to be the party's champion against President The Donald in 2020. No doubt these and other debates to come will cover issues such as immigration, gun control, climate change, and such.
I suppose those are important things to talk about, but for my money I want to know where the candidates rate in terms of comic book status. Who among the two, three hundred Democratic candidates has gotten the most coverage in the media that really matters?
Here, then, are the current numbers as they stand in the comic primary. Rather than list the status of every single candidate, in the interest of space this list focuses exclusively on the twenty candidates who qualified for the first round of debates.
And currently leading the pack is….
1. Vermont Senator Bernie Sanders. Bernie is no stranger to comics and clearly takes the number one spot. Of course there's the upcoming and widely publicized "Talk Bernie to Me" from Devil's Due in which Sanders is portrayed as He-Man – but it's certainly not his first appearance. There's cartoonist Ben Rall's graphic biography entitled simply "Bernie" from Seven Stories Press and released in January of 2016. Then there's the Bluewater (or whatever they call themselves these days) 2015 contribution from their "Political Power" series from Michael Frizell and Nathan Webb.
2. Former Vice President Joe Biden. Biden comes in second to Bernie, starting with Adam Reid's peculiar and affectionate "The Adventures of Barry & Joe: Obama and Biden's Bromantic Battle for the Soul of America" in which Biden and former President Barack Obama are time-traveling (Days of Future Past style) crusaders for hope and justice in a series of shorts. Sure, why not? Biden also has his own issue of Bluewater's, er Tidalave's, Political Power series, naturally.
3. Massachusetts Senator Elizabeth Warren comes in just a smidge into third place. She also appears in two books, but they are both issues of Bluewater's (egads, is it "Storm Entertainment" this time?) "Female Force" series, the first in 2016 and the second in 2017. That's two, but sort of like one, so she gets the bronze.
4. New Jersey Senator Cory Booker is in fourth place. In 2012, Mike Drucker, Corey Pandolph and Sean Crespo gave us the difficult-to-come-by "Gosling and Booker." That's Gosling. As in Ryan Gosling.
Booker was the Newark New Jersey mayor at the time, and the two title characters fight crime in this web series. Both inspired the series by playing the starring roles in high-profile acts of heroism, with Booker pulling a woman from a burning house and Gosling saving a girl from being hit by a taxi. The web series just goes with it. Again, why not?
5. New York Senator Kirsten Gillibrand. We're drifting to the lower end of the list now, and Gillibrand's position comes only from being illustrated as a "Senator of Steel" in a one-off image created for a Marvel/ESPN partnership in 2015, in honor of her work to pass the "Campus Accountability and Safety Act" which called for enhancing sexual assault policies on college campuses.
In sixth place, in a roundabout way, is Washington Governor Jay Inslee who spoke out against the Washington Department of Corrections' ban on donated comics. Per the the Comic Book Legal Defense Fund, "Governor Jay Inslee also spoke out against the ban, saying 'Most of these folks are going to become our neighbors and we want to reduce recidivism rates, and education and the like is very, very important.'"
A couple "honorable mentions" of sorts, as these two don't exactly make the cut but probably deserve being a hair above the herd in dead last. California Senator Kamala Harris, with children's book artist Mechal Renee Roe, penned a picture book for kids called "Superheroes are Everywhere" which is basically the cute little thing you probably think it is. Also getting an honorable mention is former Texas Representative Beto O'Rourke who popped up as a superhero in street art in East Austin.
Finally, clumped firmly in the "not registering on the radar whatsoever" category are Minnesota Senator Amy Klobuchar, former Housing and Urban Development Secretary Julián Castro, Hawaii Rep. Tulsi Gabbard, New York City Mayor Bill de Blasio, Ohio Rep. Tim Ryan (although there is another Tim Ryan that has worked in comics), former Maryland Rep. John Delaney (also with a namesake in the industry) . South Bend, Indiana Mayor Pete Buttigieg (being dubbed "Alfred E. Neuman" by Trump doesn't count), Colorado Senator Michael Bennet, Former Colorado Governor John Hickenlooper, California Representative Eric Swalwell (who recently compared Democratic candidates to The Avengers), Entrepreneur Andrew Yang, and Self-help author Marianne Williamson.
The primaries are still a ways off, so this is all subject to change.
Cast your vote wisely.