Okay, so lots of rumours and gossip came out of C2E2, and as ever I usually start to get to hear them on the Sunday night of the show, when lips are looser and wetter. One of which is that DC Comics is prepping a new WarWorld comic book later in the year. Or at least they were, the exit of Dan DiDio means that everything is up in the air. So with that pinch of salt biting the tongue, let's take a look back.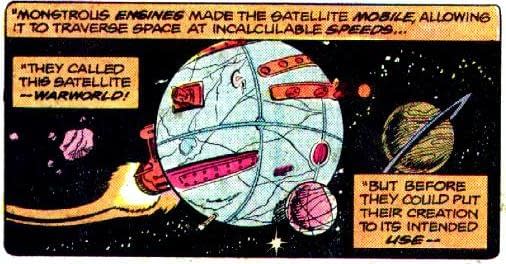 First appearing in DC Comics Presents #27 in November, 1980, and created by Len Wein and Jim Starlin, Warworld is a mobile planet, usually controlled by alien tyrant Mongul. But its role has changed over DC continuity over the years. Initially Warworld was a mobile weaponized satellite created by the Warzoons, able to blow up other planets, it was basically DC's Death Star. It was armed with numerous weapons included mile high nuclear missiles and macro-laser cannons able to incinerate entire worlds. Massive engines were used to propel the satellite at incalculable speeds across space. However, Warworld was controlled by a mind-linking system that strained and quickly drained the user's mind, ultimately resulting in death. One by one the Warzoons died before their weapon was put to real use. Bit of a design flaw there. After various battles over control, it was destroyed when Superman programmed it to fight itself.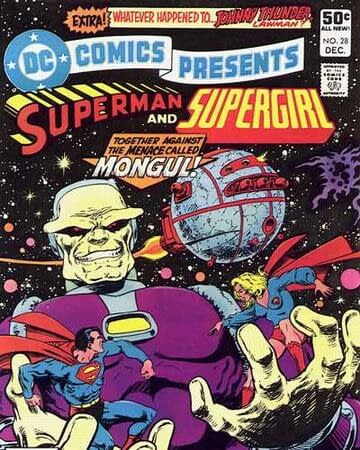 After the Crisis On Infinite Earths, Warworld was rewritten to be a planet ruled by Mongul, which he used as a giant training camp for his conquering army. Much later, Brainiac 13 would go on to control a newly recreated Warworld remade from the planet Pluto.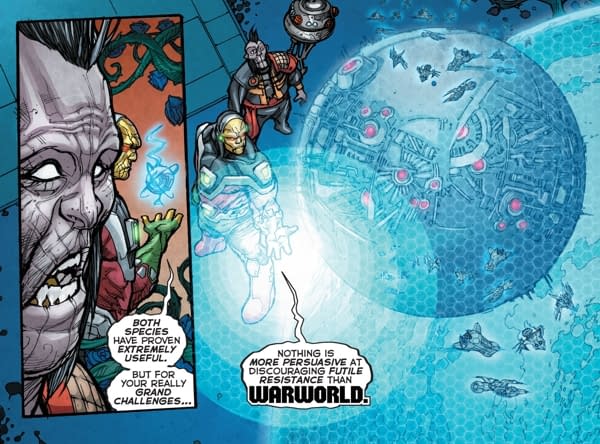 Warworld typically harvest the remaining population of the worlds it attacked, drafting the best into the humanoid division of its own military whilst the rest were sent to serve as gladiators, placed into domestic or custodial service across the Warworld, or used for for medical research, while the Warworld recycled what it could of the planet it had attacked. So it's not all bad.
At one point, Superman banished Warworld into the Phantom Zone. Warworld would later be destroyed by Hal Jordan in his battle with the Sinestro, who had claimed it from Mongul as a prize.
It is more notable that its last appearance was as a 'War Moon' in the opening of Dark Knights: Metal by Scott Snyder and Greg Capullo. Could the return of WarWorld be in some way spinning out of that?
What role it will perform this time for Mongul is, as yet, unknown. If indeed it still goes ahead…
Enjoyed this article? Share it!