DC Comics Totally Dominates Advance Reorders With Catwoman
Advance Reorders are back – we haven't had this column for a month, but the Diamond stats are in as retailers are starting to up their orders on FOC. Because DC Comics set everyone's Diamond orders to zero, this is basically a DC order column and shows you what retailers are ordering from Diamond for DC as a whole. Detective Comics tops the chart, though that may be because Catwoman 80th Anniversary has been divided into different covers. But you can also see that Catwoman #22 has been boosted in proximity.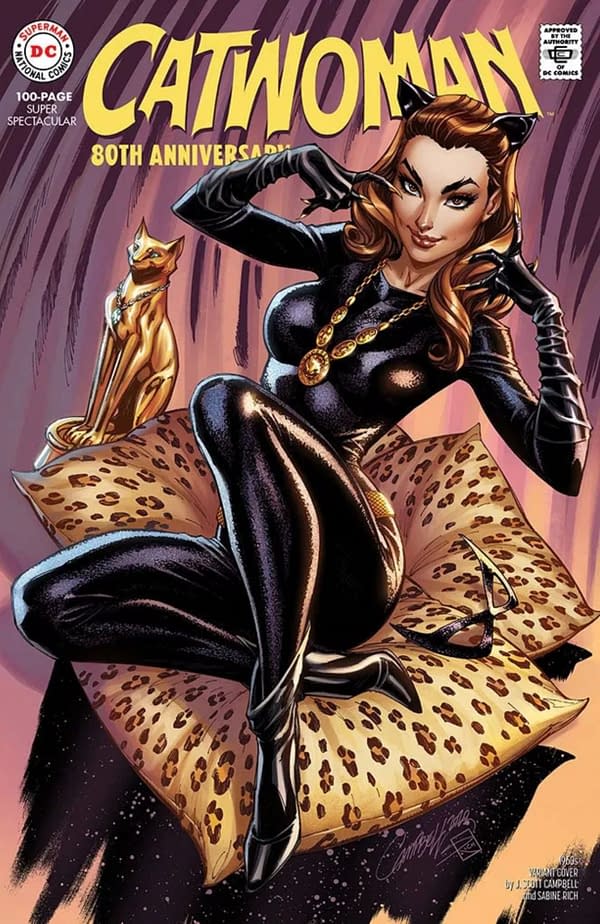 Greetings from the coal face of the direct comics market. Where retailers try to increase their orders of certain comics ahead of sale. Where supply and demand and most accurately reflected, where you can see which books are hot, where new orders are coming in and how retailers are reacting to new, unanticipated desire! And courtesy of stats from Diamond Comic Distributors.
TOP 25 ADVANCE REORDER COMICS/GRAPHIC NOVELS/TPS
| | | |
| --- | --- | --- |
| Publication | Price | Publisher |
| DETECTIVE COMICS #1022 | $3.99 | DC COMICS |
| CATWOMAN 80TH ANNIV 100 PAGE SUPER SPECT #1 1960S J SCOTT CA | $9.99 | DC COMICS |
| CATWOMAN 80TH ANNIV 100 PAGE SUPER SPECT #1 | $9.99 | DC COMICS |
| BATMAN SUPERMAN #9 | $3.99 | DC COMICS |
| CATWOMAN 80TH ANNIV 100 PAGE SUPER SPECT #1 1980S STANLEY LA | $9.99 | DC COMICS |
| ACTION COMICS #1022 | $3.99 | DC COMICS |
| CATWOMAN 80TH ANNIV 100 PAGE SUPER SPECT #1 2000S JIM LEE VA | $9.99 | DC COMICS |
| CATWOMAN 80TH ANNIV 100 PAGE SUPER SPECT #1 1940S ADAM HUGHE | $9.99 | DC COMICS |
| CATWOMAN 80TH ANNIV 100 PAGE SUPER SPECT #1 2010S JEEHYUNG L | $9.99 | DC COMICS |
| EVENT LEVIATHAN CHECKMATE #1 (OF 6) | $3.99 | DC COMICS |
| CATWOMAN 80TH ANNIV 100 PAGE SUPER SPECT #1 1990S GABRIELLE | $9.99 | DC COMICS |
| WONDER WOMAN #756 | $3.99 | DC COMICS |
| CATWOMAN 80TH ANNIV 100 PAGE SUPER SPECT #1 1970S FRANK CHO | $9.99 | DC COMICS |
| SHAZAM #12 (RES) | $3.99 | DC COMICS |
| JOHN CONSTANTINE HELLBLAZER #6 (MR) | $3.99 | DC COMICS |
| JUSTICE LEAGUE DARK #22 | $3.99 | DC COMICS |
| CATWOMAN #22 | $3.99 | DC COMICS |
| CATWOMAN 80TH ANNIV 100 PAGE SUPER SPECT #1 BLANK VAR ED | $9.99 | DC COMICS |
| DETECTIVE COMICS #1022 CARD STOCK LEE BERMEJO VAR ED | $4.99 | DC COMICS |
| CATWOMAN 80TH ANNIV 100 PAGE SUPER SPECT #1 1950S TRAVIS CHA | $9.99 | DC COMICS |
| WONDER WOMAN #756 CARD STOCK MIKEL JANIN VAR ED | $4.99 | DC COMICS |
| CATWOMAN #22 CARD STOCK J T TEDESCO VAR ED | $4.99 | DC COMICS |
| BATMAN SUPERMAN #9 MIKE MAYHEW VAR ED | $3.99 | DC COMICS |
| SWAMP THING GIANT #4 | $4.99 | DC COMICS |
| ACTION COMICS #1022 L PARRILLO VAR ED | $3.99 | DC COMICS |
TOP 25 REORDER COMICS/GRAPHIC NOVELS/TPS
| | | |
| --- | --- | --- |
| Publication | Price | Publisher |
| MARVELS 25TH ANNIVERSARY HC | $50.00 | MARVEL COMICS |
| HULK WORLD WAR HULK OMNIBUS HC | $125.00 | MARVEL COMICS |
| AMAZING SPIDER-MAN OMNIBUS HC VOL 04 CHO VAR | $125.00 | MARVEL COMICS |
| INFINITY WAR OMNIBUS HC | $125.00 | MARVEL COMICS |
| MIGHTY MORPHIN POWER RANGERS DLX HC YEAR ONE (C: 1-1-2) | $75.00 | BOOM ENTERTAINMENT |
| GOTHAM CENTRAL OMNIBUS HC | $99.99 | DC COMICS |
| HOUSE OF X POWERS OF X HC | $60.00 | MARVEL COMICS |
| FRANK MILLERS BIG DAMN SIN CITY HC (C: 0-1-2) | $100.00 | DARK HORSE COMICS |
| NEW X-MEN OMNIBUS HC NEW PTG | $125.00 | MARVEL COMICS |
| SAGA DLX ED HC VOL 03 (MR) | $49.99 | IMAGE COMICS |
| KILL OR BE KILLED DLX ED HC (MR) | $49.99 | IMAGE COMICS |
| ANNIHILATION OMNIBUS HC NEW PTG | $125.00 | MARVEL COMICS |
| BATMAN UNIVERSE HC | $24.99 | DC COMICS |
| DAREDEVIL BY WAID & SAMNEE OMNIBUS HC VOL 02 | $100.00 | MARVEL COMICS |
| BERSERK DELUXE EDITION HC VOL 04 (MR) (C: 1-1-2) | $49.99 | DARK HORSE COMICS |
| THOR BY WALTER SIMONSON OMNIBUS HC NEW PTG | $125.00 | MARVEL COMICS |
| VENOMNIBUS HC VOL 02 | $125.00 | MARVEL COMICS |
| SPIDER-MAN BY JOHN BYRNE OMNIBUS HC | $125.00 | MARVEL COMICS |
| BATMAN BY JEPH LOEB AND TIM SALE OMNIBUS HC | $125.00 | DC COMICS |
| ABSOLUTE PREACHER HC VOL 03 (MR) | $150.00 | DC COMICS |
| DAREDEVIL BY FRANK MILLER OMNIBUS COMPANION HC NEW PTG | $100.00 | MARVEL COMICS |
| ABSOLUTE ALL STAR SUPERMAN HC | $99.99 | DC COMICS |
| ABSOLUTE NEW FRONTIER 15 ANNIV ED HC | $99.99 | DC COMICS |
| STAR WARS BY JASON AARON OMNIBUS HC | $125.00 | MARVEL COMICS |
| DOOM PATROL OMNIBUS HC (MR) | $150.00 | DC COMICS |