Coloring books and feminism are two things that are more popular than they've ever been. The world needs a product that deftly combines them — and on top of that, adds in super heroes as well. That's exactly what Downtown Booksworks has done with their latest DC Super Heroes Girl Power book: Color Me Powerful by Sarah Parvis, also featuring classic DC artwork and design by Georgia Rucker.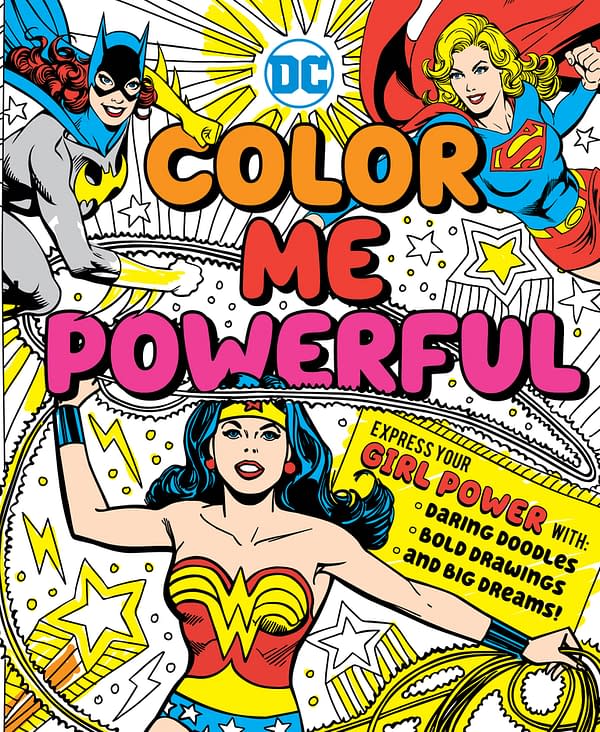 The 144-page book isn't limited to just coloring, but all sorts of fun and engaging activities. The stars of the book are DC's female super heroes, like Wonder Woman, Supergirl, Batgirl, Bumblebee, and Katana. One set of activities in Color Me Powerful allows readers to come up with their own superhero name, motto, costume, backstory, secret hideout, and doodles. Aimed at kids 6 and up, including your inner child, the book retails for $12.99.
Author Sarah Parvis said:
"I don't think there can ever be enough fun, empowering titles for young women and girls. Color Me Powerful offers a little bit for everyone. Readers can answer questions about their talents and what makes them unique. They can design their own logo and cape, color in beloved characters, sketch super hero scenes, create their own super hero identity, and identify the characteristics that make super heroes—and themselves—strong. In the book, I encourage the readers to express themselves in any way they want to. They can draw their answers or write them out in words. Or take pictures and tape them into the book—whatever makes them feel most creative. They can write words
backward or in code or draw doodles and color on every page."
Now, here's the best part. Downtown Bookworks has offered to send one copy of Color Me Powerful to one of Bleeding Cool's lucky readers. Against all better judgement, we've decided to choose the winner from amongst our commenters. All you have to do to enter is close your eyes, scroll down to the bottom of the article, and leave a comment. In a week, we'll choose one commenter as the winner (we'll need to send you a DM to get your shipping information and pass it on to Downtown Bookworks), and Downtown Bookworks will send you your copy of Color Me Powerful.
For those of you not lucky enough to win or unwilling to brave our comments section (we can't say we blame you), you can pick up Color Me Powerful at your favorite bookstore now, or order it online. Get one for yourself, or as a perfect stocking stuffer for a feminism, coloring, or super hero fan of your choice. Enjoyed this article? Share it!