DC Leaks Vertigo And Young Animal Announcements, Including New Series Motherlands And Deathbed
The last thing any publisher wants, the night before their big comic con panel, is to have their big announcements leaked on a website like Bleeding Cool. But the second last thing they want, probably is to have those announcements leaked on their own company's website the night before their big comic con panel.
That's what happened to Vertigo and Young Animal, it seems, as a press release detailing Saturday's Vertigo and Young Animal panel was accidentally released on the DC Comics website early Saturday morning. Amongst the announcements were two new vertigo series, Motherland by Si Spurrier and Rachael Stott, and Deathbed by Joshua Williamson and Riley Rossmo.
DC also revealed that they have access to time travel technology by talking about the things the panel's guests said at the panel that hasn't taken place yet.
The Vertigo/DC's Young Animal panel at New York Comic Con today brought exciting news for each of the imprints. Mark Doyle, Executive Editor overseeing these lines, spoke with some of the incredible talent behind current series and introduced new creators to the fans.

Vertigo writers John Ridley (THE AMERICAN WAY: THOSE ABOVE AND THOSE BELOW) and Tim Seeley (IMAGINARY FIENDS) shared new details about their series, while creative teams Si Spurrier & Rachael Stott and Joshua Williamson & Riley Rossmo announced their projects being released this winter.
The press release also revealed details about the upcoming Young Animal/DCU crossover, Milk Wars, and a new Young Animal series by Magdalene Visaggio and Sonny Liew: Eternity Girl. Read more about those here and here.
DC has since deleted the press release, but you can't put this genie back in the bottle. Check out the new Vertigo titles below: MOTHERLANDS, from writer Si Spurrier (SUICIDE SQUAD, The Spire) and artist Rachael Stott (Sex Criminals, Star Trek/Planet of the Apes), is a sci-fi series set in a future where universe-hopping bounty hunters are the new celebrities. A spotlight-shunning hunter named Tab finds herself in a race for her greatest prize yet, but to ID her target she'll have to work with her fiercest rival and the most famous bounty hunter of all time—her mother. The six-issue series launches January 31.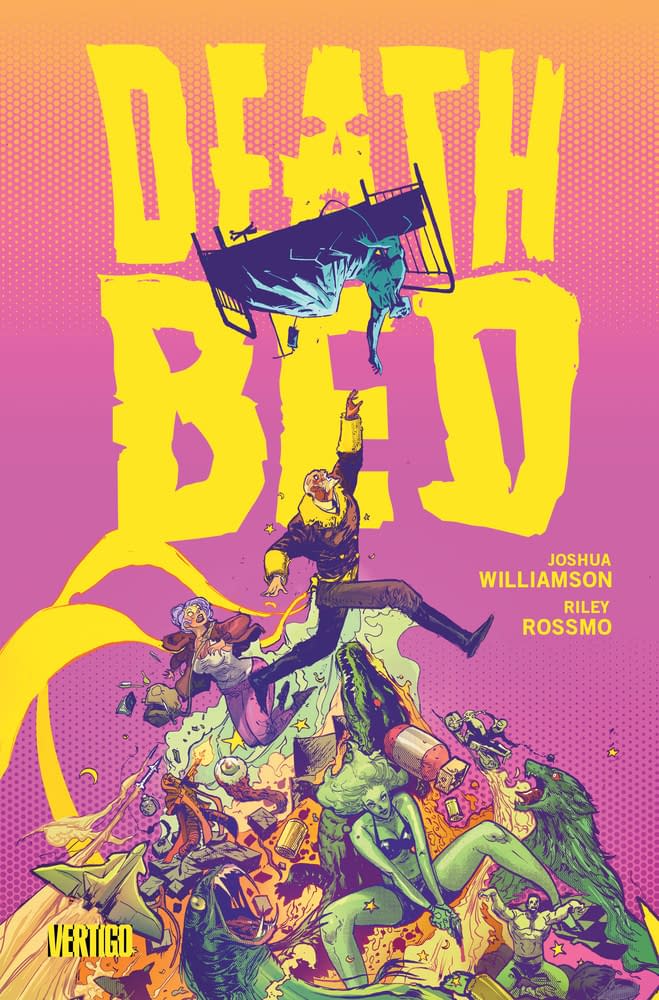 DEATHBED, from writer Joshua Williamson (THE FLASH, FROSTBITE) and artist Riley Rossmo (BATMAN/THE SHADOW, CONSTANTINE: THE HELLBLAZER), follows a former adventurer turned recluse who has re-emerged 20 years later. When reporter Valentine Richards is hired to get his story, she soon finds herself in an insane world of violence and supernatural adventure. The six-issue series begins February 21.
Here's some art from Imaginary Friends that will be shown at the panel as well: The leaked press release also revealed that attendees at the panel will get a special Sandman poster by Jim Lee, which is a good reason to attend even though we already know everything they're going to say.
Lucky fans in attendance to today's panel also received an exclusive Vertigo 25th Anniversary poster featuring Sandman drawn by Jim Lee. For more details on the series announced, check out DCComic.com and VertigoComics.com, plus check out exclusive artwork from today's panel here: [LINK HERE]