How Every DC's Year Of The Villain Comic Will End This Month (Spoilers)
Do you remember the Convergence event at DC Comics, where every comic was replaced with a two-issue Convergence mini-series, all of which began the same way and pretty much ended the same way? That was a tortuous month for DC Comics zombies. Well, it seems as if this month may strike a similar vibe – and Harley Quinn knows all about it.
The opening of The Year Of The Villain sees the ex-Lex Luthor making offers to DC Comics villains – or villain adjacents – to soup up their powers, tech, and join him on a mission of doom, or whatnot. And all the tie-in issues this month with their fancy card stock covers are joining in.
This week that means Justice League #27, Deathstroke #45 and Harley Quinn #63. Justice League sees the first such offer being made to the Martian Manhunter and Hawkgirl. Even as they are arguing about Luthor…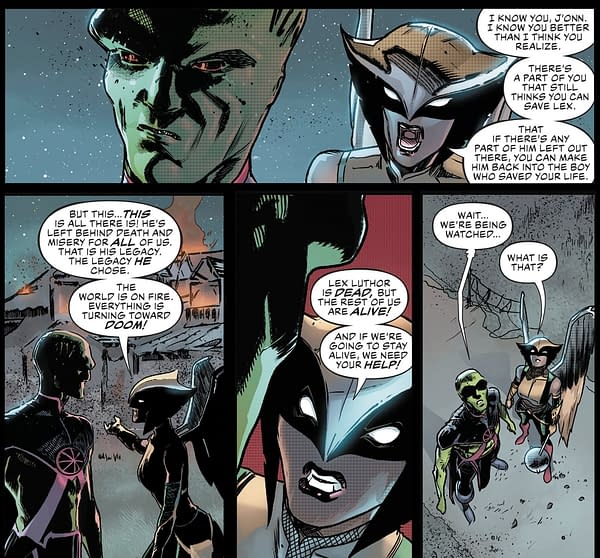 It's one of Luthor's drones. We're going to see a lot of them over July I think…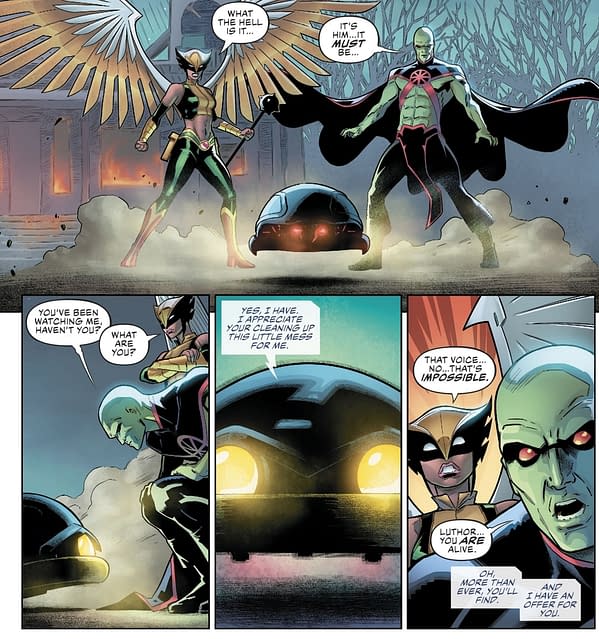 Hovering around the place, and delivering such messages, like they're Lois Lane inside R2D2…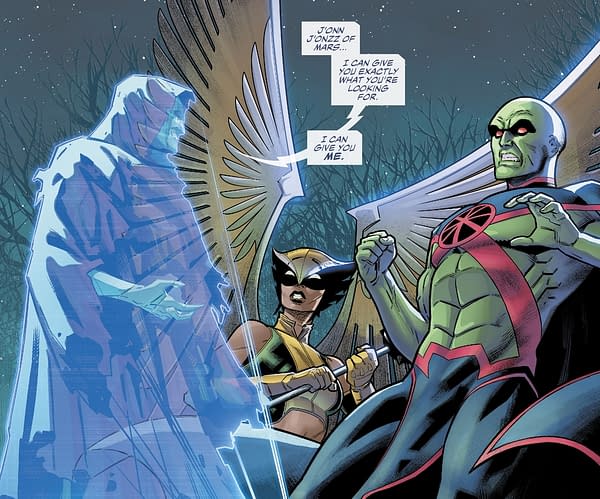 And just being non-specific enough to serve as some kind of cliffhanger. But Harley Quinn has seen this coming – how can you do a Year Of The Villain crossover when she is tending to her sick, dying mother? And tackle the issue that the Harley Quinn comic often seems out of continuity? Why by having Harley Quinn actually pick up the Year Of The Villain crossover comic from August…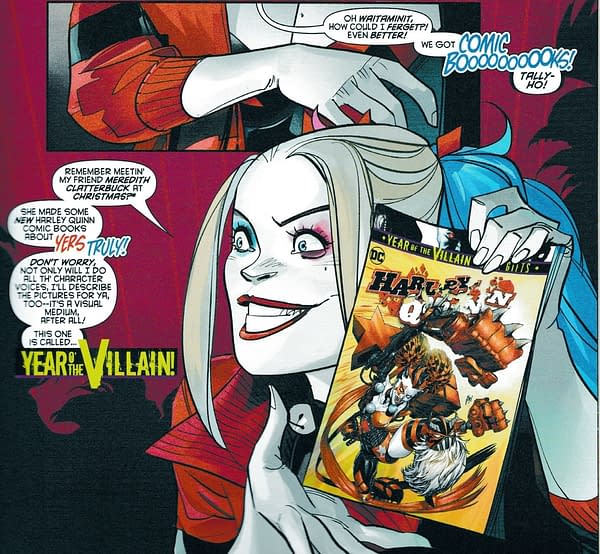 …and just start reading it.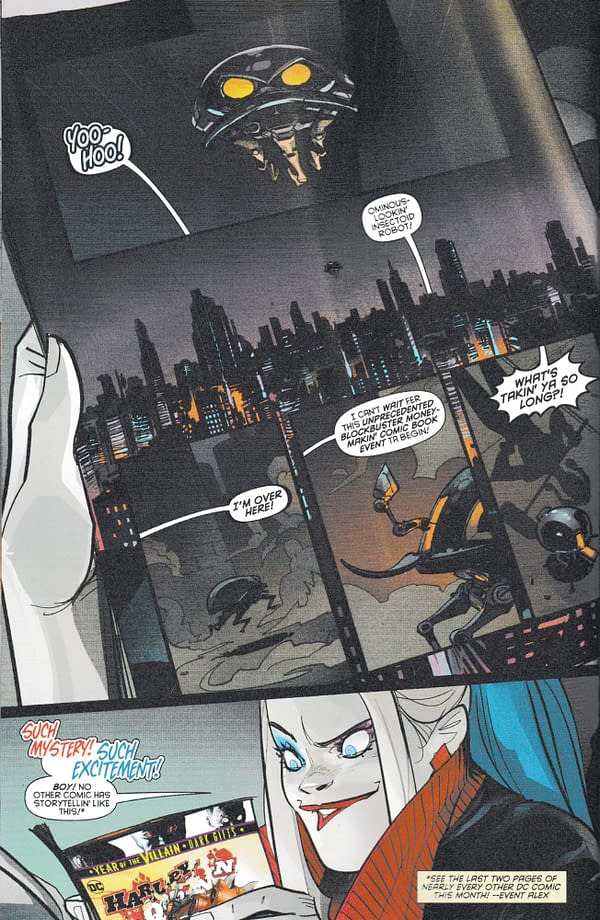 While also having the editor recognise that every DC comic is going to go through this, Convergence-style. Floating drone, approaching villain or hero and projecting…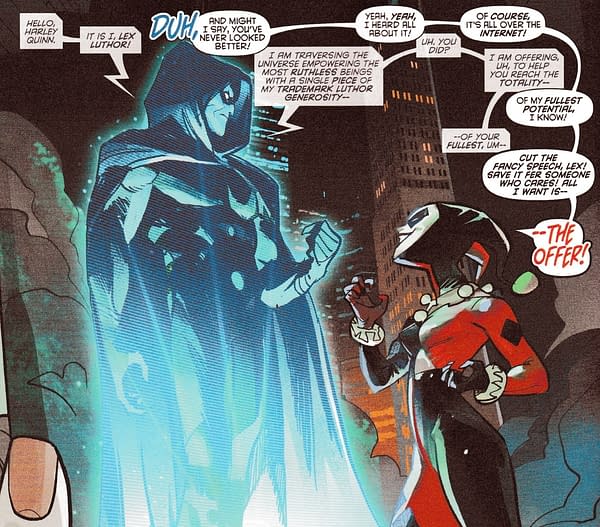 You can tell its metafiction as Harley is back in the jester suit. And Deathstroke #45 doing just the same, if a slightly insensitive opening line after just reading Harley Quinn…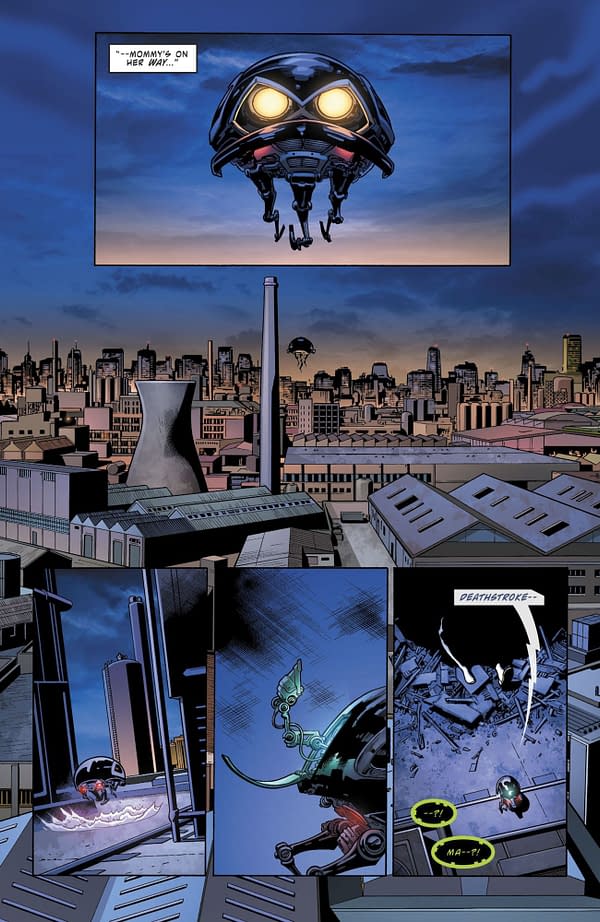 And the blue-glowy offer is made to Jericho…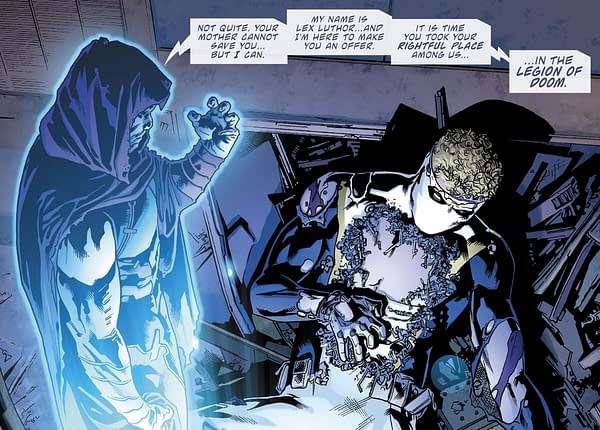 Get ready for a lot more of these two-page endings, each with a slightly different look for Luthor… and the parodies to start almost immediately.
Given that people may be paying an additional dollar for the cardstock covers, might the first-month crossover relegated to repeating two-page endings be a bit much?
DC's Year Of The Villain: The Offer crossover issues begin today.
JUSTICE LEAGUE #27
(W) James TynionIV (A) Javi Fernandez (CA) Bruno Redondo
Eons ago, the Monitor, the Anti-Monitor and the World Forger stopped the rise of Perpetua-but can they overcome billions of years of mistrust to work together and do it again? Plus, Lex Luthor's offers across the DC Universe haven't gone unnoticed-Martian Manhunter is aware of "the Offer." And J'onn J'onnz will pay the price.In Shops: Jul 03, 2019

HARLEY QUINN #63
(W) Sam Humphries (A) Otto Schmidt (CA) Guillem March
The final trials of Harley Quinn have begun…and the stakes have never been higher! Will Harley succeed in becoming the Angel of Retribution? Or will she fall short, only to suffer the same fate as all those before her? Plus, a mysterious new comic by M. Clatterbuck appears…in which Lex Luthor makes Harley an exciting offer!In Shops: Jul 03, 2019

DEATHSTROKE #45
(W) Christopher Priest (A) Fernando Pasarin
In the wake of Slade Wilson's death, a new Deathstroke has vowed to complete his last, unfinished assignment. But the master assassin Shado has plans of her own, looking to step in for the late, great World's Greatest Assassin and usurp his place in villainous hierarchy. Meanwhile, Rose Wilson discovers the identity of the person responsible for her father's death. Can her brother, Jericho, stop her from seeking vengeance? Also in this issue, Slade Wilson's son Jericho accepts Lex Luthor's offer of power-but he's determined to use it as a force for good…so why is Lex smiling?In Shops: Jul 03, 2019