It seems like it was just last year when this latest volume of Deadpool launched at Marvel Comics. Well, that may be because it *was* just last year. Nevertheless, Deadpool is already set to end and get relaunched, news you of course heard first at Bleeding Cool, with Deadpool #15. That means with Deadpool #10 hitting stores next week, the creative team had better hurry up and start tying up any loose ends… especially since 5 issues of a comic these days contains about as much story as a single issue did years ago. Gotta think about those trade paperbacks, after all.
In this preview of next week's issue, we see Deadpool on a job for… we're gonna say Dick Tracey villain Flattop? No, wait, that's Hammerhead. In any case, Deadpool has been hired by Hammerhead to kill someone, but when he arrives, they're already dead!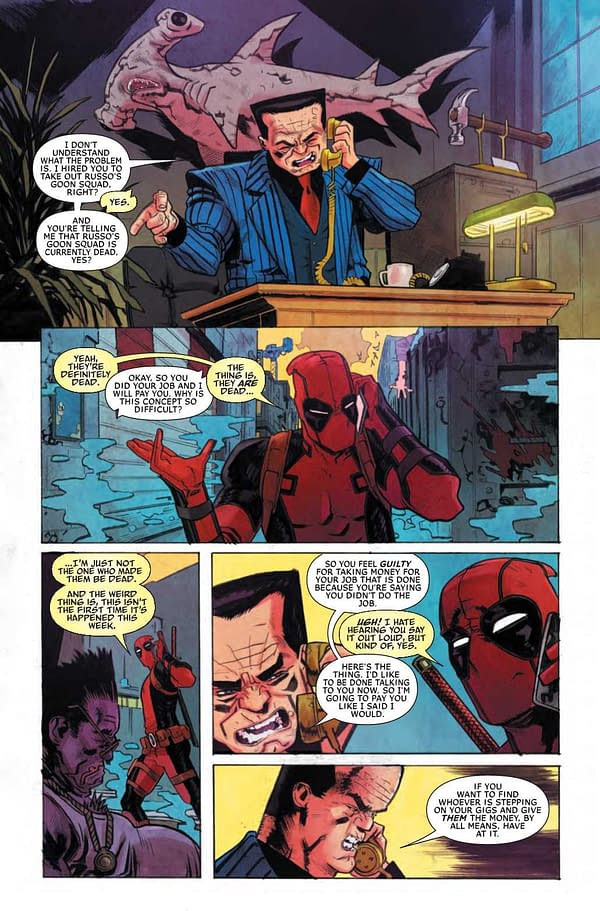 Someone, it seems, is stealing Deadpool's jobs, killing the people he's supposed to kill before he has a chance to kill them!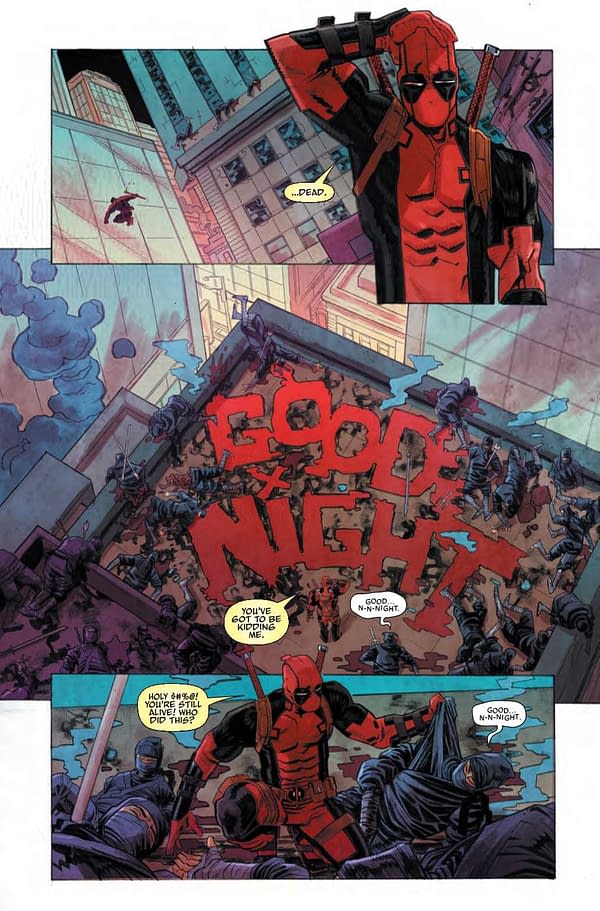 Who could it be? Well, the giant "GOOD NIGHT" spelled out in blood might be the first clue. And this isn't the first time we've seen it. Way back in Deadpool #1 (remember that? Last year? from the beginning of this article?), Deadpool was trying to come up with his origin story by ripping off the origin stories of DC superheroes. One of those was Batman's origin, but with a twist. In Deadpool's telling of the story of a young Bruce Wayne analog, Deadpool wasn't the boy…
That was the origin of Goodnight, his parents murdered by Deadpool. And now, he's back for revenge, apparently… and he's taking that revenge by… making Deadpool's job easier?
Damn, we wish we could get some help like that. Whose parents do we have to murder to get someone to write these clickbait articles for us?
Deadpool #10 hits stores next Wednesday.
Deadpool #10
(W) Skottie Young (A/CA) Scott Hepburn
GOOD NIGHT, SWEET DEADPOOL!
• Hey, look! It's that weird guy from the end of DEADPOOL #1! I knew he'd be back!
• The deadly Good Night is taking care of Deadpool's merc jobs before he gets to them. Kinda like that story "The Elves and the Shoemaker," but a horrifying, violent nightmare!
• Deadpool's got a plan, though, and he's definitely thought it through. For sure. No question.
Parental Advisory
In Shops: Mar 06, 2019
SRP: $3.99
Enjoyed this article? Share it!