Deadpool Marital Troubles To Be Subject Of Tawdry Marvel Crossover Event Comic
Well, at least it's not another "heroes vs. heroes" thing.
According to an EXXXCLUSIVE report from ComicBook.com, a new crossover between Deadpool, Spider-Man/Deadpool, and Deadpool and the Mercs for Money that kicks off in March will see Deadpool's marriage to Shiklah, queen of the Monster Metropolis, go through a bit of a rough patch. A really rough patch. Okay, all out war.
It seems that Shiklah will declare war on the surface world, forcing Deadpool to choose a side. In the interview, Deadpool writer Gerry Duggan notes:
In the first chapter of this we see the encroachment on the Monster Metropolis from above, from the surface world. Humans and monsters are not great neighbors. At the end of a long series of incidents of poor behavior on both sides, Shiklah decides she's had enough. Even though she is coming to terms with Deadpool not being a great husband, she is also beholden to her people, so this is very much an act of preservation in her mind for her kingdom. It also will force Deadpool to make some choices. Are you with the soft pink surface dwellers or are you with your wife and her citizens back down below?
Deadpool: Till Death Do Us… hits stores in March, beginning with Deadpool #28. Here's the connected covers for the first three issues by artist Reilly Brown (watermark by ComicBook.com intern Vlad Kozinkerov):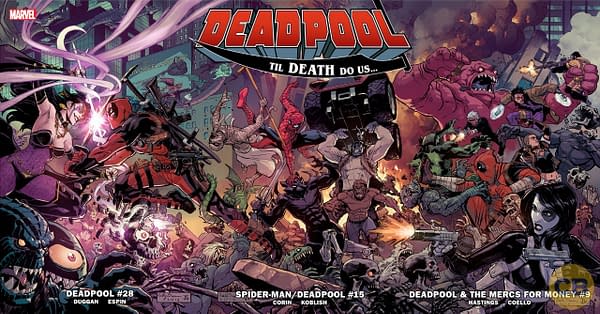 Brown will be providing three more connecting covers for the other three issues as well.